12,000 YEARS — 600 GENERATIONS IN SAN DIEGO BORDER REGION
A true San Diego Native, Jane's Kumeyaay Indian ancestors have occupied the greater San Diego area for some 600 generations, 12,000 years (according to historical accounts and hard archeological evidence gleaned from many hundreds of local ancient indigenous sites that have been academically scrutinized and opined by scholars and scientists over the past 250 years or so).


Jane's great grandfather is Jose Manuel Haatam (1805-1874), tribal chief of the last aboriginal Kumeyaay Indian group that occupied the pre-contact Kumeyaay village area we know today as Balboa Park in San Diego.


Jane's mother, Isabel Thing, was a Kumeyaay Kuseyaay (medicine woman or healer) — Jane credits her mother for teaching her about Native American Indian medicinal herbs, plants, and ancient healing remedies.


Jane's father, Ambrosio Thing, was a well-known guide and translator in the early 1900s. One of his more famous clients was Erle Stanley Gardner. Ambrosio traveled with Erle Stanley Gardner on Erle Stanley Gardner's historical expeditions into Baja California.
SAN DIEGO NATIVE GIRL: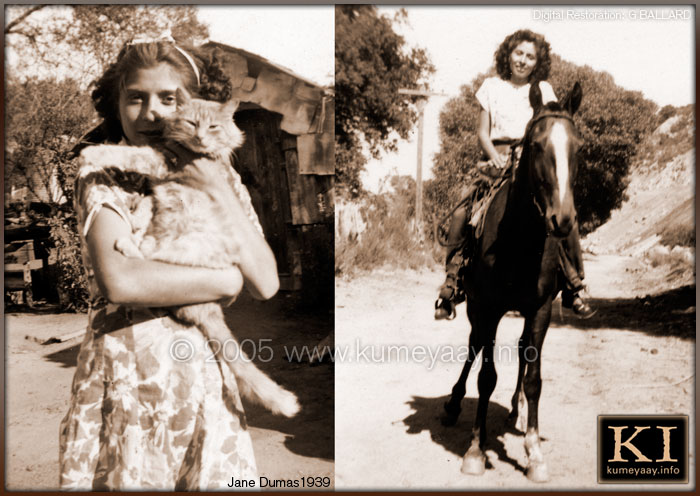 Cultural activist in region steeped in San Diego tribal history: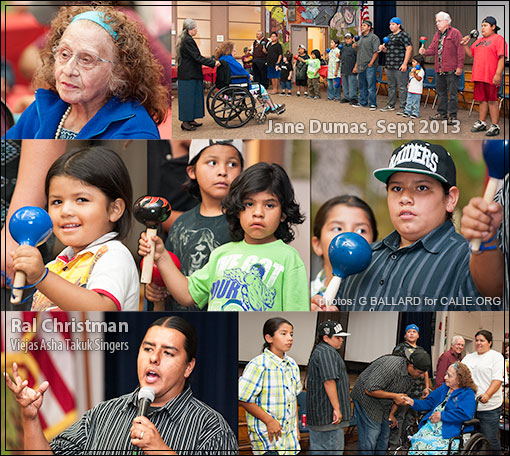 Honoring Jane Dumas in San Diego 2013...PHOTOS.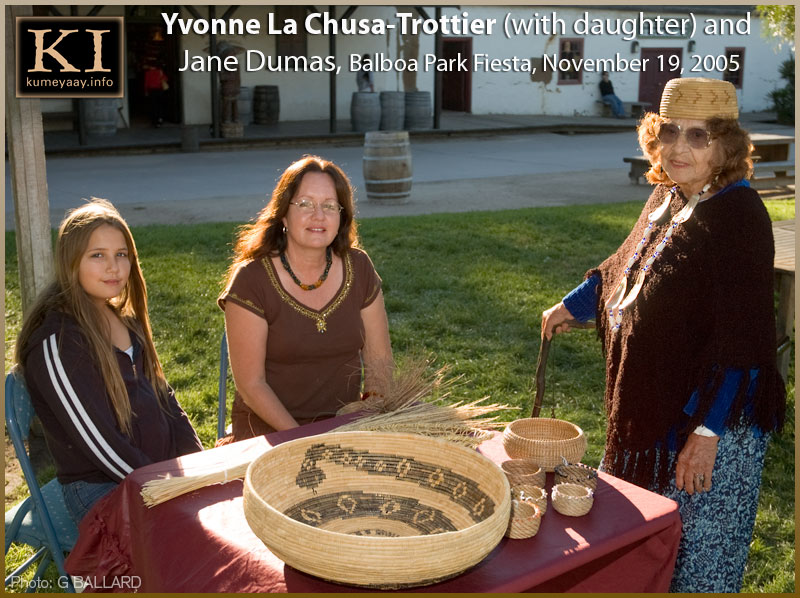 Jane Dumas pictured above with master basket weaver Yvonne La Chusa-Trottier (Ipai, Mesa Grande) and her daughter in 2005 during the Annual Old Town San Diego Fiesta in Old Town San Diego. Yvonne displayed her Kumeyaay baskets during the cultural event.
SHUMUP KO HUP (Dream Come True)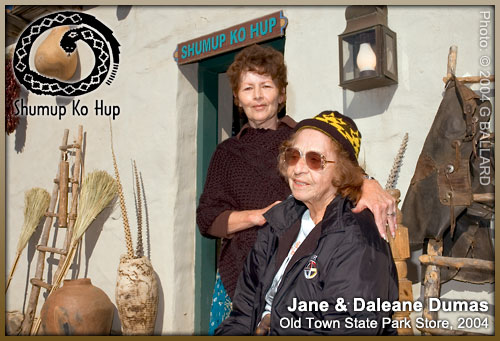 In about 2000, Jane and her daughter, Daleane, cofounded the Shumup Ko Hup gift shop in the San Diego Old Town State Park. Their Indian store sold only authentic traditional ethnographic art handcrafted by California Indians. In the store's heyday, Jane promoted and represented a thriving Southern California Indian co-opt of more than 60 Native California Indian artisans. Unfortunately for the community, Jane and Dee closed their popular gift shop and HOWKA.COM website in 2007 as a result of hard times during the Great Recession.
KUMEYAAY TIME-LINE Brief
10000 B.C. — PRE-CONTACT:
Museums full of Kumeyaay artifacts and scientific and academic studies citing archeological evidence suggest the Kumeyaay Indians have have occupied this region for at least 12,000 years — that's about 9,000 years before the Great Pyramid of Giza was built!!!
1542 — FIRST CONTACT:
The first European explorer known to visit San Diego (1542) was a Spanish sailing expedition led by the Portuguese explorer Juan Rodriguez Cabrillo. Cabrillo sailed past what is now called Point Loma and landed in San Diego Bay — he promptly claimed the entire region for Spain under Doctrine of Discovery.
1769 — SPANISH MISSIONS & SETTLERS ARRIVE:
When Spanish soldier/explorer Gaspar de Portolà and Father Junipero Serra founded the near-by Mission San Diego de Alcalá (1769), Old Town was known amongst the local population as Kosa'aay (a thriving and long-established Kumeyaay village). Some people speculate that Portolà's land exploration into California was indeed a quest to find the fabled Seven Cities of Gold, and the California Missions created bases from which to operate and gain the support and trust of the indigenous peoples.
1848 — US-MEXICO BORDER & CALIFORNIA GOLD RUSH:
With the signing of the Treaty of Guadalupe Hidalgo that ended the Mexican American War (1846-1848), the American and Mexican governments cut their US-Mexico International Border through the heart of prime Kumeyaay ancestral homelands and separated the Kumeyaay tribe into two parts... in addition to the thirteen American Kumeyaay reservations in San Diego County, four Kumiai communities survive south of the international border at the turn of the 21st century.
The California Gold Rush (1848-1855) is historically paramount to Kumeyaay history in San Diego — it was estimated that some 300,000 immigrants poured into California during this seven-year period effectively tripling California's population and decimating the indigenous tribal population as a result... it's been estimated that some $10 Billion (2002 dollars) in gold was taken from California tribal lands between 1848 and 1862.
In 1848, Indians in California outnumbered whites by ten to one — can you imagine that — walking out of your house or hotel today and hiking towards your favorite park or beach in an 1848 California countryside?


KUMEYAAY HISTORY: For a more complete detailed editorial and timeline....