CALIFORNIA INDIAN NETWORK NEWS Service


KUMEYAAY NATION NEWS EDITOR: Richard Bugbee
EMAIL, AICLS.org, KUMEYAAY.COM NEWS has transformed itself into an important daily news blog for Native American Indian news stories from local San Diego, California, Baja California, and across the USA — KUMEYAAY.COM website is the best source for breaking Kumeyaay news compiled and archived from all the top news services around the world.


LOS COYOTES IN THE NEWS: From US government military and law enforcement training contracts to off-reservation casino plans with the City of Barstow, the Los Coyotes band is in the Indian Country news...READ THE BIA ENVIRONMENTAL IMPACT STATEMENT (PDF) published in the Federal Register, July 1, 2011 (Volume 76, Number 127).
Sycuan band triples the size of its east county American Indian reservation in historic "fee to trust" land deal for the Kumeyaay
By Roxana Popescu, U-T San Diego
AUGUST 14, 2013, County of San Diego -- The Sycuan Band has nearly tripled the size of its reservation and will mark this expansion in a cultural ceremony today that will be open to the public. Using gaming profits, the tribe acquired 2,000 acres over several years and annexed 1,350 acres to the reservation, most of which will be preserved as open space. Another 600 acres will be kept as separate conservation space... READ STORY.


MAMMOTH NEWS WEB PORTAL moden Native American Indian news resources, edited by Ernie C. Salgado Jr., Luiseño, Soboba tribal member.
• www.calie.org California Educational Community News & Events www.californiaindianeducation.org


US DEPT OF INTERIOR official news, www.doi.gov


www.pechanga.net is a leading source for California Indian News and Information
• AmericanIndianSource.Com NEWS & EVENTS americanindiansource.com
• WORLD NEWSPAPERS allnewspapers.com
• NativeWeb nativeweb.org


New America Media is the country's first and largest national collaboration and advocate of 2000 ethnic news organizations. Over 51 million ethnic adults connect to each other, to home countries and to America through 3000+ ethnic media, the fastest growing sector of American journalism.


KUMEYAAY OPINION editorial letters to the Kumeyaay editor.
(Submit your opinions, photos to Kumeyaay Information Village Website for publication).


KUMEYAAY HISTORY in San Diego, an editorial essay and timeline overview.
• San Jose de la Zorra, March 19, 2006 (with audio video) KUMIAI FIESTA Pictures: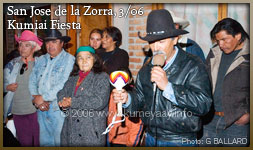 • Shirley Murphy, Lakota, was awarded the Distinguished Educator of the Year Award during the Twenty Eighth 28th Annual California Conference on American Indian Education PHOTOS taspan.org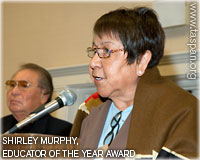 • December 11, 2004, CECELIA FIRE THUNDER Lakota Presidential Inauguration, Pine Ridge Indian Reservation, Kyle, South Dakota, Oglala Lakota Indian Nation PHOTOS taspan.org


•
SYCUAN FIRE DEPARTMENT Hank Murphy Celebrates 30 Years, October 21, 2004, Pictures
Golden Eagles Hotshots Flycrews, Chief Hank Murphy, Kumeyaay, founded the department in 1974.
•

nmai.si.edu/
Smithsonian National Museum of the American Indian, Grand Opening Photos, September 21-26, 2004