JANE DUMAS Kumeyaay
JANE DUMAS takes a picture with her daughter, Daleane "Dee" Dumas-Adams, in November 2005. Both Kumeyaay Indian women are enrolled tribal members of the Jamul Indian Village • a Kumeyaay Nation, a federally-recognized Native American tribe in Southern California.
With Kumeyaay being her first language, Jane Dumas is one of the last remaining fluent speakers of the Kumeyaay language, a Yuman HOKAN language speaker.
Updated 2021: Apple QuickTime bug fix:
DOWNLOAD-PLAY Jane's Audio Recording .m4a

This is an audio recording of Jane Dumas opening the 4th Annual Fiesta in Old Town San Diego State Historic Park, 2005 picture series speaking in her Native Kumeyaay language — San Diego's original language — and translating it into English.
JANE DUMAS IN THE NEWS:


CITY OF SAN DIEGO HONORS JANE DUMAS, Kumeyaay raise national tribal flag at Mission Trails Regional Park, Kumeyaay Lake & Campground...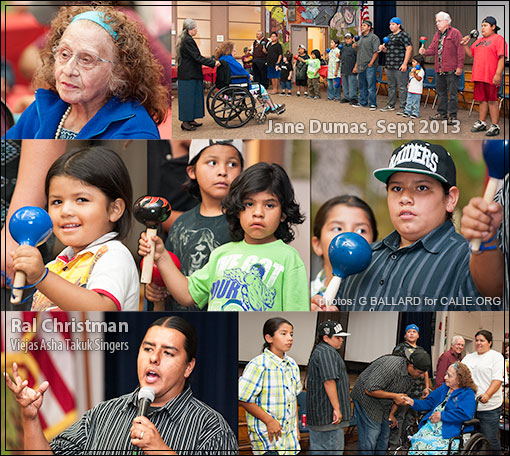 INTERTRIBAL COMMUNITY honoring Jane Dumas in San Diego 2013...Southern California inter-tribal community members gathered in Old Town San Diego State Historical Park and honored Kumeyaay elder Jane Dumas with singing, dancing, food, flowers and words of praise for her lifetime of community service to Native peoples.
CALIFORNIA INDIAN STORE Shumup Ko Hup
Jane Dumas and her daughter Daleane "Dee" Dumas-Adams cofounded the Native American Indian store in Old Town State Park San Diego, CA. Their popular Indian arts crafts shop featured authentic ethnographic California Indian art of Native American artists of Southern California.
NATIVE Indigenous History in San Diego County
Jane possesses a great knowledge of local Indigenous plants and their aboriginal medicinal uses, and the traditional Kumeyaay culture in San Diego.
The following picture album of Jane Dumas Kumeyaay family historical pictures (linked at the top of this page) was contributed to KUMEYAAY.INFO for digital restoration and archiving by her daughter, Dee Adams.
JANE DUMAS Kumeyaay Elder Historical Family Photos Pictures Images Pics Series
Jane Dumas Kumeyaay Pictures: 1, 2, 3, 4, 5, 6, 7, 8, 9, 10, 11, 12, 13, 14, 15
Dumas family historical Kumeyaay family photographs Contributed by Daleane Dumas-Adams, Jamul Kumeyaay.
Digital restorations and design by Gary G. Ballard, San Diego