CALIFORNIA GOLD RUSH 1848-1855
The great CALIFORNIA GOLD RUSH 1848-1855 is historically paramount to Native American Indian history in California — it was estimated that some 300,000 immigrants poured into California during this seven-year period effectively tripling California's population.
It's been estimated that some $10 BILLION (2002 dollars) in gold was mined from California tribal lands between 1849 and 1862.
When James Marshall discovered gold at Sutter's Mill in Coloma, California, on January 24th, 1848, it was estimated there were some 150,000 Indigenous Native American Indians living in California.
In 1848, Indians in California outnumbered whites by 10 to one — can you imagine that — walking out of your house today and hiking to your favorite park or beach in an 1848 California countryside?
By 1870 (22 years later) it was estimated there were only 30,000 Indians left living in California mostly as a result of the California Gold Rush and the onslaught of white immigrant settlers as their foreign diseases and U.S. government-sanctioned genocide were systematically wiping out the California indigenous populations — better known today as ethnic cleansing — 120,000 California aboriginal Indians were lost in this 22-year period.
By 1900 it was estimated that less than 16,000 California Indians had survived the invasion of their homelands (some 134,000 California Indians were lost during this 52-year period while the United States Government was in control of California).
It is believed the Kumeyaay (Tipay-Iipay-Diegueño) Indians — one of the largest and strongest pre-contact tribal groups in California — had only 1,000 surviving tribal members at the turn of the 20th century (1900).
KUMEYAAY GOLD history in San Diego County's Gold-Rush era mines (1869) — Julian, California (very near the present-day Iipay Nation of Santa Ysabel Reservation, a sovereign Indian nation) — some $5 million of gold was taken out of the Julian Eagle and High Peak Mine during the 1870s from deep in the heart of pre-contact Kumeyaay tribal mountains of San Diego County.
"Gold! Gold! Gold from the American River!"

San Francisco publisher and merchant Samuel Brannan proclaimed in 1848 after he had quickly set up a store to sell gold prospecting supplies to miners.
Overall, non-Indians took billions of today's dollars in gold and minerals from traditional California Native American tribal lands during the California Gold Rush. Forty-niners, gold rush poster, California gold maps pictures below.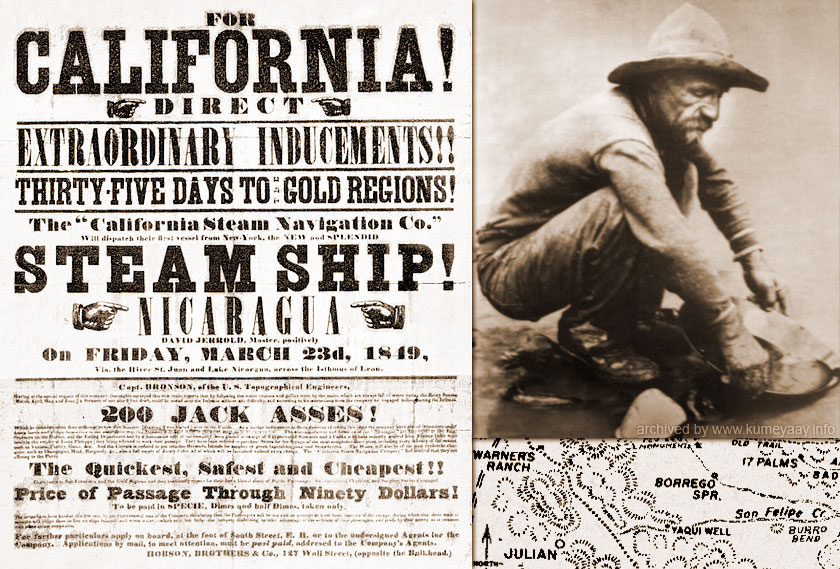 The California Gold Rush 1848-1855 in particular was catastrophic to the indigenous population and their tribal lands — it was estimated that some 300,000 foreigners poured into California during this seven-year period — 150,000 were said to have come to California by land, and 150,000 more immigrants came by sea — can you imagine what it must have been like to be a Native Californian and witness this bloody armed invasion of your homelands?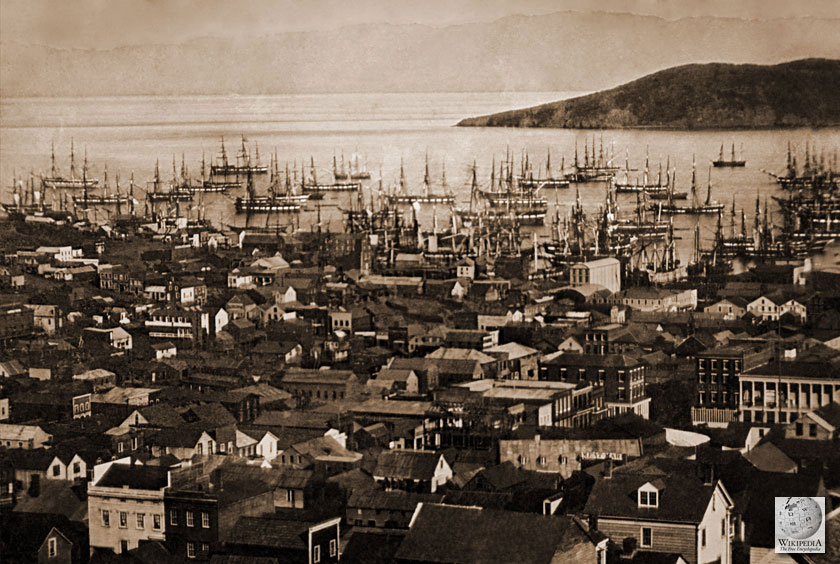 SAN FRANCISCO BAY 1851 — European immigrants profited greatly from mining gold and minerals from the Kumeyaay Lands and the West Coast prospered and grew rich at the expense of the indigenous populations...San Francisco in particular is well known for gaining extreme wealth during the California Gold Rush era. The effects of the Gold Rush were enormous. San Francisco grew from a small village of about 200 residents in 1846 to a boomtown of some 36,000 people by 1852.
TURN OF THE 21st CENTURY — TODAY:
Today's modern 21st century American Indian native survivors...quote statistics, total tribes in CA, SD, ect...
— at least the federally-recognized tribes — have been granted legal status as SOVEREIGN INDIAN NATIONS by treaties and agreements with the United States government.
With...
KUMEYAAY TIMELINE and History — 12,000 years in San Diego County:

Click for another webmaster historical essay about KUMEYAAY NATIVE AMERICAN HISTORY IN SAN DIEGO COUNTY, SOUTHERN CALIFORNIA.
SAN DIEGO Tribal Culture — Gathering, Singing, Dancing:

Click for beautiful professional photographs of Southern California tribal gathering and national pow-wow for traditional singing, dancing of Kumeyaay and North American Indian tribes.


KUMEYAAY OPINION editorial letters to the Kumeyaay editor
(Submit your opinions, photos to Kumeyaay Information Village Website for publication).
LARGEST NATURAL GOLD NUGGETS Photos: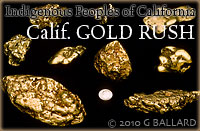 About the famous large gold nuggets pictured at top of this page:
Some of the world's largest natural gold nuggets were professionally photographed in a group alongside a U.S. dime for scale. Gold courtesy of the Old Coin Shop in San Diego, CA, an incredible private natural gold collection in a famous Southern California coin shop.
GOLD FEVER:

Back in 1986 when I (the photographer) shot this awesome gold nugget collection, I set the photo studio up in the Old Coin Shop and Harland White (the store's founder) brings a box filled with his collection of more than 40 extremely rare large natural gold nuggets, he empties them out on the table and then leaves me alone in the room to take the pictures — my palms began sweating and I became under the influence of "Gold Fever" but I managed to get my gold photographs and maintain my honesty in this treasure room full of gold and rare coins despite my fever.

Harlan did take a special moment to "introduce" me to his largest natural gold nugget — he held the mammoth nugget several inches over my hand and dropped it — I will never forget how the weight of the extreme gold as it landed heavy in my hand like lead weight and the smile Harlan got on his face as he watched my reaction.
Page written and designed GARY G. BALLARD, Kumeyaay Webmaster, professional Web blogger, multi-media journalist.