KUMEYAAY.INFO Archive, February 2009.
(a G. BALLARD Web site) — what a loss this business was to the community....
Shumup Ko Hup Indian store closed its San Diego Old Town State Park Indian store in late 2007 and took down its beautiful California ethnographic art web site www.howka.com in the Great Recession.
The KUMEYAAY.INFO webmaster wishes everyone well and the best of luck to all the hard-working ethnographic California artists who supported their Indian families through the store's sales, cultural events and web-sites promotions.
CALIFORNIA INDIAN ART
SHUMUP KO HUP was proudly owned and operated by San Diego Kumeyaay Indian families. We are a Native American owned and operated business. We make, buy and sell only genuine traditional Native American arts and crafts that are handmade by our local Indian aboriginal artists of the greater Southern California area.

IN THE STORE'S HEYDAY — Eva Salazar promoted and represented a thriving Southern California Indian market jewelry co-opt of more than 60 NATIVE CALIFORNIA INDIAN ETHNOGRAPHIC ARTISANS.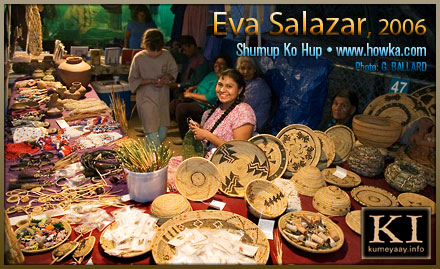 POW-WOW ETHNOGRAPHIC ART BOOTH: Every item pictured at Eva Salazar's cultural booth represents a personal story of one of her Indian artists working to support his or her family by hand-crafting the traditional items for sale — notice the fine quality, variety and authenticity of the items (where can you buy this stuff today?).
AUTHENTIC ETHNOGRAPHIC ART CATALOG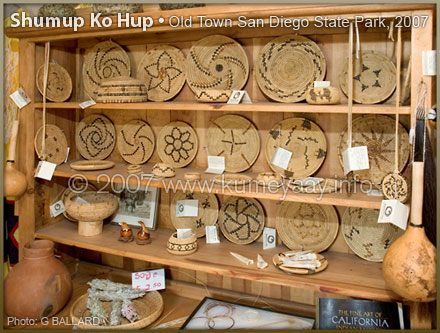 MISSION BASKET ART — The Kumeyaay store and cultural arts & crafts center specialized in mid-range California Indian mission basketry Kumeyaay juncus basket art, but also exhibited the very expensive high-end MASTERPIECE juncus baskets and the old ANTIQUE MISSION BASKETS.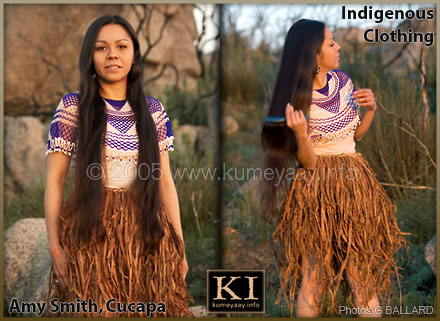 AUTHENTIC INDIGENOUS CLOTHING — Southern California tribes style beaded capes, collars and indigenous skirts made of willow bark strips were specialty items for sale beautiful Native girl model (personal notes from a young Cocopah woman).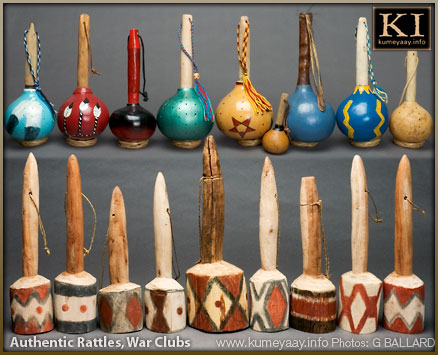 Popular tribal aboriginal art items included musical instruments like these GOURD RATTLES and museum-grade COCOPAH WAR CLUBS by NICK WILSON, Cucapa.
Cocopah clubs (above) were carved from California mesquite trees and tribal designs were hand colored with natural RED OCHRE.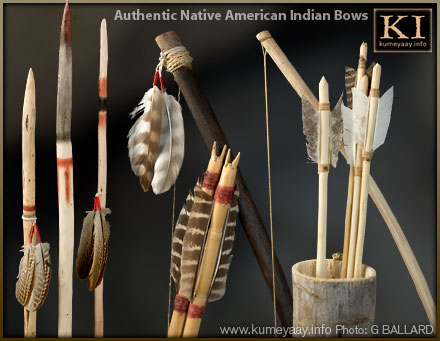 PRIMITIVE HUNTING AND WEAPONS like Indian Lances and Indian Bows Arrows were also for sale at the store and were all made by hand by local California Indian artists using indigenous materials.
PRIDE OF NATIVE VILLAGE — In addition to instilling tribal community pride, the artists' Old Town San Diego market co-op provided family bread winners with busy hands, jobs, and a source of steady income INDIAN VILLAGE PRIDE (what are these artists working on today?).


BEADWORK — Eva's San Diego Indian marketplace also carried rare, hard to find items like hand-made authentic California Indian beaded jewelry, pins and necklaces — beaded ladies and sequined frogs are pictured here (above) from the working Cucapa tribal artist community of Pozo de Arvisu, Sonora, Mexico.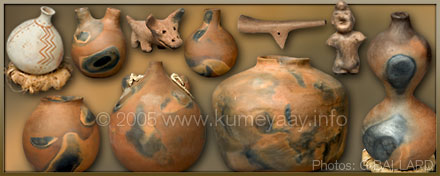 The shop's gallery of INDIAN CLAY POTTERY came from a variety of California olla artists and in many different shapes and sizes and prices.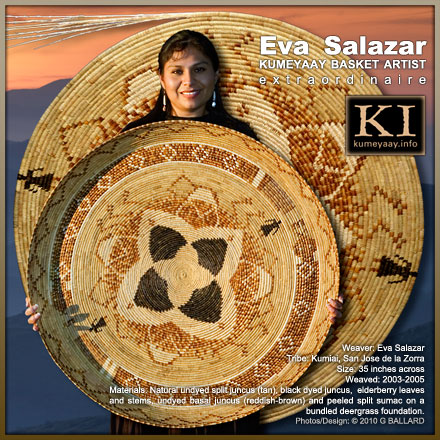 MASTERPIECE — A modern masterpiece of contemporary Native American Indian art, Eva Salazar's 35-inch gigantic juncus basket is a rare tribal object to behold and treasure.
ESTABLISHED 2000
SHUMUP KO HUP Indian store and Native American gift shop in Old Town State Historic Park, San Diego, was established in 2000 by Kumeyaay Indians Daleane "Dee" Dumas-Adams and Eva Salazar on an original idea by Jane Dumas, a Kumeyaay elder, whose long-time dream is to establish active Kumeyaay representations within the California State Parks system.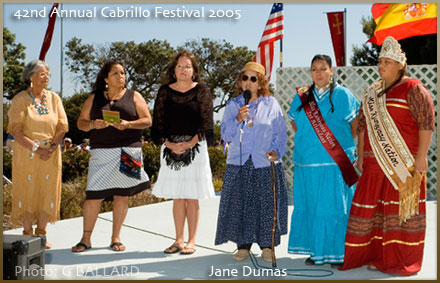 Kumeyaay elder Jane Dumas named the store SHUMUP KO HUP — Kumeyaay translation: "Dream Come True" — based on her visions to preserve and promote the cultural heritage of the California Indigenous peoples. Jane Dumas, Jamul Indian Reservation, is an active speaker about the indigenous San Diego history and culture in Southern California, pictured speaking above at the Cabrillo National Monument in 2005 during the Annual Cabrillo Festival.
MISSION STATEMENT
To encourage, promote and support the working traditional Native American Indian Indigenous artists of California, southwestern Arizona, and northern Baja, to assist them with selling their Indian arts and crafts to revive and preserve the ageless cultural traditions of the California Indian aboriginal peoples, including the, Ipai Tipai, Cocopah Cucapa, Kumeyaay Kumiai, Quechan, Mohave Mojave, Paipai, Kiliwa, Yavapai, Hualapai, Havasupai, Maricopa, Serrano, Luiseño, Kawia, Gabrielino, Chemehuevi, Juaneño, and Cahuilla indigenous peoples.
PRESERVING NATIVE HERITAGE
Shumup Ko Hup hosted many California Indian cultural events and projects in the San Diego Old Town State Historic Park.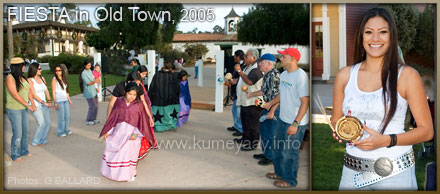 CALIFORNIA FIESTA IN OLD TOWN STATE PARK: Shumup Ko Hup Native American owners, the business who sponsored a wealth of Native American cultural presence in the state park system, including traditional gatherings, Indian style fiestas, bird singers, bird dancers, arts and crafts shows, and many traditional California Indian artists to their events.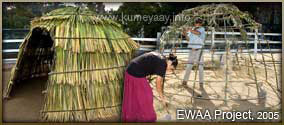 THE EWAA PROJECT multimedia documentary cultural projects — Shumup Ko Hup owners built a primitive Kumeyaay-style hut next to their arts & crafts store for school children and the general public to learn about San Diego's original people and how they lived for thousands of years.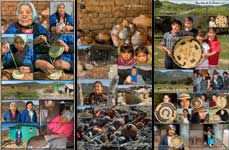 CALIFORNIA INDIAN ART LIFESTYLE POSTERS: Shumup Ko Hup artists opened their doors for KUMEYAAY.INFO photojournalist to produce art and lifestyle documentaries on their ejido communities and these beautiful high-resolution cultural posters resulted.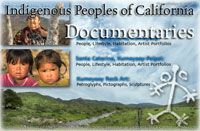 OUR EXTENSIVE MULTIMEDIA DOCUMENTARIES include professional photos, movies, audio clip of San Jose de la Zorra (Kumeyaay), Santa Catarina (Kumeyaay, PaiPai), Juntas de Neji (Kumeyaay), San Antonio Necua and La Huerta (Kumeyaay).
Authentic California Indian Arts & Crafts, Ethnographic Tribal Art
SHUMUP KO HUP Indian store and gift shop used to specialize in Kumeyaay shopping for modern artifacts, featuring the fine Kumeyaay Indian basketry of the Indigenous California peoples of San Jose de la Zorra, Juntas de Neji, San Antonio Necua, La Huerta and Santa Catarina of Baja California, Kumeyaay master basket weavers like Eva Salazar and Kumeyaay gourd artists like Daleane Adams of San Diego County.
SHUMUP KO HUP was the world's premiere source for authentic California Native American Indian Kumeyaay Baskets | Pottery | Ribbon Dresses | Beadwork | Bark Skirts | Gourd Art | Beaded Collars | Bows and Arrows | Arrow Heads | Lances | Rabbit Sticks | Horsehair Accessories | War Clubs | Cradle Baskets | Dolls | Basket Jewelry | Gourd Rattles | Sculptures | Spurs and Bits | Braided Rawhide Reatas | Stone Tools | Net Bags | Fiber Sandals | Ceremonial Sage | Herbal Soaps | Books | Music CD | Videos
SHUMUP KO HUP (formerly) in Old Town San Diego State Historic Park


HOURS: CLOSED


2720 1/2 Calhoun Street


San Diego, CA 92110-2706


TELEPHONE:


MAP to Shumup Ko Hup in Old Town San Diego


TRANSPORTATION: Bus | Train | Trolley