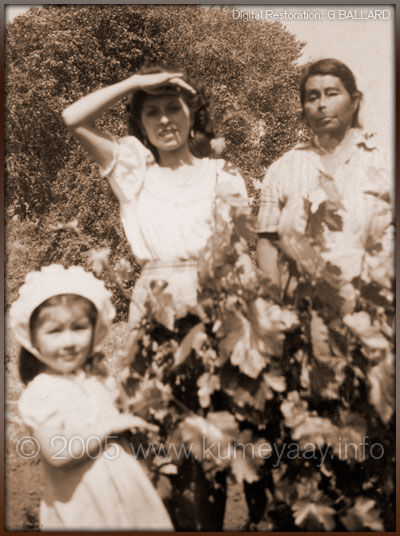 3 GENERATIONS Kumeyaay
Jane Dumas Photos
1, 2, 3, 4, 5, 6, 7, 8, 9, 10, 11, 12, 13, 14, 15
Three generations of Kumeyaay Indians, 1946, (l-r) Daleane Dumas-Adams, Jane Dumas, Isabel Thing.
Isabelle Thing was a well known Native American Kumeyaay Indian traditional healer with a vast knowledge of indigenous medicinal herbs and passed on much of her Indigenous knowledge to Jane.
Daleane owns a traditional California Indian arts and crafts store, Shumup Ko Hup in Old Town. Daleane also is a well known gourd artist in San Diego County.
This series of Jane Dumas Kumeyaay family historical Kumeyaay pictures was contributed to KUMEYAAY.INFO for restoration and archiving by her daughter, Daleane Dumas-Adams, Kumeyaay, Jamul band.
Digital restorations and design by Gary G. Ballard, San Diego