NATIVE AMERICAN INDIAN GOURD RATTLES
Traditional gourd rattles used by the aboriginal Kumeyaay California Indians of North America, the Indigenous peoples of Southern California, San Diego County, northern Baja California, Mexico, are typically played during traditional Native American singing dancing, the bird songs bird dances of the Yuman Indians, including religious and spiritual ceremonies.
Above picture: Gourd rattle construction by: (L-R) Famous indigenous ethnographic artist Nick Wilson COCOPAH, an expert authority on how to make genuine Native California-style rattles, Frank Escalante QUECHAN, Alonso Pesado COCOPAH, Nick Wilson CUCAPA, Nick Wilson COCOPAH, Daleane Adams KUMEYAAY gourd artist (baby rattle), Sarah, Nick Wilson CUCAPA, Eric Nicolas Kingery KUMEYAAY.


NATIVE RATTLES Making Constructing:
Native American rattles, aboriginal musical instruments, are typically constructed of natural gourds, condensed milk cans and evaporated milk cans, desert willow handles, palm seeds to make rattle sounds, agave cord, willow and mole fat handles.
Authentic deer-hoof rattles (right above photo) are handmade with twisted agave fiber cord handles and real California deerhoofs, sometimes called deer-toe rattles. Deer-hoof musical and ceremonial rattles are generally played only during Native American funerals and wakes and their dried animal hoofs make a very distinctive sound when shaken.
Another type of California Indian rattle is a turtle-shell rattle; it's constructed by sticking a wooden handle through a tortoiseshell, inserting palm seeds and sealing off the openings.
The oldest known museum relics of ancient North American rattles are indigenous clay rattles, likely because the clay survived the ages whereas the other organic natural materials deteriorated over time and were lost.
SAMUEL BROWN www.kumeyaay.org outlines instructions with photos about how to make a Kumeyaay Indian gourd rattle — in Kumeyaay language — Sam, a Native speaker, calls the Kumeyaay rattle "HalMa".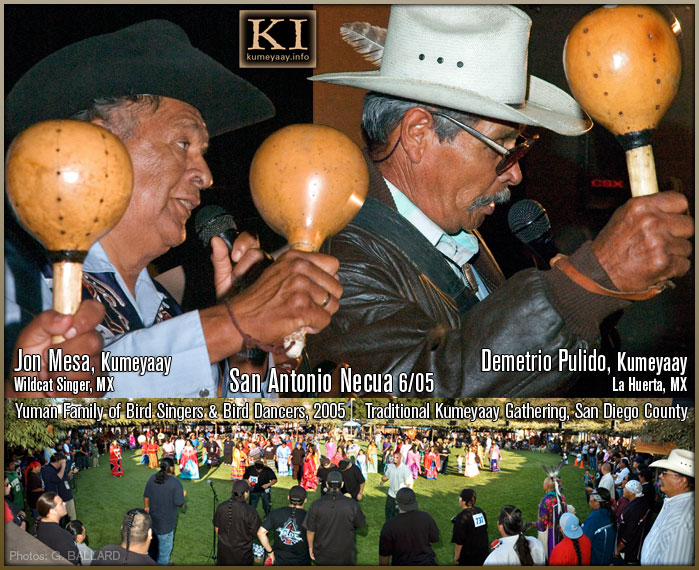 TWO FAMOUS CALIFORNIA INDIAN SINGERS pictured singing live into a microphone and shaking traditional Indian rattles at the SAN ANTONIO NECUA KUMEYAAY FIESTA (2005) in San Antonio Necua, Mexico, and lower, a large group of California tribal bird singers and bird dancers at Kumeyaay gathering on a San Diego County Kumeyaay reservation (2005) playing gourd rattles, singing and dancing.
THREE TURN OF THE 21ST CENTURY RATTLES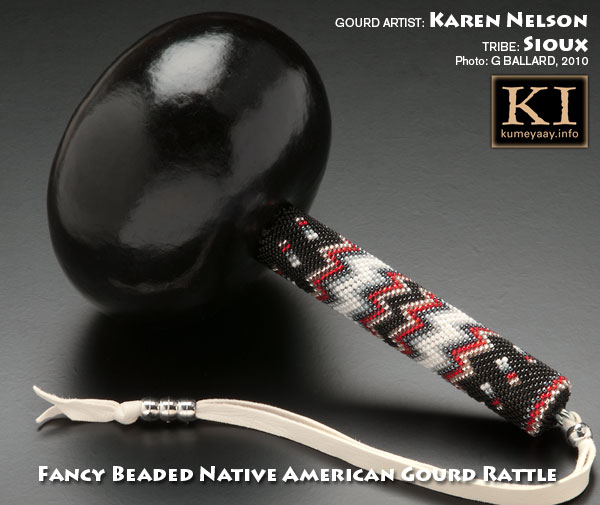 This fancy modern gourd rattle was gifted to me (the webmaster) by Ernie Salgado (Luiseño). It is a 2010 spin on traditional North American style rattle, painted black with custom beadwork design covering the handle, white leather strap with silver jewelry. The fancy rattle was handmade by Karen Nelson (Sioux); she is married to Willie Nelson and they live on the La Jolla (Luiseño) reservation in San Diego County.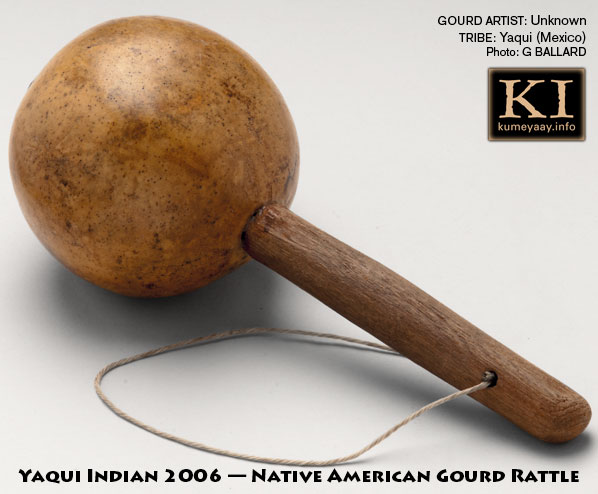 By comparing the fancy black beaded 2010 rattle with this natural 2006 Yaqui rattle — there can be a huge difference in today's modern turn-of-the-century gourd rattles depending on the tribe, artist, and area of origin.
The fancy beaded rattle was made in the Southwest USA for a prospering crop of Native American singers — the natural Yaqui rattle was likely made for local Indigenous tribal singers down in Mexico. The webmaster recalls he paid around $40 USD for the Yaqui rattle (with a good tip) and the beaded rattles were retailing for around $150 USD in the USA.
I bought this particular Yaqui natural rattle pretty far down into Mexico in a poor (by American standards) Yaqui Indian village directly from the artist while visiting his home on the way to Mazatlan, Sinaloa, Mexico.
A couple California singers told me they choose their gourd rattles as much for the way they sound when shaken as the way they look. The Yaqui rattle has a loud crisp sound, the black beaded rattle makes a much deeper, less crisp sound when rattled.
DEER HOOF RATTLE aka Deer Toe Rattle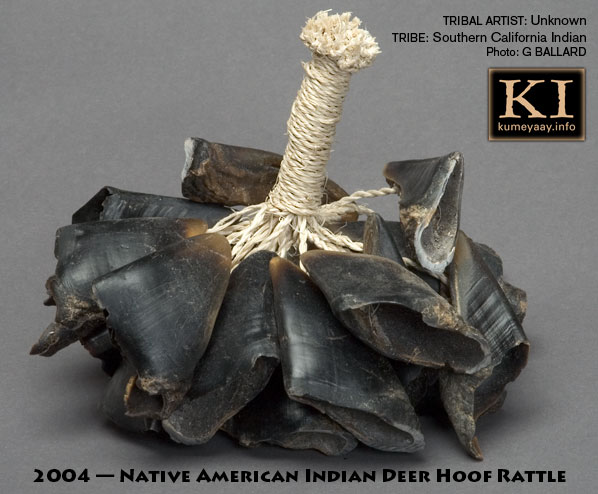 PECHANGA BAND OF LUISENO INDIANS keeps an interesting article on their official tribal website — check out their in-depth cultural article about rattles if you have an interest in learning about authentic California Indian rattles from a tribe's perspective:
Deerhoof (chi'qwlish)
The deer hoof rattle usually requires the use of twenty-four or thirty-two hoofs. Since deer are split-hoofed, hooves from three or four deer are needed to make this type of rattle. The hooves are boiled for a period of time so that the bone and cartilage can be removed and then shaped and dried to harden. The handles used for this type of rattle are a combination of leather and fiber cordage...more.
The above pictured authentic museum quality North American deer hoof rattle was handmade in the San Diego border region likely in 2004 — I borrowed it from the now closed Shumup Ko Hup Indian store in Old Town San Diego State Historic Park to photograph it for this online tribal museum — the Shumup Ko Hup store specialized in authentic ethnographic style art made by their co-op of California Indian artists.
Look closely — the Indian string was locally harvested from San Diego area agave plants, its fibers extracted from the plant's leaves, and then dried and twisted by hand into agave cords. Then the agave cordage was threaded through the California deer hoofs and tied off into a finished deerhoof rattle.
The only difference between this rattle and one made hundreds or possibly thousands of years ago is this one looks new, the old ones would look prehistoric in our modern time.
What are the deer hoof rattles used for? Deer-hoof rattles today are pretty rare for non-Indians to witness being played — mostly these ancient style rattles are used today in Southern California during traditional Native American funerals and wakes.
The "corded handle" is held between the thumb and index finger and shaken to produce the sound. The deer toes make a very distinct sound when shaken in the hand.
INDIAN RATTLES History in Southern CA:
ALSO, please see americanindiansource.com feature, including audio recordings of Kumeyaay bird singer Ron Christman performing live, and the Ipai-Tipai published article by Ron Christman Traditional Origins of Southern California Bird Songs.
Movies, Audio, Video, Clips, Professional Pictures:


Kumeyaay and California Indian Bird Singers Native American Singers Photos Pictures MOVIE see listen to and hear this large group of Yuman singers playing gourdrattles on audio video clip, and performing cultural social dances.


OVER 100 PROFESSIONAL PICTURES of Sycuan's 2005 Traditional Gathering featuring Yuman bird singing and playing GOURD RATTLES of Native California music, and Yuman bird dancers from across Southern California, southwestern Arizona, northern Baja California, Mexico, may include the Diegueno Diegueño Kumeyaay music Kumiai, Mohave, Quechan, Cocopah Cucapa, Cahuilla, Pai Pai Paipai, Ipai Tipai, Hualapai, Kiliwa, Havasupai, Maricopa, Yavapai, and Luiseño Luiseno aboriginal Indians of North America.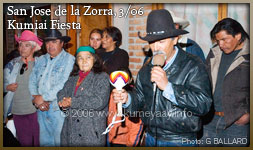 INDIGENOUS SINGERS San Jose de la Zorra, 2006 (with unique tribal rattles, AUDIO sound recordings).


Please see this festival MOVIE documentary for an aboriginal-style short elderberry flute song musical video introduction of a southern Kumeyaay Indian village documentary, including live documentary film clips featuring Kumiai cultural singing and dancing to traditional gourd rattle music.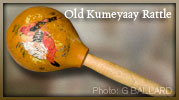 OLD ANTIQUE hand painted museum Kumeyaay gourd rattle art by Isabel Thing, Kumeyaay.

Old vintage antique rare authentic Diegueño flutes of Southern California Indians, with Kumeyaay elderberry flute audio recording played in aboriginal Pre-Contact scales.


CALIFORNIA INDIAN BOWS & ARROWS features deep field and museum research, photography and captions as published in SURVIVAL SKILLS OF NATIVE CALIFORNIA, by Paul D. Campbell. Paul's book features living Native American California Indigenous people of the greater San Diego area, and details their traditional hunting, weapons and aboriginal California Indian survival methods.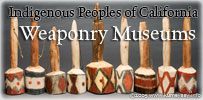 INDIGENOUS CALIFORNIA INDIAN WEAPONRY, Native American weaponry, pictures old and modern traditional arts and crafts, including Native California Indian war clubs, Southern California Indigenous primitive weaponry, Cocopah Cucapa Indians artifacts for an American Indian museum experience.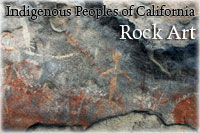 NATIVE AMERICAN ROCK ART SERIES ancient pictographs petroglyphs cave art pictures rock sculptures of the Yuman Indigenous peoples of California pictrographs. Professional fotos of Kumeyaay Kumiai rock paintings hundreds and thousands of years old in Southern California and northern Baja California, Mexico.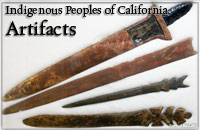 CALIFORNIA INDIAN ARTIFACTS of the Diegueño Kumeyaay artifacts Kumiai, and Cahuilla, Cupeño Cupeno, Gabrielino, Juaneño Juaneno, Luiseño Luiseno Native American tribes of Southern California and northern Mexico. Authentic relics ancient old antique Indian arrowheads, baskets, pots, paviut wands staffs, rabbit sticks.