NATIVE AMERICAN INDIAN Documentary
¡Si ', hablo Español! Traduzca Este Website
KUMEYAAY DOCUMENTARIES Indigenous tribes of California Native American Indian documentary photo series of the Baja Kumeyaay life and tribes, bands of the Kumeyaay Indians of North America, aboriginal Indian villages rancheros of northern B.C., Mexico Indians features the Kumeyaay traditional coiled basketry of the San Jose de la Zorra Kumeyaay Indian village, Baja California, Mexico. Also, the Kumeyaay-Paipai traditional clay pottery and basket weavers of Santa Catarina Indigenous community in Baja CA, including San Antonio Necua Indian community and poverty Native American living conditions in poor Mexican Indian ejidos.
Comunidad Indígenas en Baja California Kumiai Kámia, los indios indígenas de las fotos documentales de la forma de vida del photojournalism de México representan películas.


CALIFORNIA INDIAN ARTISTS Directory Guild www.howka.com
A-to-Z listing of over 60 working California traditional Indian artists Cocopah, Mohave, Kumeyaay, Quechan, Paipai, Ipai Tipai, Kiliwa, Yavapai, Havasupai, Maricopa, Hualapai, Luiseño and Cahuilla. Extensive online professional environmental photographs Native faces of real California Indians for TV film print production.


KUMIAI DE BAJA CALIF MEXICO en Español Kumiais una cultura en riesgo de extinsión, Acerca de los indigenas Kumiai, Geografia, Sistema Politico, Origenes lingüisticos, Programas de Trabajo, Consejo, Acerca de los indigenas Kumiai, Gobernadora Kumiai, Origenes lingüisticos, y mucho mas...
BAJA INDIO FINE ART 48-inch POSTERS FOR SALE:


NATIVE AMERICAN Indigenous artists fine art cultural posters for sale the webmaster produced a series of 48-inch fine art posters of his photojournalistic documentary series on the California tribal peoples of North America.
KUMEYAAY.INFO showcases the professional photography Native American photo shoots fotos Kumiai and sensitive journalistic documentation with captions and field notes about rancherias community ranches, inhabitants homes Indigenous lifestyles, Kumeyaay Indian life, environmental portraits, housing habitations and pictures of North American aboriginal Kumeyaay Indians, traditional California Native American arts and crafts of the Mexican Indian tribes, including who are and why type information about California Indians in Southern California, southwest Arizona, and northern Mexico areas of North America, USA.
KUMEYAAY DOCUMENTARIES KUMIAI
San Jose de la Zorra PHOTOS Kumeyaay:
San Jose de la Zorra is a Kumeyaay Indigenous community located in Baja California, Mexico. This online internet documentary presents Kamiai Kumiai Kumeyaay lifestyle, photos Kumeyaay pictures of Kumeyaay basket weavers, basket weaving, Kumeyaay homes and overall documentary style photographic documentation fotos of the Indian village inhabitants, habitations, ranchos, and Indigenous Kumeyaay lifestyles.
Santa Catarina PICTURES Kumeyaay PaiPai:
Santa Catarina is a Kumeyaay-Paipai Indian community in Baja California, Mexico. This on-line photographic documentary presents Indigenous lifestyle pictures of Native American traditional pottery artists, pot makers, potters and basket weavers, basketweaving, traditional California Indian basket artists, overall documentary style of the village inhabitants, habitations and ranchos of the Indigenous Kumeyaay Pai Pai Native American Indians.
SAN ANTONIO NECUA Kumeyaay Documentary:
San Antonio Necua is one of five Kumeyaay Indian communities in Baja California, northern Mexico. KUMEYAAY.INFO features a 20 minute free NATIVE AMERICAN FILM documentary on a San Antonio Necua traditional KUMEYAAY FIESTA with Kumeyaay Indians on horseback lighting an Indian bonfire, Kumeyaay dancers Kumeyaay singers performing the traditional bird songs and bird dances of the Yuman peoples of California, Kamiai people, habitations, Yuman Indian arts and crafts.
LA HUERTA Kumiai Documentary:
La Huerta is a rural Kumeyaay Indian tribal community in north western Baja CA, Mexico. The KUMEYAAY.INFO professional digital pictures features the rustic ranchos indios "Rancho Tipai" of the Aldama Kumeyaay family who have lived on the Indigenous tribal land as long as anyone remembers. The remote high desert mountain Indian ranch is full of large Indian oak trees, indigenous plants and ARCHEOLOGICAL EVIDENCE suggests the Kumeyaay Native American Indians have lived in this area for thousands of years. The Mexican ranch is located approximately 70 miles south of the US-Mexico border, and 30 miles east of Ensenada.
JUNTAS DE NEJI Kumiai Documentary:
Juntas de Neji is the northernmost Kumeyaay community in B.C., Mexico.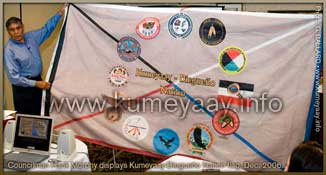 While the wealthy American Kumeyaay casino tribes have banded together and formed the Kumeyaay-Diegueno Nation in what appears apart from the Mexican Kumiai Indio communities, today's poverty-stricken Mexico Kumiai peoples struggle for a national identity and daily survival.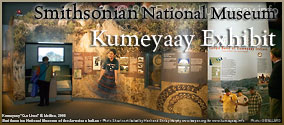 Smithsonian National Museum of the American Indian "Our Lives" cultural exhibit features the Campo Band of Kumeyaay Indians, a San Diego County tribe.
COCOPAH DOCUMENTARY CUCAPA
COCOPAH CUCAPA Documentary Indigenous artists, lifestyle, ethnographic arts and crafts, Native dyes body face paint tribal tatoos, ancient primitive weaponry, El Mayor Colorado River area Baja California, Mexico, includes high resolution Cocopah family and historical pictures online of life in the El Mayor Wishpa mountain area of the Colorado River Delta region and the local aboriginal ethnographic arts and crafts of the Cocopah Indians.

KUMEYAAY.COM Mike Wilken details interesting factual information on each of the Indigenous tribe areas of Baja California, Mexico (kumeyaay.com URL broken):
Juntas de Neji
San Jose de la Zorra
San Antonio Necua
Cañon de Los Encinos
La Huerta
Santa Catarina
San Isidoro
Ejido Tribu Kiliwas
El Mayor Cucapa
CAHUILLA-CUPENO California Indians Photo Essay


LOS COYOTES Indian Reservation, Cahuilla large beautiful wide panoramic high resolution landscape digital photography of Cahuilla California Indian reservation tribal lands in remote San Diego mountain wilderness sites.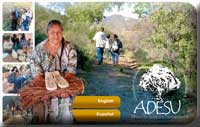 ADESU.ORG (site disbanded) a new interesting Indigenous website about Indian communities of Baja CA, main language is Spanish, but also is partially published in English, includes extensive detailed information about Mexican indian border tribes, US-Mexico border Indians including Golfo de California, Gulf of California, San Isidoro, Kiliwas, Santa Catarina, Ensenada, La Huerta, Cucapa, San Antonio Necua, San Jose de la Zorra, Juntas de Neji, Tijuana, Mexicali, Calixico, San Diego, Océano Pacifico, Pacific Ocean artists, Indigenous Indian peoples of northwestern Mexico, satellite maps with lots of professional photography.The KUMEYAAY INFORMATION VILLAGE WEB SITE is the world's most comprehensive internet resource web site for Indigenous peoples of California history, culture, education, research and entertainment, providing researchers, teachers, students and guests an unparalleled on-line cyber ride into the Native American California Indian Indigenous peoples perspective.