Daleane Adams Kumeyaay
Daleane "Dee" Adams is an enrolled member of the Jamul Indian Village, a Kumeyaay Nation. She is the daughter of Jane Dumas, a respected Kumeyaay elder with much knowledge of local plant use and their Native American medicinal values.
Daleane's grandfather was Ambrosio Thing, a guide and translator for Erle Stanley Gardner on many of his Baja expeditions. Daleane's grandmother was Isabel Thing, a Kumeyaay traditional healer. Daleane's great, great grandfather was Jose Manuel Hatam, leader of the last Kumeyaay band that lived in present day Balboa Park area.
Dee has worked with gourds for over 12 years and sells her unique gourd art in her own Native American gift shop SHUMUP KO HUP California Indian store in Old Town San Diego State Historic Park.
Dee's inspiration to work with gourds was the gourd's shape which reminded her of the local pottery art. The Kumeyaay gourd artist uses wood burning tools and leather dyes on the gourds to creat her unique Native American motifs. The designs on her gourds are inspired by petroglyphs, pictographs, local plants and animals, basketry and pottery. She does a variety of containers as well as traditional gourd rattles used in Yuman style bird singing.
Over the years Daleane Dumas-Adams has received input from the local elders who shared their experiences with her. The elders told her to pass things on, not to keep the knowledge to herself, to share it with others. Keeping their blessings in mind, Daleane has taught Native American gourd making arts and crafts to Indians and non-Indians at local parks, schools and on Indian reservations.


JANE DUMAS Kumeyaay elder family historical pictures photos album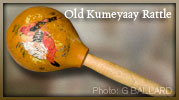 OLD ANTIQUE hand painted Kumeyaay gourd rattle art by Dee's grandmother, Isabel Thing, Kumeyaay.
A supply of Daleane's Kumeyaay gourd art and authentic Native American Indian crafts can be purchased from Shumup Ko Hup WEBSITE Indian store in Old Town, San Diego.