ONLINE AMERICAN INDIAN MUSEUMS
Online American Indian museums research department of information about the Indigenous peoples of California Native American pictures photos historical Yuman Diegueno cultural pics beautiful large high-resolution images original professional multi-media content photographs videos film movies free Native American museums virtual tours on-line Native American California Indian BOOKS library about storytelling basketry pottery ethnographic arts crafts art gallery artifacts relics music lifestyle documentary cave paintings face paint body painting tattoos aboriginal tribal music tribal reservation maps of the Southern California and northern Baja California Indigenous tribal peoples portal.
ALL GRAPHICS & Page by G. BALLARD
Culture Research History Art Photography Entertainment
MOVIES-VIDEO THEATER | CALIFORNIA INDIAN BOOKS
中文 | 日本 | Française | Italiano | Deutsch | 한국어 | Россию | پارس
¡Si', hablo Español! Traduzca esta página inglesa al español.
Los museos indios americanos en línea de la gente indígena del americano nativo de California representan la biblioteca americana nativa americana nativa libre de los LIBROS del indio de California de los museos del pics de las fotos de las imágenes de las fotografías de los videos de las películas culturales históricas de la película en línea el storytelling de los mapas tribales de la reservación de la cerámica de los artes de los artes de arte de la galería de la música de la forma de vida de la cueva de la música tribal aborigen documental ethnographic basketry de las pinturas de la California meridional y de la gente indígena norteña de Baja California.
TEATRO DE LAS PELÍCULAS | LIBROS DEL INDIO DE CALIFORNIA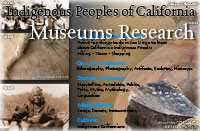 KUMEYAAY MUSEUMS KUMEYAAY RESEARCH Kumeyaay Artifacts. Active fun things to do in San Diego to learn about Kumeyaay Indians, Kumeyaay artifacts vintage historical photos pictures, relics history and culture of Southern California Native Americans, local Indigenous Indian tribes, detailed information on the Kumeyaay peoples of San Diego County and Native American tribes of California.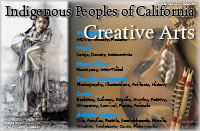 INDIGENOUS CALIFORNIA INDIAN ART ARTISTS PORTFOLIOS, Native American Indian Art Artists photographs, biographies, pictures, movies - modern and traditional arts and crafts, entertainment - including Native American online art galleries featuring creative Native illustrators, painters, sculptures, musicians, photography, writers, storytellers, traditional storytelling, Southern California indigenous plants, artifacts and history.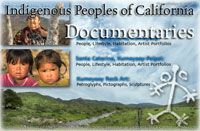 KUMEYAAY DOCUMENTARIES Indigenous peoples of California Native American Indian documentary series features the Kumeyaay traditional coiled basketry of the SAN JOSE DE LA ZORRA Kumeyaay Indian village, Baja California, Mexico. Also, the Kumeyaay-Paipai traditional clay pottery and basketweavers of SANTA CATARINA Indigenous community, Baja California, Mexico. And the Kumiai Indians of SAN ANTONIO NECUA and JUNTAS DE NEJI. KUMEYAAY.INFO showcases the professional photography and journalistic documentation virtual tours of village inhabitants Indigenous lifestyles in the tribal ejidos of Baja, environmental portraits, habitations and pictures of their traditional California Native American arts and crafts. Los indios indígenas de las fotos documentales de la forma de vida del photojournalism de México representan películas.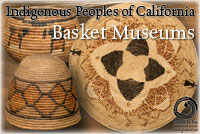 CALIFORNIA INDIAN BASKET MUSEUMS Kumeyaay basketry, basket makers, basket weaving photos pictures. Large antique artifacts relics and contemporary California Indian basket so-called mission baskets sections featuring private historical basket collections and the Indigenous Southern California basket artists of San Diego and northern Baja California, Mexico, including Indigenous lifestyle documentaries and information to buy and sell fine Native American California basketry.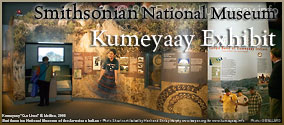 Smithsonian National Museum of the American Indian "Our Lives" KUMEYAAY NATION photos documentation, includes pictures of the Smithsonian's Kumeyaay Nation exhibits featuring the Campo Band of Kumeyaay Indians and their Golden Acorn Casino enterprise, photographed documented, March, 2005.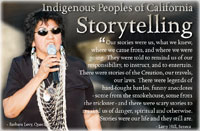 Native American California Indian Stories STORYTELLERS featuring the Samuel Brown Kumeyaay stories of the Brown-Curo family of Barona and Viejas, including a 1960s audio recording of a Kumeyaay elder woman storyteller, and links to many Native American stories, the legends anecdotes fables tales myths mythology of the California Native American Indians of North America.


LOS COYOTES IN THE NEWS: From US government military and law enforcement contracts to off-reservation casino plans with the City of Barstow, the Los Coyotes band is in the news...beautiful tribal landscape pano photography.


TRIBAL SOVEREIGNTY GUIDE — This California Indian Education study guide explores the history of tribal law and home rule in America, including the U.S. Constitution and key U.S. Supreme Court rulings that provide legal framework for tribal sovereignty in America.


Kumeyaay Nation HISTORICAL pictures photos photographs pics images private family albums old historic vintage photographs digitally restored dated captioned. The Native Californians survived European immigration: The Spanish Period, Mexican Period, American Period, smallpox and malaria epidemics caused by white immigrant diseases, the California gold rush, Mission Periods, US Government genocide, and the racism.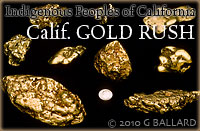 The historic California Gold Rush 1848-1855 is paramount to Native American Indian history in present-day California — it was estimated that some 300,000 immigrants poured into California during this seven-year period. At the time of the gold rush, 1848, Indians in California outnumbered whites by 10 to one — can you imagine that — walking out of your house today and hiking to your favorite park or beach in an 1848 California countryside?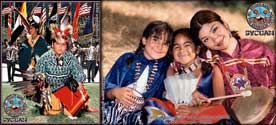 MAIN PHOTO GALLERY
Extensive still pictures of modern Kumeyaay people in greater San Diego County Southern California Indian lifestyle events archives.


PROFESSIONAL POW WOW PHOTOGRAPHY -- Over top 100 best professional big large high resolution photographs of the 16th Annual Sycuan Pow Wow featuring Yuman bird singing and Yuman bird dancing, top professional pow-wow dancers exhibiting tribal face paint cultural regalia from across the USA, Canada, northern Baja California, Mexico, include the Diegueno Diegueño Kumeyaay Kumiai, Mohave, Quechan, Cocopah Cucapa, Cahuilla, Pai Pai Paipai, Ipai Tipai, Hualapai, Kiliwa, Havasupai, Maricopa, Yavapai, Juaneño Juaneno and Luiseño Luiseno Indians of the southwest United States of America.


SOUTHERN CALIFORNIA INDIAN MUSIC Kumeyaay Bird Singing, gourd rattle photos, Bird Songs, Eagle Bird Dancing, professional picture portfolios of Native American dancers in Powwow regalias, traditional Kumeyaay and Cocopah Indians gourd rattles, photos and free on-line movies Bird Dancing, Bird Singing Powwow DVDs, aboriginal elderberry flute Diegueno flute music audio recordings.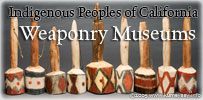 INDIGENOUS CALIFORNIA INDIAN WEAPONRY, Native American weaponry, pictures old and modern traditional arts and crafts, including Native California Indian war clubs, Southern California Indigenous primitive weaponry, Cocopah Cucapa Indians artifacts for an American Indian museum experience.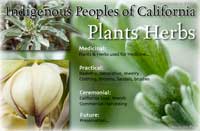 INDIGENOUS PLANTS of Southern California Ethnobotany Plant Guide and professional pictures gallery of the plants and herbs used by indigenous Native American California Indian tribes of southwestern Southern California, including northern Calif and north west Baja California, Mexico Indians. Kumeyaay Native plant guide features California white sage used in ceremony, yucca used for fiber and lotions, buckwheat used for medicinal teas, natural juncus uses for California Indian basketweaving.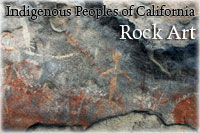 NATIVE AMERICAN ROCK ART SERIES ancient pictographs petroglyphs cave art pictures rock sculptures of the Yuman Indigenous peoples of California pictrographs. Professional fotos of Kumeyaay Kumiai rock paintings hundreds and thousands of years old in Southern California and northern Baja California, Mexico.


CALIFORNIA INDIAN FACE PAINT -- The pictures and writing in this section are parts of Paul Campbell's newest book (unreleased), EARTH PIGMENTS AND PAINT: MEANING AND TECHNOLOGY. His fully-researched book will include all facets of Native California pigments and paint, including physical, social, spiritual — in great detail — and will reveal how the Indians turned yellow pigment red, and about how they made blue from white gypsum and black charcoal, and it will give many other recipes for Indian paint. The book will also discuss the origin of CAVE ART in California, and the latest atomic accelerator testing of the ancient pigments used by the California Indians.


CALIFORNIA INDIAN BOWS & ARROWS features deep field and museum research, photography and captions as published in SURVIVAL SKILLS OF NATIVE CALIFORNIA, by Paul D. Campbell. Paul's book features living Native American California Indigenous people of the greater San Diego area, and details their traditional hunting, weapons and aboriginal California Indian survival methods.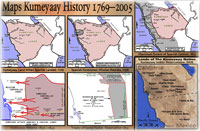 MAPS of KUMEYAAY HISTORY 1769 - 2005 highlight Kumeyaay points of history, the arrival of the Spanish, the Spanish expansion into Kumeyaay Indigenous territory, the Kumeyaay wars with the Spanish and Mexican invaders to regain their Indigenous tribal lands and stop abusive aggression, the Treaty of Santa Ysabel, the California Genocide and California Mission periods, including the current Kumeyaay bands of Native American Indians in Southern California and northern Mexico.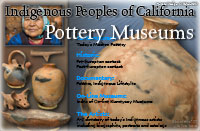 KUMEYAAY POTTERY ART OLLAS of California Yuman Indians features the modern California Indian Kumeyaay Pai Pai pottery art of the Yuman Indians of Southern California, Arizona, Mexico. KUMEYAAY.INFO's extensive photographic documentation of Native American pottery artist includes online picture catalogs of their traditional and contemporary clay pottery, including environmental portraits and biographies of the Native pottery artists. KUMEYAAY.INFO is currently building large, captioned photographic collections of rare and old antique ancient pottery artifacts for its on-line Indigenous Peoples of California Pottery Museum.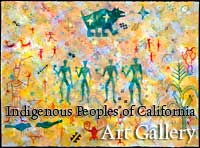 CALIFORNIA INDIAN ART GALLERY, Native American Indian Artists, portfolios, directory guild. The Kumeyaay Information Village Website established its Indigenous Peoples of California Indian Art Gallery to showcase talented Native American Indian artists, California Indian artists, and their creative artists portfolios.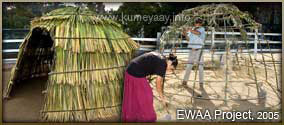 DIEGUENO-LUISENO Kumeyaay-style 'ewaa ancient house or kicha Indian shelter of aboriginal Southern California Indians photos and DVD movie documentary from planning to completion, professionally photographed and video to cultural movie DVD project, written and produced by Shumup Ko Hup and KUMEYAAY.INFO as a special multimedia cultural project in collaboration with the Old Town San Diego State Historic Park.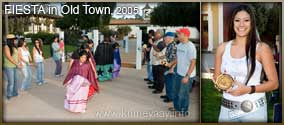 CALIFORNIA INDIAN FIESTA in Old Town San Diego State Historic Park picture documentation, featuring authentic Native museum displays and a virtual who's who of professional working California Indian storytellers, artists, cultural singers tribal dancers, famous Indigenous artists: masterpiece basketry basket weavers, master pottery makers, gourd art artists, ribbon dresses ribbon shirts makers -- modern-day California Indian artifacts and of museum quality for sale and display by tribal artists of the Kumeyaay, Cocopah Cucapa, Juaneño, Diegueño, Yuman, Maricopa, Serrano, Mission, Cahuilla, Pai Pai, Quechan Colorado River area, Ipai Indians of the greater Southern California area including Arizona, Baja California. Professional photo gallery includes audio recordings of Kumeyaay elder Jane Dumas (Jamul Indian Village) speaking in Kumeyaay language and translating it into English, Indian stories, Native singing.


COCOPAH CUCAPA documentary Indigenous artists, lifestyle, ethnographic arts and crafts, Native dyes body face paint tribal tattoos, Cocopah singing audio, aboriginal weaponry, Native clothing, El Mayor Colorado River Delta Region Baja California, Mexico, with personal notes from a young Cocopah woman.


NATIVE AMERICAN Indigenous artists fine art cultural posters for sale the webmaster produced a series of 48-inch fine art posters of his photojournalistic documentary series on the California tribal peoples of North America.


Geronimo Study Resource, a collection of professionally restored photographs, extended captions, and historical writings.


HISTORICAL RESEARCH WEB PORTAL American Indian Schools, circa 1850-2011..."Kill the Indian, save the man," Capt. Richard Henry Pratt, circa 1880,Founder and long-time Superintendent of the Carlisle Indian school system.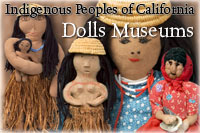 KUMEYAAY DOLLS On-Line Museum Photos Pictures Native American California Indians Traditional Dolls. Indigenous California Indians Dolls of Diegueño, Kumeyaay, Quechan...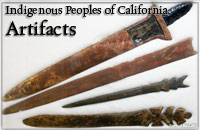 CALIFORNIA INDIAN ARTIFACTS of the Diegueño Kumeyaay artifacts Kumiai, and Cahuilla, Cupeño Cupeno, Gabrielino, Juaneño Juaneno, Luiseño Luiseno Native American tribes of Southern California and northern Mexico. Authentic relics ancient old antique Indian arrowheads, baskets, pots, paviut wands staffs, rabbit sticks.

Please visit the KUMEYAAY RESEARCH DEPARTMENT and the CALIFORNIA INDIANS RESEARCH DEPARTMENT for a gold mine of top research links to the best Native American websites about aboriginal California Native cultures, histories, languages, tribes, reservations, statistics, including directory listing of how to contact the California Indian reservations tribal offices.
Please visit the KUMEYAAY PUBLISHING DEPARTMENT.
Online MOVIES Video Film DVD:









KI Kumeyaay Indian MOVIES kumeyaay.info variety of free Native American MOVIES FILMS VIDEOS original Native American theme multimedia content online including PSA pictorial California Indian Native singing Indian powwow dancing conference historical speech elderberry flute music playing traditional Kumeyaay fiesta Kumiai Indino documental pelicula.
California Indian BOOKS:


BOOKS NATIVE AMERICAN CALIFORNIA INDIAN LIBRARY
A wide variety of books on the aboriginal Native American Indians indigenous to the Southern California, southwestern Arizona, and northwest Baja California, Mexico indigenous tribes of North America. Includes top 10 best books written about the Diegueno Kumeyaay Nation.