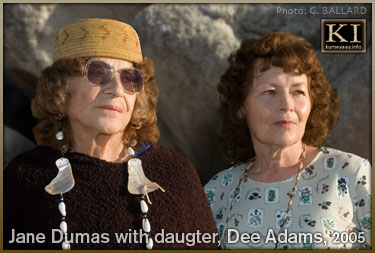 Who is Jane Dumas?
Jane Dumas is an enrolled Kumeyaay tribal member of the Jamul Indian Village - A Kumeyaay Nation. The Jamul band is one of twelve sovereign, federally-recognized Kumeyaay bands indigenous to the Southern California region of the County of San Diego, Imperial County, and Baja California Norte, Mexico.
Jane spent some of her early childhood in the Tecate countryside (US-Mexico border area). She currently resides in the City of Lemon Grove, just east of San Diego, and west of La Mesa, California.
Jane has taught Southern California ethnobotany and Kumeyaay language at the Kumeyaay Community College (Sycuan Indian Reservation). School children may recall seeing Jane's published work, including the videos "Trails of the Kumeyaay" (1994), and "Stewardship Through the Ages" (1999). She has also given hundreds of public speeches about Kumeyaay history and culture throughout Southern California over the past 60 years.
Jane's daughter, Daleane "Dee" Dumas-Adams passed away in March, 2009 — Daleane took an active role in founding the KUMEYAAY.INFO website.
DUMAS FAMILY PICTURES — In 2005, KUMEYAAY.INFO creative began the process of restoring and captioning the historical Dumas family photos: 1, 2, 3, 4, 5, 6, 7, 8, 9, 10, 11, 12, 13, 14, 15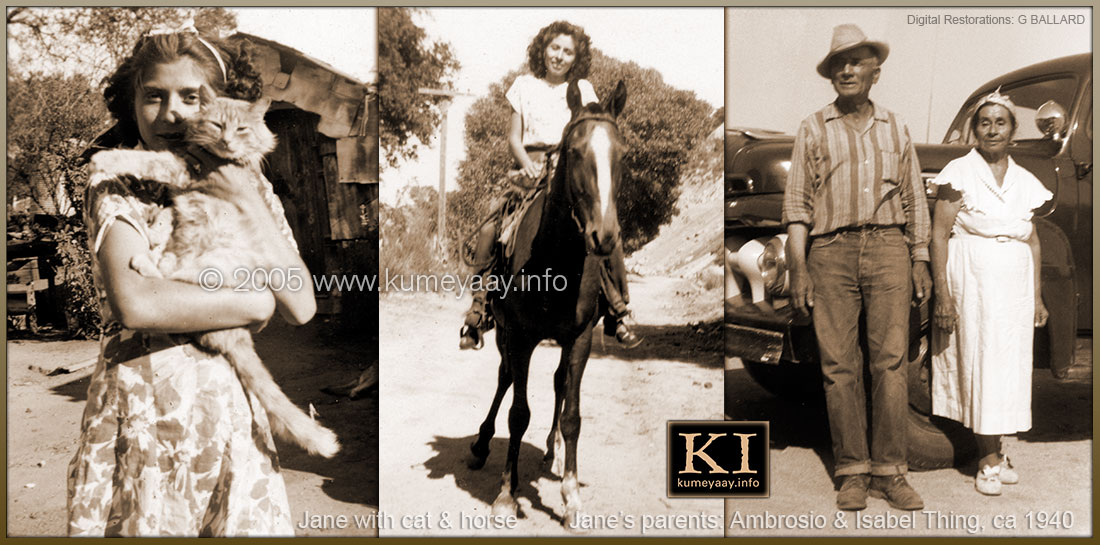 HISTORICAL KUMEYAAY PHOTOGRAPHS: A young Jane pictured around 1940 holding a big yellow tabby cat, and riding a horse. Jane's parents Ambrosio and Isabel Thing pictured in historical San Diego photographs.
12,000 YEARS — 600 GENERATIONS IN SAN DIEGO BORDER REGION
A true San Diego Native, Jane's Kumeyaay Indian ancestors have occupied the greater San Diego area for some 600 generations, 12,000 years (according to historical accounts and hard archeological evidence gleaned from many hundreds of local ancient indigenous sites that have been academically scrutinized and opined by scholars and scientists over the past 250 years or so).


Jane's great grandfather is Jose Manuel Haatam (1805-1874), tribal chief of the last aboriginal Kumeyaay Indian group that occupied the pre-contact Kumeyaay village area we know today as Balboa Park in San Diego.


Jane's mother, Isabel Thing, was a Kumeyaay Kuseyaay (medicine woman or healer) — Jane credits her mother for teaching her about Native American Indian medicinal herbs, plants, and ancient healing remedies.


Jane's father, Ambrosio Thing, was a well-known guide and translator in the early 1900s. One of his more famous clients was Erle Stanley Gardner. Ambrosio traveled with Erle Stanley Gardner on Erle Stanley Gardner's historical expeditions into Baja California.
Cultural activist in region steeped in San Diego tribal history: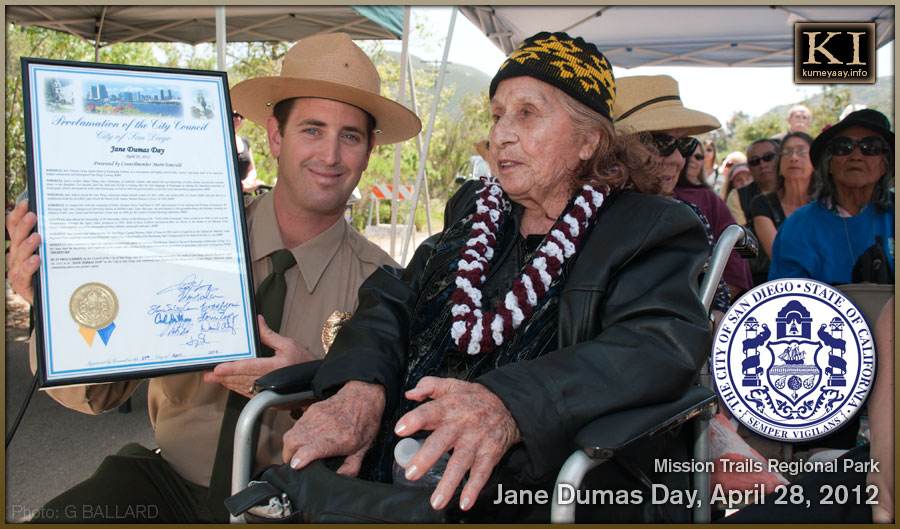 JANE DUMAS DAY, April 28, 2012
The Mission Trails Regional Park held a special community event to honor Jane Dumas and the Kumeyaay tribe — including a raising of the official Kumeyaay-Diegueño Nation tribal flag...PRESS RELEASE & PHOTOS.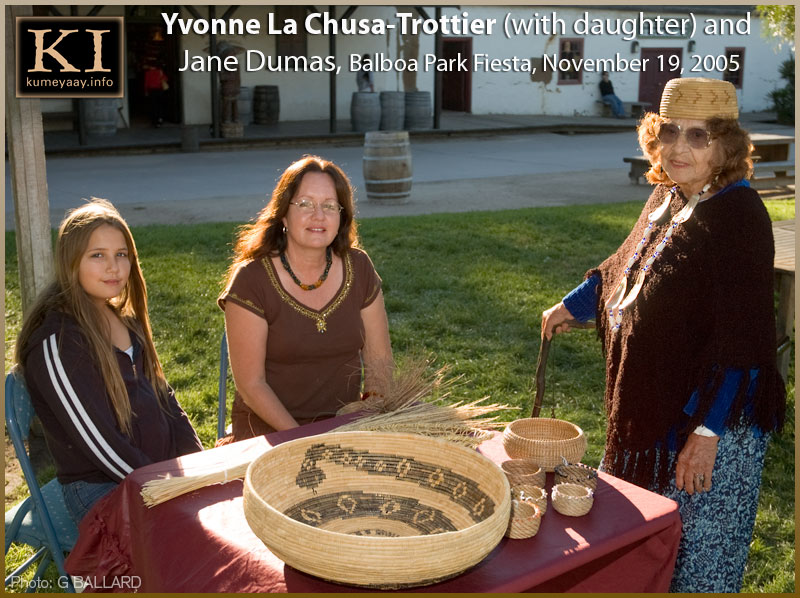 Jane Dumas pictured above with master basket weaver Yvonne La Chusa-Trottier (Ipai, Mesa Grande) and her daughter in 2005 during the Annual Old Town San Diego Fiesta in Old Town San Diego. Yvonne displayed her Kumeyaay baskets during the cultural event.
SHUMUP KO HUP (Dream Come True)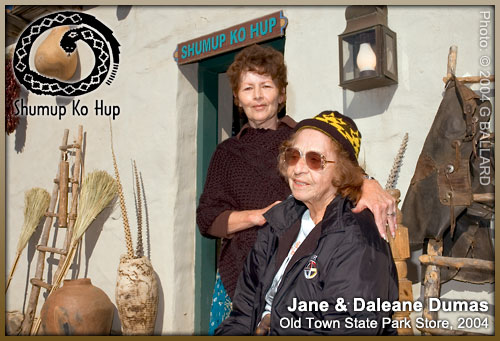 In about 2000, Jane and her daughter, Daleane, cofounded the Shumup Ko Hup gift shop in the San Diego Old Town State Park. Their Indian store sold only authentic traditional ethnographic art handcrafted by California Indians. In the store's heyday, Jane promoted and represented a thriving Southern California Indian co-opt of more than 60 Native California Indian artisans. Unfortunately for the. community, Jane and Dee closed their popular gift shop and HOWKA.COM website in 2007 as a result of hard times during the Great Recession.