JANE DUMAS Kumeyaay Elder
Jane Dumas Photo Album Family Scrapbook:
1, 2, 3, 4, 5, 6, 7, 8, 9, 10, 11, 12, 13, 14, 15
The left picture was taken in Balboa Park, 2002, during a Native American traditional gathering and honoring ceremony. Native American men pictured (l-r) Hank Murphy (Sycuan Kumeyaay), Roy Cook (Mazopiye Wichasha Opata Osage), in blue shirt Ral Christman (Viejas Kumeyaay), Kenneth Meza (Jamul Kumeyaay).
The left portrait of Jane Dumas was photographed by Dugan Aguilar in 2002.
Jane Dumas is one of the last remaining fluent speakers of the Kumeyaay language in San Diego County who learned to speak Kumeyaay as her first language. Jane Dumas possesses a great knowledge of local Indigenous plants and their aboriginal medicinal uses, and the traditional Kumeyaay culture in San Diego.
DEEP NATIVE ROOTS IN SAN DIEGO
Jane Dumas' great grandfather was Jose Manuel Haatam, tribal leader of the last Kumeyaay band that lived in the present-day Balboa Park area. The history of the Kumeyaay dates back some 10,000 years in San Diego.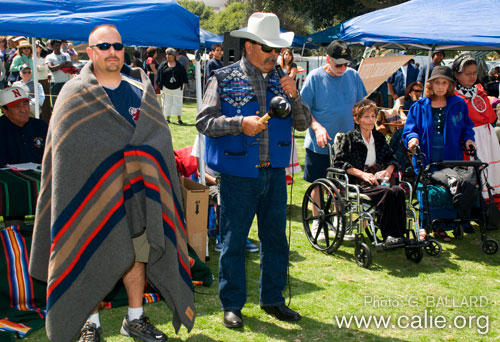 I
In the 2008 American Indian Cultural Festival Balboa Bark Powwow, San Diego, Jane Dumas (in blue jacket to right) was back in Balboa Park with her daughter, Dee (seated beside Jane), and grandson, Brian Dumas (wrapped in wool Indian honoring blanket).
PHOTO CAPTION: Ron Christman, Ipai, Santa Ysabel Band of Diegueño Indians, lead a Dumas family honoring celebration for Brian Dumas. Brian is Kumeyaay Indian of Jamul Indian Village reservation in San Diego.
Brian's great, great, great grandfather is Jose Manuel Haatam, the tribal chief of the last Indigenous Kumeyaay Indian band that actually lived in the pre-contact Kumeyaay Indigenous tribal village area we know today as Balboa Park in San Diego.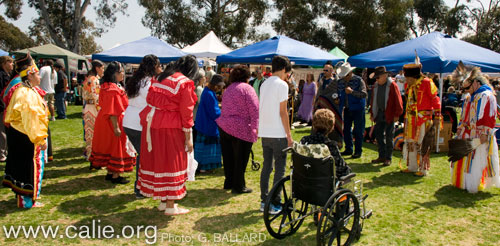 The bird singers and bird dancers sang cultural songs and danced traditional dances in honor of the the Dumas family.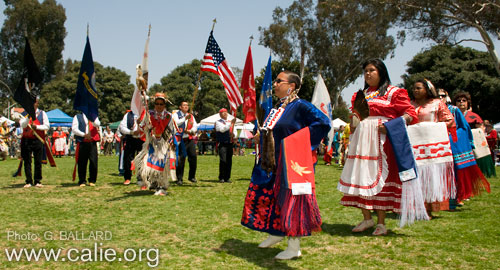 The annual Balboa Park cultural fiesta is one of San Diego's most important Native American events for Southern California's original native indigenous families to honor their ancestors and celebrate life here at the turn of the 21st century.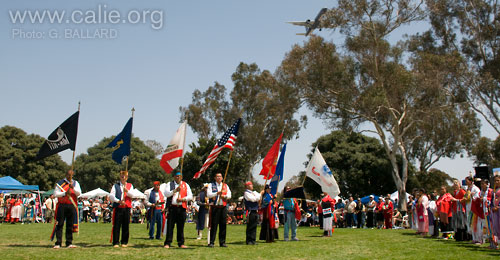 The famous Balboa Park pow-wow grounds are in the San Diego International Airport - Lindbergh Field flight path. Notice the commercial jet flying over the cultural event?