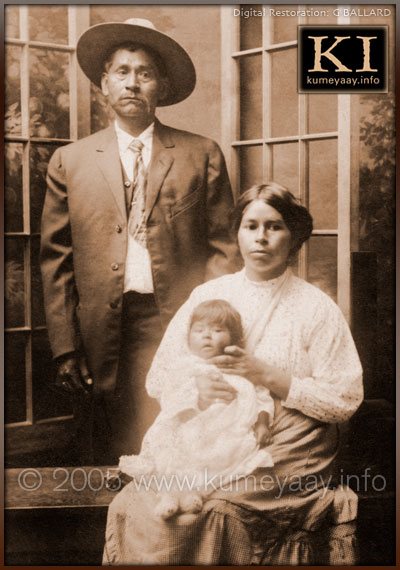 ISABEL THING, Kumeyaay
Jane Dumas Photos:
1, 2, 3, 4, 5, 6, 7, 8, 9, 10, 11, 12, 13, 14, 15
Isabel Thing, Jane Dumas' mother, is pictured with her first husband, Ignacio Lutz, 1915.
Isabelle Thing was a well known Native American Kumeyaay Indian traditional healer with a vast knowledge of indigenous medicinal herbs.
The old antique historical San Diego postcard had a "Panama California Exposition San Diego 1915" seal stamped on it.
The old postcard also was stamped "Penny Arcade, 741 Fifth Street, San Diego, California," likely where the picture postcard was made.
This series of Jane Dumas Kumeyaay family historical Kumeyaay pictures was contributed to KUMEYAAY.INFO for restoration and archiving by her daughter, Daleane Dumas-Adams, Kumeyaay, Jamul band.