KUMEYAAY LANGUAGE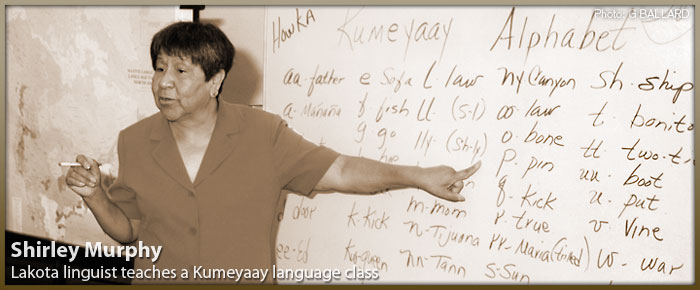 Did You Know?
"Sycuan's language is called Kumeyaay, of which there is a northern dialect (Iipay) and a southern dialect (Tiipay).

"The Kumeyaay language is a Hokan language of the Yuman stock, which also includes Cocopah, Maricopa, Quechan, Mohave, Pai Pai, Yavapai, Havasupai, and Hualapai...".

- sycuan.com (link broken)
Learn how to pronounce Kumeyaay video:
Kumeyaay Language STORIES STORYTELLING
Featuring the Kumeyaay stories from the Brown-Curo family of Barona and Viejas.
Kumeyaay Language STORY TRANSLATED into English
"The Rabblt Versus the Rattlesnake"
Kumeyaay MOVIES On-line Videos, DVDs, Movie Theater
Kumeyaay singing, Kumeyaay Dancing, Kumeyaay Native Speakers, California Indian Language Culture audio recordings, Pai-Pai language Spanish translations into English language movie film videos online.
KUMEYAAY LANGUAGE AUDIO RECORDINGS of Native Kumeyaay speakers with English translations:
Kumeyaay Elder Jane Dumas, Jamul band, addresses a crowd in Old Town San Diego State Historic Park, 2005. Jane Dumas opens her remarks in Kumeyaay, Spanish and translates her Kumeyaay speech into English language.

Kumeyaay Native speaker Stan Rodriguez, a Kumeyaay bird singer from the Santa Ysabel reservation, speaks in Kumeyaay and translates it into English, plays a can rattle and sings Ipai and Diegueño Yuman songs.

KUMEYAAY GUIDE to Kumeyaay History & TIMELINE, Kumeyaay Culture, Kumeyaay Reservations.


KUMEYAAY LANGUAGE WEB SITE Kumeyaay Linguistics LEARN how to speak Kumeyaay language online from a fluent Native speaker.
Learn how to pronounce Kumeyaay: Ku-me-yaay — Coo-me-eye
Coo (like a dove coos) - Me (like you and me) - Eye (like an eyeball)
LISTEN to a Kumeyaay Native speaker-linguist pronounce "KUMEYAAY"

Yuman language singers, Sycuan Indian Reservation, Kumeyaay Community College (formerly DQ University at Sycuan), are pictured here in this photograph around a burning campfire learning and singing ageless traditional "bird songs" of their indigenous ancestors.