KUMEYAAY RESEARCH Portal
Traduzca esta página inglesa al español
-by webmaster, Gary G. Ballard
The Kumeyaay Information Village Website provides this KUMEYAAY INDIANS on-line research portal and educational tutorial free of advertisements and agendas to learn about the southwestern aboriginal California tribal peoples of San Diego County and Imperial County and northwest Baja California — the Kumeyaay Nation, aka Kumeyaay-Diegueño Nation — their ancient indigenous culture and Yuman language family of Hokan linguistics through a virtual tour of historic facts and information about Kumeyaay Indian history, storytelling, ethnographic arts and crafts, artifacts, tribal rancherias and anthropology of the "Kumeyaay Indians" of Southern California, including the Diegueno California Indians' historical and modern struggles for survival and cultural identity into the 21st Century.


KUMEYAAY OPINION editorial letters to the Kumeyaay editor
(Submit your opinions, photos to Kumeyaay Information Village Website for publication).
The sovereign KUMEYAAY-DIEGUENO NATION of indigenous Native American California Indians of North America are known by many names and spellings, including: Kumiai, Ko'al, Kumei, Cumeyaay, Kumyai, northern and southern Diegueño Diegueno Digueño Digueno Dieguenyo, Ipai-Tipai, Tipaay, Tiipay-Iipay, Diegueno-Kamia, Kamia, Mission Indians of San Diego California Mission Indians, San Diego Indians.
However, the most common and popular modern Kumeyaay names used today are:
KUMEYAAY (USA)
KUMIAI (Mexico)
DIEGUENO (Early Spanish)
TIPAI-IPAI (Tribal), also Iipay (northern), Tipay (southern)
HISTORY OF THE KUMEYAAY
The oldest known Kumeyaay ancestors -- the San Dieguito Paleo Indians -- have been traced back into prehistoric San Diego lands to 10,000 B.C. through hard archeological evidence collected from ancient San Diego area indigenous sites which virtually proves the Diegueno and Kumeyaay Indian peoples have lived in Southern California and northwest Mexico for at least 12,000 years.

KUMEYAAY 12,000-YEAR HISTORY in San Diego — since 10,000 B.C. — an editorial perspective, timeline and history essay about San Diego's original people.
SOVEREIGN TRIBAL GOVERNMENTS


KUMEYAAY SOVEREIGNTY — The Constitution of the United States, U.S. Supreme Court, federal and state laws, as well as historical treaties all support the Kumeyaay tribe's present-day legal rights to self-government, including certain limited forms of American tribal sovereignty....
WWW.KUMEYAAY.INFO website includes a gold mine of CREATIVE MULTIMEDIA content about the 12 federally-recognized Kumeyaay bands in San Diego County, California, and four Baja Norte Kumiai tribus indigenous village ejidos south of the U.S.-Mexico border — including an extensive KUMEYAAY WEB RING of the best research links about the Kumeyaay Nation: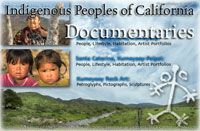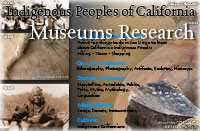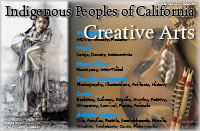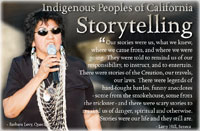 Indigenous Kumeyaay-Diegueno Tribes of California Online Museums Research features free movie theater, Native American films, video, beautiful color high-resolution professional pictures of Native faces, photos, picts, pics, images and digital restorations of historic Kumeyaay-Diegueno-Ipai photographs about the Kumeyaay Indians, Kumeyaay bird dances. Creative media includes HISTORICAL and Kumeyaay RESERVATION MAPS, KUMEYAAY HISTORY and KUMEYAAY OPINION essays editorials, Kumeyaay approved book list and useful facts information about the tribal Native Californians of the greater San Diego County area.


CALIFORNIA INDIANS RESEARCH PORTAL:
Please visit the KUMEYAAY.INFO CALIFORNIA INDIANS RESEARCH DEPARTMENT for complete information, field notes on the Kumeyaay, and academic research links to all the Native American tribes, rancherias, historic Kumeyaay homelands and reservations of California, including information about the four surviving tribal groups indigenous to San Diego County:
Cahuilla | Kumeyaay | Cupeño | Luiseño
SOVEREIGN KUMEYAAY NATIONS:
UNITED STATES Southern California Kumeyaay bands, the so-called Mission Indians, Diegueño Indians include the 13 federally-recognized Kumeyaay tribes in San Diego County. Links and information to the sovereign Kumeyaay Indian reservations in San Diego County and the official web sites of the sovereign KUMEYAAY-DIEGUENO NATION.
Ewiiaapaayp Band of Kumeyaay Indians aka Cuyapaipe
San Pasqual Band of Indians
Viejas Band of Kumeyaay Indians
Barona Band of Mission Indians
Mesa Grande Band of Mission Indians
Inaja Cosmit Indian Reservation
Capitan Grande Band of Diegueño Mission Indians
Santa Ysabel Band of Diegueño Indians
(aka) Iipay Nation of Santa Ysabel
Manzanita Band of the Kumeyaay Nation
La Posta Band of Mission Indians
Jamul Indian Village - A Kumeyaay Nation
Campo Band of the Kumeyaay Nation
(aka) Campo Kumeyaay Nation
Sycuan Band of the Kumeyaay Nation
MEXICO KUMEYAAY / KUMIAI INDIANS: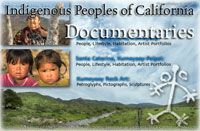 MEXICAN Kumeyaay tribal communities of northern Baja California, Mexico, include:
San Jose de la Zorra
San Antonio Necua
La Huerta
Juntas de Neji
Santa Catarina (Kumiai / Pai-Pai)


KUMIAI DE BAJA CALIF MEXICO en Español Kumiais una cultura en riesgo de extinsión, Acerca de los indigenas Kumiai, Geografia, Sistema Politico, Origenes lingüisticos, Programas de Trabajo, Consejo, Acerca de los indigenas Kumiai, Gobernadora Kumiai, Origenes lingüisticos, y mucho mas...
In an effort to provide visitors with the most current information about the Kumeyaay California Indians, kumeyaay.INFO links extensively to kumeyaay.COM to ensure a contemporary Kumeyaay perspective is available by way of this well-researched Kumeyaay web site:


KUMEYAAY.INFO has no affiliation with KUMEYAAY.COM.
YUMAN INDIAN FAMILY:
The sovereign KUMEYAAY-DIEGUENO NATION is a branch of the YUMAN INDIANS of North America, Southern California, southwest Arizona, and northern Baja California, Mexico.
Today's Native American aboriginal Yuman Native Indians include:
Kumeyaay
Cocopah Cucapá Cocopa
Mohave Mojave
Hualapai
Yavapai
Havasupai
Quechan
Maricopa
Paipai Pai Pai
Kiliwa
Cochimi
HOKAN LANGUAGE TRIBAL GROUPS:


Source: www.native-languages.org
The KUMEYAAY INDIANS are of the Hokan stock of indigenous North American languages that were spoken on the West Coast and southwest United States of America, and in northwestern Mexico (Baja California and Sonora).
The Hokan language family groups of southwest Native American Indians include:
Delta-Californian Languages:
Cocopa
Kumiai (Diegueno)
River Yuman Languages:
Maricopa
Mohave
Quechan (Yuma)
Upland Yuman Languages:
Havasupai-Walapai-Yavapai
Paipai (Akwa'ala)
Cochimi
Kiliwa

-source and more information on each tribal group: www.native-languages.org
ONLINE KUMEYAAY RESOURCES:
Please visit the KUMEYAAY LANGUAGE DEPARTMENT
Please visit the KUMEYAAY CULTURE DEPARTMENT
Please visit the KUMEYAAY EDUCATION DEPARTMENT
Please visit the KUMEYAAY ARTIFACTS DEPARTMENT
Please visit the KUMEYAAY LIBRARY DEPARTMENT
Please visit the KUMEYAAY ART DEPARTMENT
Please visit the KUMEYAAY LAW DEPARTMENT
Please visit the KUMEYAAY SOVEREIGNTY DEPARTMENT
Please visit the KUMEYAAY HISTORY DEPARTMENT
Please visit the KUMEYAAY OPINION / EDITORIAL DEPARTMENT
Please visit the KUMEYAAY PROFESSIONALS WHO'S WHO DIRECTORY
Please visit the KUMEYAAY DOCUMENTARIES DEPARTMENT
Please visit the KUMEYAAY PUBLISHING DEPARTMENT
SAN DIEGO KUMEYAAY CASINO GUIDE: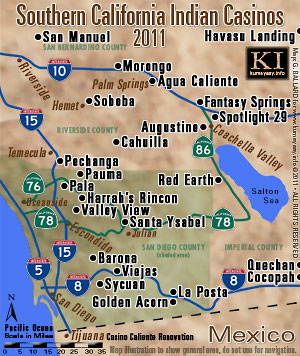 KUMEYAAY GAMING DEPARTMENT offers a free directory index listings to the top 10 Native American gaming tribes, including the best Kumeyaay casinos in San Diego County and the history of tribal gaming in America.
KUMEYAAY HISTORY NOTES:
KUMEYAAY.INFO offers fully restored and captioned old antique vintage historical Kumeyaay pictures of museum quality, and editorial forward in our KUMEYAAY HISTORY overview.
The Campo Band of Kumeyaay Indians website details Kumeyaay History in the greater San Diego County area with KUMEYAAY MAPS on key historical points 1769 1798 1836 1842 1852 1700s 1800s 1900s 2000s, including the Mexican Period, the American Entry, the American Period, the California Genocide, and the Kumeyaay Threat of 1860-1880:
"The resistance of the Kumeyaay was seen as overwhelming to the Spanish at times. In 1779, Lt. Colonel Fages summed up the Kumeyaay attitudes as follows, "Indeed this tribe, which among those discovered is the most numerous, is also the most restless, stubborn, haughty, warlike, and hostile toward us, absolutely opposed to all rational subjection and full of the spirit of independence."
THE KUMEYAAY daphne.palomar.edu by Michael Baksh:
"This ethnographic overview focuses on the Kumeyaay of southern San Diego County. It is based upon the detailed descriptions and research findings of several important ethnohistorical and ethnographic studies. Includes Subsistence, Housing & Technology, Settlements & the Seasonal Round, Kumeyaay Agriculture, Social Organization, Trade, Spiritual Life."
KUMEYAAY INDIAN BOOK LIST:


KUMEYAAY LIBRARY Book List of Southwestern Native American Indians
KUMEYAAY.INFO provides an extensive book list online about the Kumeyaay aboriginal Native American Indians indigenous to the Southern California, and northwest Baja California, Mexico. Includes a treasure chest of literature, including Kumeyaay ethnographic arts and crafts, basketry, pottery, storytelling, music, dances, Kumeyaay genealogy research, Kumeyaay survival methods, Kumeyaay weaponry...

RESEARCH TUTORIAL:

The key academic words or areas for Kumeyaay Native American Indians indigenous knowledge studies and research include:

Iipay Tiipay, Ipai Tipai, Hokan, Yuman, Nyakipa, San Dieguito Paleo Indians, Southern Diegueno Diegueño Dieguenyo, Diegueño Diegueno Kamia, Mission Indians, San Diego County, Imperial County, Baja Norte, Rancho San Diego, Mission of San Diego de Alcala by Father Junipero Serra 1769, Missions of California, Mexican-American War, Treaty of Guadalupe Hidalgo 1848, shiimull, kwaaypaays, kuseyaay, Kuchumaa, Kuuchamaa, Bird Song, Bird Singing, Bird Dance, Bird Dancing, Eagle Dance, Eagle Dancing, The Mission Period 1769-1822, The Mexican Period 1822-1848, The 1848 Treaty of Guadalupe Hidalgo, Larry Banegas www.kumeyaay.com, Samuel Brown www.kumeyaay.org, Mike Connolly Miskwish, Dr. Florence C. Shipek, Florence Shipek, Rupert Costo, "The Missions of California: A Legacy of Genocide".

TUTORIAL examples of typical SEARCH phrases to try,
using the world's number one internet SEARCH engines, GOOGLE, YAHOO:

Note: The above SEARCH links are pre worded, all you need do is click on the links. The Search Engine Optimization SRO experts the Editor talked to seem to prefer the GOOGLE engine because it has the most "natural" results (not influenced by placement fees).

HERE is Glenn Welker LINKs page kumeyaay.info for indigenous research on global Indigenous issues.


Here at the Kumeyaay Information Village Website and Resource Links Center, San Diego County, Imperial County, Orange County, Los Angeles County, City of El Cajon, Alpine, California, we have researched the internet for the very best relevant Ipai Tipai, Yuman, Diegueño information, Kumeyaay indigenous knowledge available on the web, the Kumeyaay history, Kumeyaay culture, and we have designed a modern, dynamic, easy-to-use graphical interface to make surfing the web easy and fun by hyper linking you and your classrooms students to the very best Kumeyaay Indians experts, the very best Kumeyaay web sites, and the very best Kumeyaay creative resources on the web.