NATIVE AMERICAN RESEARCH California Indians Portal
Traduzca esta página inglesa al español
Webmaster's Forward:
I am beginning this online Native American research guide web ring portal to the top Native American web sites for credible information about the real Native Californians in a personal journey to better understand their indigenous North American history and culture; specifically the aboriginal tribal groups of Alta California, Southern California, southwestern Arizona, and the Mexican Indian tribes of Baja California, Baja Norte, of northwest Mexico; to compile an online village indigenous research center, a NATIVE WEB RING of the best websites to learn about the southwest Native American Indians of the United States of America, West Coast, USA.
CALIFORNIA currently has the second largest Native American population in the United States, including over 100 federally-recognized Indian tribes.
In 1769 the first Spanish European immigrants settled in California in what became Old Town, San Diego, Mission Presidio.

In 1845 the California Indian population was estimated to have been 150,000 strong.


In 1848, at the end of the Mexican-American War, Indians in California out numbered whites in California by 10 to one.

By 1855, the California Indian population had been reduced to 50,000.

By 1900, less than 16,000 Indians in California had survived the onslaught of invading white immigrants — some 134,000 California Indian lives were lost during this 55-year period AFTER the U.S. Government took control of California.

- campo-kumeyaay.org
KUMEYAAY.INFO website was founded on the KUMEYAAY RESEARCH DEPARTMENT platform about the 13 federally-recognized Kumeyaay bands in San Diego County and quickly evolved to include five tribal villages south of the U.S.-Mexican border — so we already have great portal of research material and a KUMEYAAY WEB RING of supporting research links available on the Kumeyaay Nation: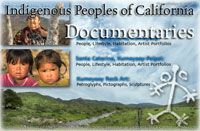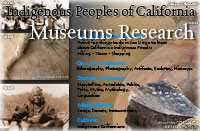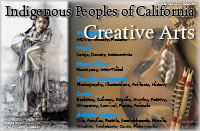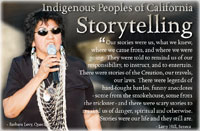 Indigenous Peoples of California Online Museums Research features free original multimedia movie theater, films, video, beautiful color high-resolution photography, professional pictures, photos, pics and digital restorations of historic California images about the Indigenous tribes of the Californias. Includes HISTORICAL and RESERVATION MAPS, HISTORY and OPINION essays editorials, storytelling, California Indian book list, on-line information and facts about California's First Americans.


SAN DIEGO COUNTY NATIVE AMERICAN TRIBES:
With 18 federally-recognized indigenous Indian tribes, San Diego County has more Native American Indian reservations than any other county in the USA.
ACCORDING TO DOLAN H. EARGLE JR, whose on-line California indigenous research and personal handwritten field notes on tribal subjects cover north from San Diego County, east to the Colorado River, and south to northwest B.C., Mexico. The Dolan Eargle research material includes info and facts about the past and present day California Native American history and traditional first-nation cultures of Southern California:


NEARBY CALIFORNIA INDIAN RESERVATIONS AND THEIR PEOPLE:
(Click HERE or on the linked page's thumbnail to enlarge map file).
SOURCE http://personal.linkline.com:
The Indians of San Diego County, by DOLAN H. EARGLE JR. (Native California Guide. Weaving Past & Present. San Francisco: Tree Company Press, 2000.)
"Four tribal groupings make up the indigenous Indians of San Diego County: The Kumeyaay-Diegueño, the Luiseño, the Cupeño, and the Cahuilla."
-Dolan H. Eargle


Dolan H. Eargle's linked field research notes on Native California American Indians includes detailed facts and information, including personal first-hand accounts about:
BARONA Indian Reservation
SYCUAN Indian Reservation
CAPITAN GRANDE Indian Reservation
VIEJAS Indian Reservation
JAMUL Indian Village
EWIIAAPAAYP Indian Reservation
CAMPO Indian Reservation
MANZANITA Indian Reservation
INAJA-COSMIT Indian Reservations
SAN PASCUAL Indian Reservation
SANTA YSABEL Indian Reservation
MESA GRANDE Indian Reservation
AJACHEMEM NATION, JUANENO Indians
LUISENO Indians
PALA Indian Reservation
LA JOLLA Indian Reservation
RINCON Indian Reservation
PAUMA-YUIMA Indian Reservation
PECHANGA Indian Reservation
SOBOBA Indian Reservation
SAN LUIS REY BAND OF MISSION INDIANS
PEOPLE OF THE MOJAVE DESERT and COACHELLA VALLEY and COLORADO RIVER
CHEMEHUEVI (Southern Paiute) CHEMEHUEVI Indian Reservation
29 TWENTY-NINE PALMS Indian Reservation
KITANEMUK TRIBE OF TEJON INDIANS
SERRANO and VANYUME
SAN MANUEL Indian Reservation
CAHUILLA Indian Reservation
RAMONA Indian Reservation
SANTA ROSA Indian Reservation
LOS COYOTES Indian Reservation
TORRES-MARTINEZ Indian Reservation,
AUGUSTINE Indian Reservation
CABAZON Indian Reservation
AGUA CALIENTE Indian Reservation
MORONGO Indian Reservation
CUPENO Indians
Please VISIT this wonderful Southern California source for greatly detailed resources about the above tribal subjects.
CALIFORNIA INDIANS:
Another great California Indian research site for extensive facts, statistical, population and tribal information about the southwestern Native American indigenous Indians of California provides in-depth sections on California Native Languages, Cultures, Histories and Demographics of the California Indian: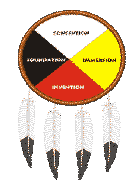 FOUR DIRECTIONS INSTITUTE www.fourdir.org:
SOURCE: "The data provided herein is extracted from the Native American Historical Data Base by Larry T. B. Sunderland. Similar presentations for the entire United States and Canada have been published in The Native American Handbook by Four Directions Press ISBN 0-9712666.1.1 who will begin filling orders November 1, 2001. No representation as to accuracy are made regarding the links that are not a part of this web site."
California Indian history article:
"The ancestors of the Hokan or possibly the Yukians may have been the first inhabitants of California. The Encinitas Culture appeared 5500 BC in the San Diego area. The Campbell Culture appeared around Santa Barbara 3000 BC. The Hotchkiss culture in Central California began about 500 BC. The Takic Uto-Aztecans arrived in their aboriginal southern California territories and the Penutians arrived in the central valley in the century before the time of Christ. The Athapaskans were the last to arrive, sometime around AD 900...".


- Four Directions Institute www.fourdir.com
The FOUR DIRECTIONS INSTITUTE provides a listing of Native American tribes including detailed information and extensive web links to the following California Indian tribes and historical rancherias, including language, family, stock, phylum, macro culture, speakers, aboriginal lands, present locations, populations and links to related sites on most Indian tribes noted:
Achomawi
Atsugewi
Cahto
Cahuilla
Chemehuevi
Chilula
Chimariko
Chumash
Coast Yuki
Costanoans
Cupeno
Diegueno
Eel River Tribes
Esselen
Gabrielino
Halchidhoma
Huchnom
Hupa
Juaneno
Kamia
Karuk
Kawaiisu
Kitanemuk
Kohuana
Koso
Luiseno
Maidu
Mattole
Miwok
Modoc
Mojave
Northern Paiute
Pomo
Salinan
Serrano
Shasta
Southern Paiute
Tolowa
Tubatulabal
Vanyume
Wailaki
Wappo
Washoe
Western Shoshoni
Whilkut
Wintu
Wiyot
Yanan Tribes
Yokuts
Yuki
Yuma
Yurok
John R. Swanton, Indian Tribes of North America; California, Smithsonian Institution Bureau of Ethnology Bulletin145 (Washington Government Printing Office 1952).
The FOUR DIRECTIONS INSTITUTE contains a gold mine of academecially-researched information and links to quality research articles about Native American Indians across North America — please visit the Four Directions Institute's new home page www.fourdir.org for more complete information about the California tribes.
TOP NATIVE AMERICAN GENEALOGY RESEARCH WEB SITE:
KUMEYAAY.INFO research links to US Government DOI American Indian genealogy researching resources cover extensive general information, resources, benefits, tribal leader directory.


www.accessgenealogy.com offers Indigenous researchers a well organized library of Native American records and researched information online, including a specialized section "Indian Tribes of California":
"The territory of the present State of California was discovered in 1542 by a Portuguese navigator in the Spanish service, J. R. Cabrillo. In 1578 Sir Francis Drake landed at Drake's Bay, opened communication with the natives, and took possession of the country in the name of England, calling it New Albion. It was explored by the Spaniard S. Viscayno in 1602, but no attempt was made at colonization until the Franciscan Fathers established a mission at San Diego in 1769. Within the next 50 years they founded 21 missions and gathered 20,000 Indians about them...".

"Additional California Indian Resources:
California Missions Indians
Benjamin D. Wilson, Report on CA Indians 1852
California Indian Missions
Charles Painter, Report on Indian Territory & CA
Native Burials in Mendocino County, California
Digger Indians of California
Old Mission Stories of California"

- www.accessgenealogy.com
This is one very deep Native link of highly-detailed and organized information on the California Indian tribes of North America.
CALIFORNIA NATIVE AMERICAN LANGUAGES:


Please visit : www.native-languages.org for their complete information.
This extensive on-line American Indian language research site contains detailed tribal facts and linguistical information about the California Indian languages of North America, including:
Alphabetical master list of Native American languages with links to specific information about each language and its native speakers.


Setting the Record Straight
(Infrequently Asked Questions) Ya gotta see this....

Linguistic family groupings showing the relationships between American Indian languages.


Vocabulary word lists in various American Indian languages.


List of Native American peoples featured on our site.


Kids Menu of Native American information presented for younger readers.


List of Native American books and other resources by and about American Indians.


Links to general American Indian language resources available online.
CALIFORNIA INDIAN HERITAGE:


http://boxer.senate.gov/nah/tribe_listing.cfm (link broken)
U.S. SENATOR BARBARA BOXER offers extensive organized government information, including:
DIRECTORY OF CALIFORNIA TRIBES notes which tribes are federally recognized by the U.S. Government, and tribal language group(s) currently represented in each tribe. Detailed contact information directory on each band or tribal office is also provided with names, addresses, telephone numbers and individual cultural and history notes on each tribe.

CALIFORNIA INDIAN TRIBAL GROUPS BY LANGUAGE

HISTORICAL TIMELINE

WEALTH OF CALIFORNIA INDIAN LINKS

Achomawi/Achumawi
Cahto
Cahuilla
Chemehuevi
Chumash
Costanoan/Ohlone
Cupeño
Gabrielino/Tongva
Hupa/Hoopa
Karuk
Kumeyaay
Luiseño
Maidu
Miwok
Mojave
Ohlone
Paiute
Pomo
Quechan
Serrano
Shoshone
Tolowa
Wappo
Washoe
Western Mono
Wintun
Wiyot
Yokuts
Yuki
Yurok
CALIFORNIA INDIAN BOOK LIST:


BOOKS NATIVE AMERICAN CALIFORNIA INDIAN LIBRARY
KUMEYAAY.INFO provides an extensive book list online about the aboriginal Native American Indians indigenous to the Southern California, southwestern Arizona, and northwest Baja California, Mexico indigenous tribes of North America. Includes a treasure chest of literature, fiction and nonfiction, including ethnographic arts and crafts, basket weaving, clay pottery, storytelling, music, dances, tribal genealogy, research, survival methods, primitive weaponry....
A
work in progress ;)
Please visit the Kumeyaay.Info KI HomePage www.kumeyaay.info and learn about the San Diego California Indigenous peoples, their ageless aboriginal cultures and lifestyles - the Yuman Indigenous peoples have over 10,000 years in San Diego County, Southern Calif. and Baja California, Mexico!
Simply put, www.kumeyaay.Info KI hyper-links you to the top California Indian publishers and writers, California Indian museums, southwest Native American photos pictures photographs historical archives, California Indian creative artists crafts, California Native anthropologists, Yuman and Shoshonean linguists, California Indian historians, early California ethnography,ethnographers - the California Native American Indigenous People - for information and answers about their personal insights into the Indigenous languages, California traditional cultures, ethnographic traditional arts crafts.
Here at the Kumeyaay Information Village Website and Resource Links Center, San Diego County, El Cajon, Alpine, California, we have researched the internet for the very best relevant California Native American information available on the web.
And we have designed a modern, dynamic, easy-to-use graphical interface to make surfing the web easy and fun by hyper linking you and your classrooms students to the very best Indian experts on California, the very best Native web sites, and the very best creative resources on the web - all from one site: Kumeyaay.Info (KI).