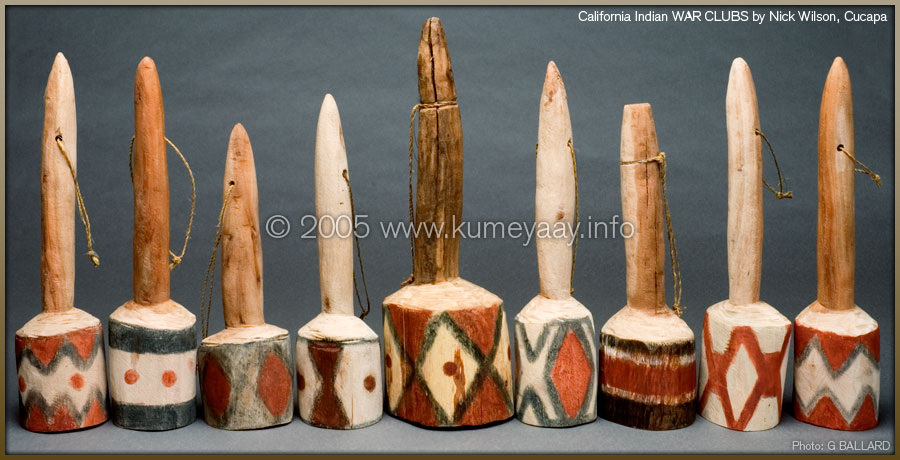 NATIVE AMERICAN INDIAN WAR CLUBS
Cocopah aboriginal artist Nick Wilson CUCAPA handcrafted these unique museum grade mesquite primitive war clubs around 2004 for sale across the US-Mexico Border.
Nick Wilson, a virtual authority on how to make ancient Indian artifacts, cuts his own mesquite wood and collects uses the traditional red paint or red dye, cochineal (Dactylopius coccus), of the Yuman tribes in creating his authentic Native California ethnographic tribal arts and crafts.
The cochineal dye is derived from bugs insects that naturally create a rich maroon scarlet pigment and stores it in its body fluids and tissues that the Indigenous tribal people harvest.
The Native tribes have collected and used the red dye material for thousands of years for social status, including body painting and face painting, tribal tattoos, tribal logos and designs to mark their bodies, clothing, territory and weaponry with tribal symbols, as pictured above.
The large Cocopah tribal war club in the middle is 16-inches tall and weighs over 5 pounds...the webmaster can't help but wonder what it must have been like to have a group of angry Natives coming after him with these primitive weapons (and he hopes to never find out!).
Nick handmade the twine cord he used on the Indian war clubs by extracting agave fiber from dried agave plants and hand-rolling the fibers together to make the string, the same way his ancestors have made Indian rope for thousands of years.
Nick Wilson's authentic Cocopah war clubs may be purchased through Shumup Ko Hup California Indian store and gift shop located in Old Town, San Diego.