NATIVE AMERICAN DOLLS
The Indigenous peoples of California Native American dolls were originally made of clay, plant fibers and hides.
After European contact in the 1700s cloth was obtained in trade and became widely used in Indigenous California Native American doll making.
The four pictured Southern California Kumeyaay and Quechan dolls are new and old, and include traditional California willow bark skirts, Kumeyaay basket hats, cloth materials, clay pottery, stone carvings, tribal tattoos, and beaded necklaces.
Native American Indian indigenous dolls from left:
Cloth doll with baby, willow bark skirt, glass trade bead necklace, coiled juncus basket hat, yarn hair and red mineral pigment tattos, 18 inches tall, EVA SALAZAR, Kumeyaay, 2004.

Clay doll, willow bark skirt, yarn hair, Native bare breasts, coiled juncus basket hat and red mineral pigment. 7 inches tall, Eva Salazar, Kumeyaay, 2004.

Cloth doll, calico dress, glass bead and shell necklace, coiled juncus basket hat and yarn hair, Celia Silva, Kumeyaay, c. 1995.

Cloth doll, hosiery face and arms, yarn hair, lace, abalone shell and feather, 10 inches tall, Barbara Levy, Quechan, 2003, "Medicine Woman, Quechan Woman," Ft. Yuma, CA.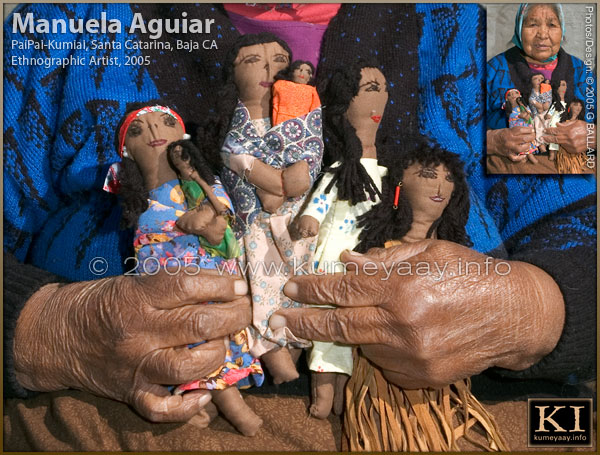 AUTHENTIC NATIVE AMERICAN INDIAN DOLLS by California famous indigenous artist dollmaker Manuela Aguiar, Kumeyaay-PaiPai Yuman tribes of Southern California.


HISTORICAL Kumeyaay Diegueno Tipai-Iipay tattoos face body painting, regalia for California Indian cultural research.


KUMEYAAY INDIAN FACE PAINT -- Research.