KUMEYAAY EQUESTRIAN BONFIRE
KUMEYAAY INDIAN vaqueros bareback on horseback encircle and torch a Native American bonfire during the San Antonio Necua annual KUMEYAAY FIESTA, northwest Baja California, Mexico, June 2005.
The Native American pyrotechnics and equestrian, the Kumiai indians on caballo indio, fire shows are part of the traditional KUMEYAAY FIESTA of the Indigenous Native tribal celebrations of northern Baja California, Mexico.
SEE THE VIDEO FROM THIS TRIBAL DOCUMENTARY FREE NATIVE AMERICAN EQUESTRIAN MOVIE ONLINE.


CALIFORNIA INDIAN BOWS & ARROWS features deep field and museum research, photography and captions as published in SURVIVAL SKILLS OF NATIVE CALIFORNIA, by Paul D. Campbell. Paul's book features living Native American California Indigenous people of the greater San Diego area, and details their traditional hunting, weapons and aboriginal California Indian survival methods.


SOUTHERN CALIFORNIA INDIAN MUSIC Kumeyaay Bird Singing, gourd rattle photos, Bird Songs, Eagle Bird Dancing, professional picture portfolios of Native American dancers in Powwow regalias, traditional Kumeyaay and Cocopah Indians gourd rattles, photos and free on-line movies Bird Dancing, Bird Singing Powwow DVDs, aboriginal elderberry flute Diegueno flute music audio recordings.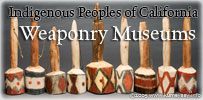 INDIGENOUS CALIFORNIA INDIAN WEAPONRY, Native American weaponry, pictures old and modern traditional arts and crafts, including Native California Indian war clubs, Southern California Indigenous primitive weaponry, Cocopah Cucapa Indians artifacts for an American Indian museum experience.


CALIFORNIA INDIAN FACE PAINT -- The pictures and writing in this section are parts of Paul Campbell's newest book (unreleased), EARTH PIGMENTS AND PAINT: MEANING AND TECHNOLOGY. His fully-researched book will include all facets of Native California pigments and paint, including physical, social, spiritual — in great detail — and will reveal how the Indians turned yellow pigment red, and about how they made blue from white gypsum and black charcoal, and it will give many other recipes for Indian paint. The book will also discuss the origin of CAVE ART in California, and the latest atomic accelerator testing of the ancient pigments used by the California Indians.
For a 2005 northern KUMEYAAY FIESTA photo essay:


KUMEYAAY FIESTA -- Top 100 best professional photos pictures pics beautiful large high resolution digital imagery of the 2005 SYCUAN GATHERING of the Kumeyaay Nation featuring California Indian Yuman bird singing and Native bird dancing, including Native dancers from across the USA, Canada, northern Baja California, northern Mexico. Native performers pictured may include the Diegueno Diegueño Kumeyaay Kumiai, Quechan, Cocopah Cucapa, Mohave, Pai Pai Paipai, Ipai Tipai, Hualapai, Kiliwa, Havasupai, Yavapai, Maricopa, Cahuilla, and Shoshonean Indians Luiseño Luiseno, Juaneno Juaneño Indians of North America.
Writing and Web Page Design Contributed by webmaster, GARY G BALLARD