RABBIT STICK
GERARLDO ALDAMA SR, Kumeyaay Indian elder and Native American rancher is pictured on his working ranch — Rancho Tipai — holding primitive oak RABBIT STICKS he made in the ancient Kumeyaay way for sale across the US-Mexico border.
Gerarldo was born and raised on Rancho Tipai and his Kumiai family has lived on the ranch for as long as he remembers.
He says he speaks fluent Kumeyaay language as naturally as he speaks Spanish.
As an authority on aboriginal survival knowledge, MR. ALDAMA is featured in the rabbit sticks chapter of Paul D. Campbell book: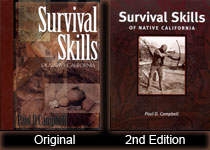 REVIEW THIS BOOK
SURVIVAL SKILLS OF NATIVE CALIFORNIA features living Native American California Indigenous people of the greater San Diego area, and details their traditional weapons used for hunting and Indian survival methods.
BUY Mr. Aldama's authentic Native American California Indian ethnographic arts and crafts of the La Huerta tribal community world-wide at Shumup Ko Hup Native American Indian store and gift shop in Old Town San Diego, California.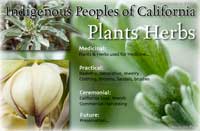 INDIGENOUS PLANT PHOTOS Southern California Ethnobotany Plant Guide professional hihg-resolution pictures gallery of the plants and herbs used by indigenous Native American California Indian tribes of southwestern Southern California, features California white sage used in ceremony, yucca used for fiber and lotions, buckwheat used for medicinal teas, natural juncus uses for California Indian basketweaving.