NATIVE AMERICAN INDIAN OCHRES
Paul Campbell's exhaustive research in his book "Earth Pigments and Paint of the California Indians: Meaning and Technology" includes examples of ancient aboriginal paint of Native American California Indians, paint that in some cases is thousands of years old.
Paul's extensive photographs show raw pigment found archaeologically, ancient mines where the pigment was obtained, paint for cave drawings, decorative art on weapons, and on the face and body.
Paul's detailed information is supported by field interviews with traditional California Indians, knowledgeable in their art and culture, and extensive library research (credited in his bibliography and citations).
CALIFORNIA INDIAN BOOK REVIEW Excerpts:
Chapter Two begins:
The California Palette — Antiquity and Overview

Pigment transforms what it touches. It imbues a familiar object with the mystique of exotic color. Capitalists paint products. Hunter-gatherers paint the human body. Some paint for material gain. Others for spiritual power. But to paint at any stage of culture implies the ability to see metaphorically and the likelihood of language. It arises in the very origin of our shared humanity....
Red and Yellow, page 32:
Red ochre deposits abound in California. The Palewyami Yokuts mined the red pigment on a small hill called hawwe (red ochre) west of Altau near Poso Creek; other Yokuts had access to large red clay deposits near Exeter, Visalia, Porterville and Dunlap. Modern mines in the East Mojave hold in reserve millions of tons of hematite. Most Indians, we should understand, keep their sources for red ochre secret. Yuma Indian Frankie Escalanti, who was most friendly and cooperative, told me no one divulges their source for red ochre. He found his after much exploration, a place where it came out soft and fine. He offered to share his pigment with me but not the source....
Powdered red ochre on aged wood photo captions, page 33:
Rich, red, pulverized ochre pigments in bright sunlight from personal stashes (left to right) of Nicolás Tambo (Cocopa), the Barrackmans (Mohave), Emmet Bender (Hualapai) and Mazzie Powskey (Havasupai). Tambo's pigment is extremely fine and powdery. Below, the same pigments rubbed into the weathered wood on which they were placed. Note the subtle differences.
Lumps of natural red and yellow ochre on granite boulders, page 38:
Top left photo caption:
Lumps of yellow and red ochre gathered in under an hour in Santa Suzana Mountains north of Los Angeles. Note the red spots on some of the yellow chunks. These red areas were above ground, the yellow below ground, when found. The charred chaparral had burned within the last year or two. The red ochre piece at the very bottom center was as yellow as those to the left but turned red after placement in a hot camp fire for less than an hour.
Top right photo caption:
Shades of yellow and red. Upper left solid piece and upper middle powder comes from the top part of what results when ground yellow ochre (in this case from the Oakland Hills) is shaken in water and the finer particles poured off and allowed to settle and dry in a second container. The lower middle powder is from the bottom of the same settled yellow ochre. Lower left is old cattail pollen. Upper right is reddish-yellowbrown scum from spring in Towsley Canyon, Los Angeles County. Lower right, same scum after short intense heating.
Note: Excerpts and Photography by Paul Douglas Campbell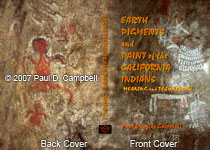 REVIEW THIS BOOK (With Buy Now Info Link to Amazon.com)
Also, please see Paul Campbell's other book about California Indians, now in its second publication: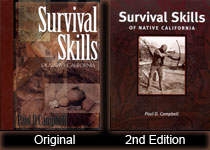 REVIEW THIS BOOK
Photos and text courtesy of Paul D. Campbell, author of SURVIVAL SKILLS OF NATIVE CALIFORNIA, where the KUMEYAAY.INFO excerpted material was originally published. Paul's book features living (and deceased) Native American California Indigenous people of the greater San Diego area, and details their traditional hunting, weapons and aboriginal survival methods...Paul's book is available for sale at Shumup Ko Hup Indian store WEBSITE HOWKA.COM.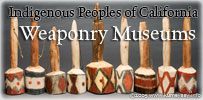 INDIGENOUS CALIFORNIA INDIAN WEAPONRY, Native American weaponry, pictures old and modern traditional arts and crafts using red paint, including Native California Indian war clubs, Southern California Indigenous primitive weaponry, Cocopah Cucapa Indians artifacts for an American Indian museum experience.