NATIVE AMERICAN BASKET
Large and most beautiful Native American basket is displayed by Kumeyaay tribal children with great NATIVE PRIDE in the tribal basket art of San Jose de la Zorra, an impoverished indigenous Kumiai Indian village in northwestern Baja California, Mexico.
The photographed large coiled juncus basket exhibits two large diamondback rattlesnakes with butterfly motif patterns Native American tribal designs. The large coiled juncus basket is also known as the famous Campo Indian tribal basket, a treasured turn-of-the-century Kumeyaay tribal art object.
The unique Native American basket art was handweaved in March/April 2006 by Aurelia Ojeda, Kumeyaay. Three of Aurelia's young children help display the masterpiece juncus basket for the photo. The young boy on the left is a close cousin of the children, the son of Janet Salazar.
Canasta Cesta de Indios Americano Nativo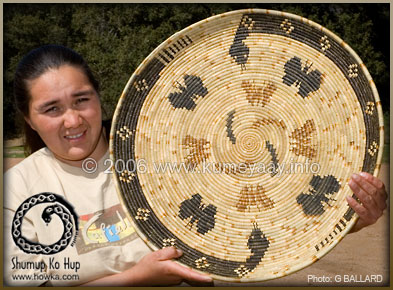 Aurelia Ojeda, Kumeyaay Basket Maker Biography
Some of today's finest and most beautiful Native American Indian baskets are being produced by professional juncus weavers in the rural Native American tribal villages or ejidos of Baja California, Mexico, including San Jose de La Zorra.
Unlike the Native California Indian weavers in southwestern USA whose traditional basket makers have nearly ceased weaving juncus baskets for sale, San Jose de la Zorra has a group of practicing juncus weavers thanks to concerted efforts in Southern California by SHUMUP KO HUP Indian Store who has been working over decades promoting and nurturing the working indigenous Native American artists south of the US-Mexico border, providing the basket weavers with stay-at-home job opportunities to be with their families and live in their cultural lifestyles on their Native indigenous lands.
EXPENSIVE Native American Basketry
This particular 22-inch juncus basket — with two coiled rattlesnake motifs, and fun butterfly patterns ageless Native American Indian designs — has surpassed the webmaster's criteria for masterpiece California Indian basket art.
It should be noted today's contemporary professional Native American basket weavers rarely make baskets for sale this large and beautiful because the time a weaver spends on one of these baskets makes it much more difficult to sell because they are so expensive; very few collectors can afford them, and very few professional weavers can spend that much time on one basket waiting for a paycheck.
However, these expensive Native baskets also are sound tribal investments that not only look beautiful in the home, museum exhibit, and tribal office, but these unique works of Native American art also appreciate in value more substantially over time than the smaller and less impressive common Native baskets — the masterpiece baskets are certainly more memorable.
Aurelia's magnificent California Indian basket was purchased by H. Paul Cuero Jr., chairman of the Campo Kumeyaay Nation, and is on display at the Campo tribal offices.
SIZE:
Diameter: 22 inches
Height: 3 inches
Materials: Coiled Natural Juncus, Black-dyed Juncus, Red Juncus, Split Juncus Foundation
To buy purchase authentic San Jose de la Zorra Native American traditional basket art, please visit the Shumup Ko Hup "Dream Come True" Native American store in Old Town State Historic Park, San Diego, California.
Photos, Writing and Web Page Design Contributed by webmaster, GARY G BALLARD, San Diego.