INOCENCIA GONZALEZ
Cucapa Artist
Inocencia Gonzalez, Cucapa Indigena from El Mayor, Baja California, Mexico, hand crafts traditional ethnographic art of the California aboriginal peoples including Cocopah beaded collars, beaded capes, and bark skirts.
Inocencia is the sister of Onesimo Gonzalez and she runs the Cucapa Community Museum, Comunidad Indigena El Mayor Cucapá Mexicali, Baja California, México.
Inocencia is pictured above holding one of her fabulous Native American Indian bark skirts she made in the ageless California Indian way from willow tree bark and agave cord.
COCOPAH BEADED CAPE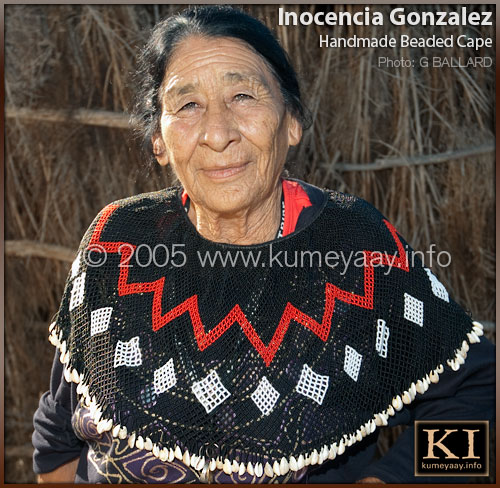 Inocencia Gonzalez takes a picture wearing one of her hand-made beaded capes. Her unique tribal motif includes black, red, white beads and sea shells.