KUMEYAAY LAW DEPARTMENT


Click for Judge Brandenburg article about tribal justice system in Southern California Indian country.
EMPOWERMENT OF TRIBAL COURTS 1883
WIKIPEDIA: On April 10, 1883, five years after establishing Indian police powers throughout the various reservations, the Indian Commissioner approved rules for a "court of Indian offenses." The court provided a venue for prosecuting criminal charges, but afforded no relief for tribes seeking to resolve civil matters. The new courts' rules specifically targeted tribal religious practices which it called "heathenish rites" and the commissioner urged courts to "destroy the tribal relations as fast as possible." Another five years later, Congress began providing funds to operate the Indian courts...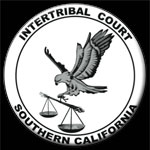 INTERTRIBAL COURT OF SOUTHERN CALIFORNIA — a tribal court system serving the Native American community.
"The overall purpose of the ICSC is to provide members of the Native American community and their participating tribes with a cultural sensitive Judicial Forum in which to present and resolve disputes...".
ICSC Member Tribes: Pala, Pauma, Rincon, San Pasqual, Jamul, La Jolla, Mesa Grande, Santa Ysabel, Manzanita, Los Coyotes.
NON-INDIANS:
NonIndians with legal disputes against Indian casinos and Indian tribes may be better served by contacting their local bar association for information about how to sue Soverign Indian nations. In San Diego, that would be the SAN DIEGO COUNTY BAR ASSOCIATION to find Native American lawyers and attorneys who are experienced in California Indian and American tribal laws.

LEGAL BASIS: TRIBAL SOVEREIGNTY IN AMERICA
PRESENTLY: The Constitution of the United States, U.S. Supreme Court, state and federal laws — as well as historical Treaties with the U.S. federal government — all support the federally-recognized Native American tribes' present-day legal rights to self-governance and certain limited forms of national sovereignty....
+++++++
A LINE IN THE SAND, Hanksville.Org WEBSITE hanksville.org:
"Cultural property includes not only land and other tangible property, but ideas, traditions, and other non-tangibles. Cultural property belongs to the cultural group, rather than to an individual. As an individual has the right to control use of his/her property, the cultural group has the right to control the use of its property. Not all people recognize cultural property. As a result some individuals will use another group's cultural properties without permission; often that use is offensive to the cultural group, because their property is used in a way that distorts or is disrespectful to the group's beliefs...".
Legal Resources General, Cultural, Copyright, Treaties hanksville.org
Native American Sovereignty Issues hanksville.org
+++++++
Indigenous Law Institute
"A Movement Toward Restoration and Healing"
www.ili.nativeweb.org
+++++++
• LAW LIBRARY OF CONGRESS, United States: Native Americans WEBSITE loc.gov — Texts, Commentary, Agencies, Links
• San Diego County Public Law Library WEBSITE sdcpll.org
• University of San Diego Legal Research Center WEBSITE sandiego.edu Link broken):


INDIGENOUS PEOPLES - Newspaper, Magazine and Web Articles:


• Indigenous Peoples on the Border


• Treaties


• Legislation


• Law Review Articles


• Newspaper Articles
• Kumeyaay Community College Indigenous Law Research kumeyaaycommunitycollege.com (link broken)