KUMEYAAY OPINION

EDITOR's FORWARD, 2004, PARA ESPANOL:
With the slightest few facts about Kumeyaay Indian history in San Diego County, it seems unconscionable (to me) that a reasonable person would dare judge or attempt to interfere with the Native American aboriginal people's legal and moral right to sovereign self government.

After all, THEIR ancestors held the land and water rights in the greater San Diego area more than 12,000 years. And THEIR Grandfathers and Grandmothers were "pushed into the rocks," severely punished, culturally deprived, enslaved, and even murdered during the California Genocide in the greater Southern California area, "The Missions of California: A Legacy of Genocide" by Rupert Costo (Cahuilla).

We need only consider HOW our non-native races colonized and took 'ownership' to the jewels of the Kumeyaay ancestral lands (Doctrine of Discovery) — beautiful San Diego Bay, beautiful La Jolla, beautiful Point Loma, beautiful Rancho Sante Fe, beautiful Ensenada, beautiful Tijuana, all the beautiful beaches and parks in Southern California — to put the aboriginal California Native American Indigenous issues into some factual perspective.

See: Public Broadcasting Service (PBS) INDIAN COUNTRY DIARIES
GENOCIDE | ASSIMILATION | RELOCATION

As a tribal photojournalist for more than twenty years, I witnessed firsthand the historic conditions of Native American Indian poverty, the lost cultural direction, and how the Kumeyaay Casinos and Indian Gaming casino revenue is slowly providing financial relief to some Native American aboriginal peoples for the unnatural economic and spiritual burdens that non-native officialdoms so unmercifully thrust upon them.

In particular, I recall a well-known Kumeyaay tribal chairman, a sovereignty defender, who told me the "big thing" on the reservation when he was a child was when the "government cheese truck" came by and "handed out cheese" to the Indians so they could eat. These were the U.S. Government commodities trucks, food distribution programs for Native Americans in the 1960s.

Times have certainly changed for some San Diego County native people. Today the chairman's small Kumeyaay band gives away millions of dollars a year to charity, his Kumeyaay tribe employs thousands of people, and his Kumeyaay band pays millions of dollars in payroll taxes.

Still, many Indigenous peoples in the greater Southern California area are struggling to survive.

I recently visited EL MAYOR, Baja California, Mexico — the Colorado River Delta Region, where the Colorado River empties into the Gulf of California — and I was deeply touched by the environmental tragedy there — how the lack of water, the poisoned water, is devastating wildlife and the lives of the Cucapa Cocopah aboriginal Indians there.

But there is also great hope for our Southern California Native American aboriginal peoples, as well.

I've witnessed Kumeyaay elders, Kumeyaay people returning to the reservations, piecing together their languages — their cultural collective — to restore, rebuild and preserve their traditional ways by establishing their own Native American colleges, universities and study groups, like Kumeyaay Community College, on the Sycuan Indian Reservation, and getting their young people involved and active through education and traditional, cultural ceremony.

Yes, I see a very bright future ahead for the Kumeyaay-Diegueño peoples of Southern California....
Very respectfully,
GARY G. BALLARD
KUMEYAAY.INFO Founder, Webmaster, Editor
Please visit the on-line KUMEYAAY RESEARCH DEPARTMENT to learn more information about the Native American peoples of what is now known as Southern California here at the turn of the 21st century in present-day San Diego.


KUMEYAAY SOVEREIGNTY — The Constitution of the United States, U.S. Supreme Court, federal and state laws, as well as historical treaties all support the Kumeyaay tribe's present-day legal rights to self-government, including certain limited forms of tribal sovereignty in America....


KUMEYAAY HISTORY in San Diego editorial essay, timeline and history of the Kumeyaay in Southern California.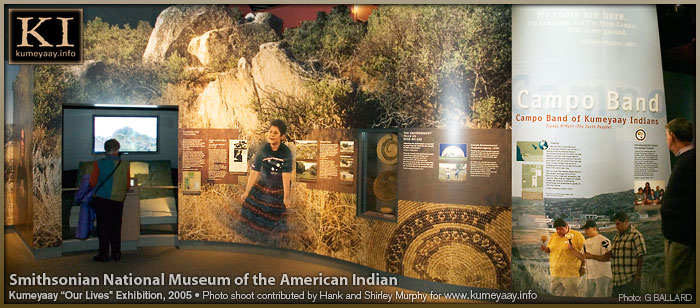 KUMEYAAY TRIBE AT THE SMITHSONIAN features the Campo Band of Kumeyaay Indians, aka Campo Kumeyaay Nation, and Campo Band of the Kumeyaay Nation.


KUMEYAAY GATHERING of local Southern California Indians, pow-wow pictures.


Kumeyaay Bird Singers, Sycuan Indian Reservation, Kumeyaay Community College (formerly DQ University at Sycuan), are pictured here in this photograph around a burning campfire learning and singing ageless traditional Yuman bird songs. Photo IDs: 1) John Christman (Viejas), 2) Paul Cuero (Campo), 3) Samuel Brown (Viejas), 4) Sam Q. Brown (Viejas), 5) Ben Nance (non-Indian), and 6) Dr. Larry Emerson (Diné).
UNITED STATES FEDERALLY-RECOGNIZED KUMEYAAY RESERVATIONS, SOVEREIGN TRIBAL NATIONS:
Southern California tribes, the Kumeyaay bands:
Campo Band of the Kumeyaay Nation
Viejas Band of Kumeyaay Indians
Barona Band of Mission Indians
San Pasqual Band of Indians
Inaja Cosmit Indian Reservation
Capitan Grande Indian Reservation
Santa Ysabel Band of Diegueño Indians
Ewiiaapaayp Band of Kumeyaay Indians aka Cuyapaipe
Manzanita Indian Reservation
La Posta Indian Reservation
Jamul Indian Village A Kumeyaay Nation
Mesa Grande Indian Reservation
Sycuan Band of the Kumeyaay Nation

HOW TO CONTACT the San Diego tribal governments
BARONA, CAHUILLA, CAMPO, CHEMEHUEVI, EWIIAAPAAYP, INAJA-COSMIT, JAMUL, LA JOLLA, LA POSTA, LOS COYOTES, MANZANITA, MESA GRANDE, PALA, PAUMA, RINCON, SAN PASQUAL, SANTA YSABEL, SYCUAN, VIEJAS
Baja California, Mexico, Kumiai Indio Communities:
San Jose de la Zorra
La Huerta
Juntas de Neji
San Antonio Necua
Santa Catarina (Kumeyaay Paipai)


KUMIAI DE BAJA CALIF MEXICO en Español Kumiais una cultura en riesgo de extinsión, Acerca de los indigenas Kumiai, Geografia, Sistema Politico, Origenes lingüisticos, Programas de Trabajo, Consejo, Acerca de los indigenas Kumiai, Gobernadora Kumiai, Origenes lingüisticos, y mucho mas...
KUMEYAAY GUIDE for on-line Kumeyaay tribal directory, reservation & casino maps, culture, multimedia, including social services, community, research, education, news, events, genealogy-enrollment, even an informative inter-tribal FAQ: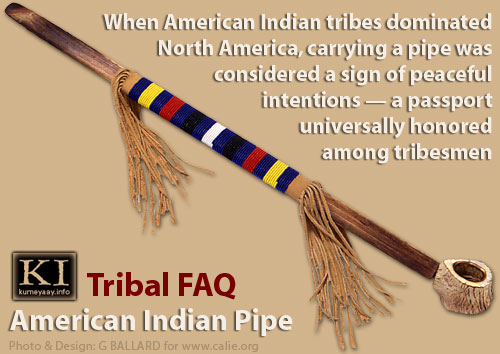 Fifty top Frequently Asked Questions about Native American Indian tribes — "American Indian or Native American?" | "Tribe or Band?" | "Who is an American Indian?" | "What is Indian Country?" | "What is sovereign immunity?"...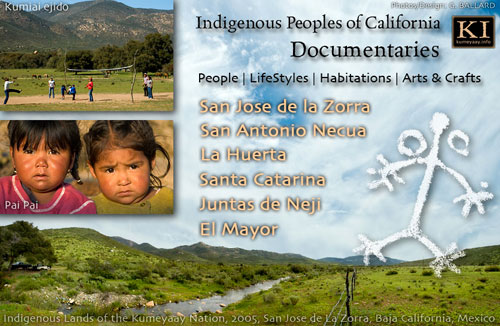 PROFESSIONAL PHOTOJOURNALISTIC DOCUMENTARIES — modern Kumeyaay lifestyle, housing, ethnographic art, indigenous tribal communities of Baja CALIF, MX.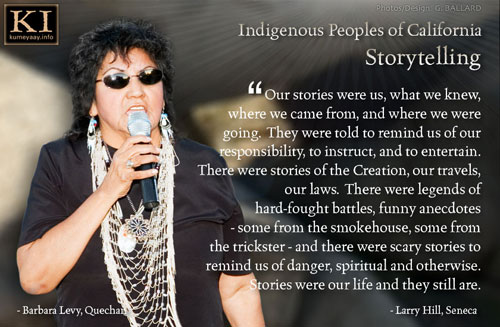 KUMEYAAY STORYTELLERS featuring Sam Brown's famous Kumeyaay stories of the Brown-Curo family of Barona and Viejas.


CALIFORNIA INDIAN COMMUNITY Profiles, today's leaders, who's who in Southern California Indian Country, education, culture, art, sports, spiritual, government.mil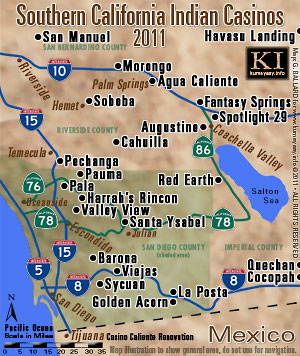 COMPLETE GUIDE TO KUMEYAAY CASINOS:
Play at the best San Diego County Kumeyaay Indian casinos, resorts, hotels, restaurants, entertainment, golf courses — find the official Kumeyaay casino and tribal websites on our Kumeyaay mapping project maps.
Kumeyaay Information Village Website values your opinion on California Native American Indian Issues.
Please EMAIL Us with your OPINION for publication on the KI site.