The Missions of California: A Legacy of Genocide
BOOK REVIEW:

"The Missions of California: A Legacy of Genocide" sandiegohistory.org
KUMEYAAY.INFO ARCHIVE:
Source: http://naes.edu/lib/Library_Files/BookHIST12_064.html (link broken)
This book confronts the myth that Californian history and civilization began with the Franciscan missionaries, and it exposes the brutality of these missionaries against the American Indians. It describes Indian life prior to Spanish colonization, deals with the activities of missionaries in California and the Indians' reaction to missionization, looks at the problem of genocide and slavery in the missions, and provides testimony from Indian people who have openly protested the canonization of one Californian catholic missionary.
Topic: History
Publication Type: Book
Publisher: Indian Historian Press
Call Number: HIST 12
NAES Call Number: Book HIST 12 Costo
Publication Date: 1987
Author: Rupert Costo (ed) about Rupert Costo1 and Rupert Costo2
Physical Location: NAES Library Twin Cities Campus, Minnesota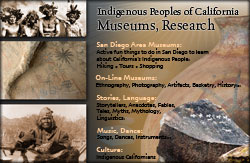 KUMEYAAY RESEARCH DEPARTMENT, please visit the Indigenous Peoples of California online MUSEUM and CALIFORNIA INDIAN RESEARCH DEPARTMENT.


BOOKS NATIVE AMERICAN CALIFORNIA INDIAN LIBRARY
A wide variety of books on the Native American Indians indigenous to the Southern California, southwestern Arizona, and northwest Baja California, Mexico indigenous tribes of North America. Includes top 10 best books written about the Diegueno Kumeyaay Nation.