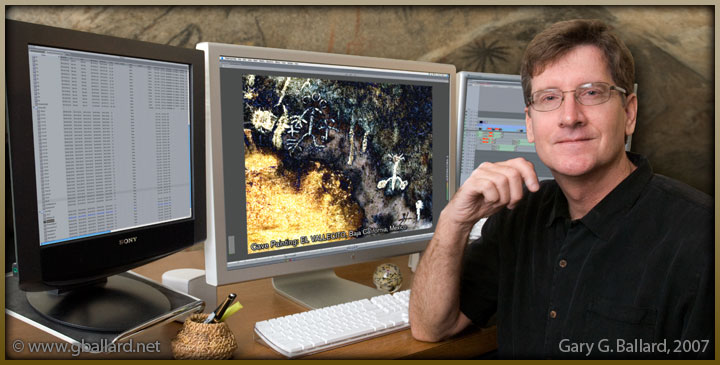 Professional Biography CV:
GARY G. BALLARD, DP, editor, the ultimate multimedia photojournalist, digital project consultant, archivist, colorist, KUMEYAAY.INFO founder, webmaster, editor. Expert creative engineer utilizing: stills, video (SD, HDV), editing, graphic design, DVD authoring (Blu-ray, AVCHD, SD), websites, printing, Adobe, PDF, SEO, OS-X, color management, ICC savvy work flows.
PORTFOLIOS | WEBSITE | RESUME | EMAIL | HIRE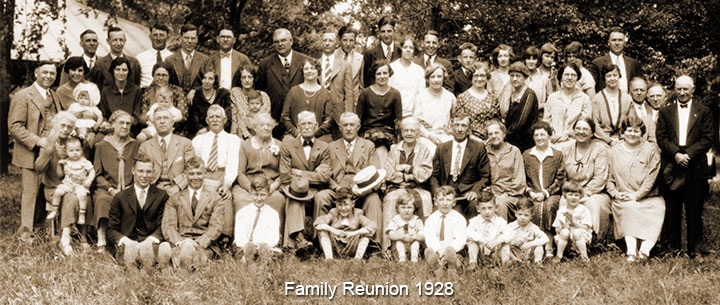 FAMILY ROOTS:
In 1817 and 1821, my grandfathers were some of the first white people to settle the Auglaize River, Defiance Trail region in northwest Ohio, in the old-growth, hardwood wilderness on the edge of the Great Black Swamp — my grand nephew's great, great, great, great, great, great, grandmother gave birth to the first recorded white child born in that area.
Upon his arrival at Fort Amanda blockhouse in 1817, my Grandfather Russell and his family, farmers by trade, promptly squatted on nearby Shawnee river lands, started clearing land for fields and commenced with farming operations. In 1821, my Grandfather Cochran entered this area and also settled on tribal land and began farming. My oral family history records both of these grandfathers shared close relationships with the local Shawnee Indians, including the revered Shawnee war chief and statesman, Black Hoof.
In the 1830s, the last remaining Shawnee (along with the Cherokee) aborigines were forced from this area, their northern ancestral lands, by armed U.S. soldiers — my grandfathers ended up with their pieces of Shawnee land, free to work the land, prosper and raise their families without government harassment... I produced a 45 minute MOVIE documentary on their story.
BRIEF:
For the past 20 years, I've been earning my living as an independent still and video multimedia photojournalist based in the County of San Diego. My core accounts have included several of the Native American gaming tribes here for over 20 years; over 10 years working with D-Q University at Sycuan, now Kumeyaay Community College; over eight years with the California Indian Education website; some 18 years with the Sycuan pow wow and Sycuan Fire Department; over 10 years with Travelodge International (Thriftlodge, Viscount and Forte Hotels); and almost a year with Pony International as its lead creative consultant and acting Creative Director.
Professional Resumé:
(Download PDF version)
INDEPENDENT MULTIMEDIA PRODUCTION ARTIST, CONSULTANT:
G. Ballard Studio, a professional multimedia creative studio specializing in full service multimedia production, mass communication. Established in San Diego, California, West Coast, Southern California, USA, committed to the highest artistic and commercial standards -- deadline driven -- a team player with the experience and drive to get projects on track and completed.
Still and Video Photography: Superb visual creative instincts. More than 20 years daily experience directing people for photo shoots. Published many thousands of original G BALLARD photographs on the Internet.
Writing: Photojournalist, effective SEO. Published thousands of pages of original writing on the Internet, including social media and blogs.
Photoshop: Hardcore Photoshop production. Optimized 75,000-plus photographs and scans for print, Internet and historical archives. Specialize in retouching, color correcting, color management, print and monitor proofing, workflow development, troubleshooting, training, and destination packaging.
Adobe: InDesign, Acrobat PDF, Illustrator, After Effects (aware), workflows.
Epson: Adobe, ColorSync workflows and printing services.
Color Management: ICC savvy workflows, consulting, training.
Final Cut Studio: Final Cut Pro editing, Compressor, DVD Studio Pro (SD, Blu-ray).
Websites: Specialize in original content generation, blogs, design, SEO. Generated over 500 million hits on G BALLARD websites.
Social Media: Facebook.
OS-X macOS: Geeky Mac savvy, consulting, training, workflows.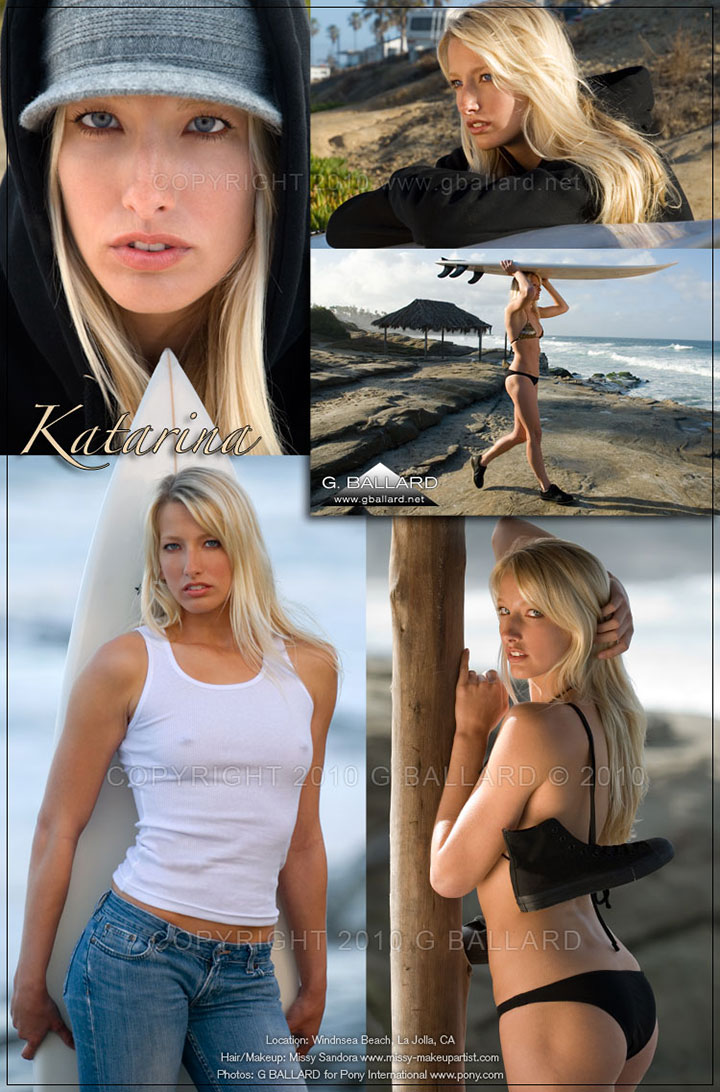 Model: KATARINA
CONSULTANT, CREATIVE DIRECTOR:
Pony International, LLC, San Diego, CA. Lead creative consultant to CCO, led to position of Creative Director. Developed advanced digital workflow, Quickstrike, from scratch. Photo-realistic process allowed designers and sales staff to easily paste color and fabric swatches onto shoe and apparel cutouts during meetings and submit orders electronically to factories in China in a matter of minutes, not days or weeks.
Played key role in restarting and rebranding the company. Brainstormed alongside industry giants in product concepts, designs, model casting, fashion, copywriting, multimedia production, and producing corporate sales and advertising materials in a fast-paced, highly-competitive field.
FOUNDING WEBMASTER:
CALIE.org (250 million-plus hits in nine years), KUMEYAAY.info (100 million-plus hits in seven years). Came up with non-profit domains, concepts, and built from scratch to serve the American Indian community.
CINEMATOGRAPHER:
U.S. Navy, Pacific Fleet Combat Camera Group, an elite rapid-deployment force, top government security clearance.
Combat trained as a motion-picture cameraman, DWEST and SERE training, air crewman (helicopter and attack jet qualified).
Worked as grip, lighting and sound technician, film and video cameraman and editor.
Completed numerous photo assignments throughout the Far East and West Coast.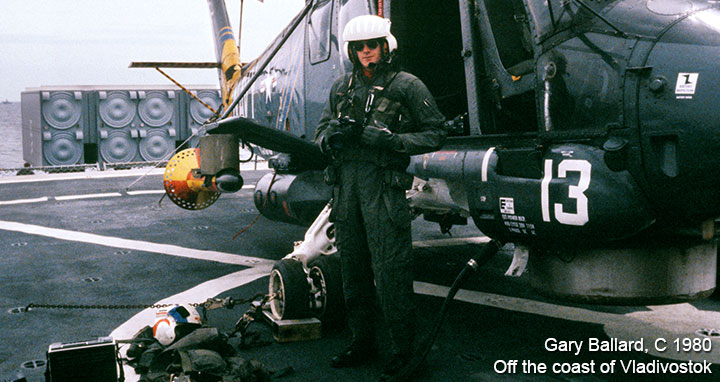 PHOTOJOURNALIST:
U.S. Navy, Navy Public Affairs Center.
Mass communications specialist, staff photojournalist.
Wrote more than 200 feature articles for national and world-wide release.
Produced more than 650 photo features on navy men and women.
Feature articles and photos released monthly through the Navy Newsfeature Service to over 550 civilian media sources throughout the United States and abroad.
Duties included: Graphic design, typesetting, proofreading and photo editor.
Credits included: The New York Times, Chicago Tribune... all major U.S. military publications around the world.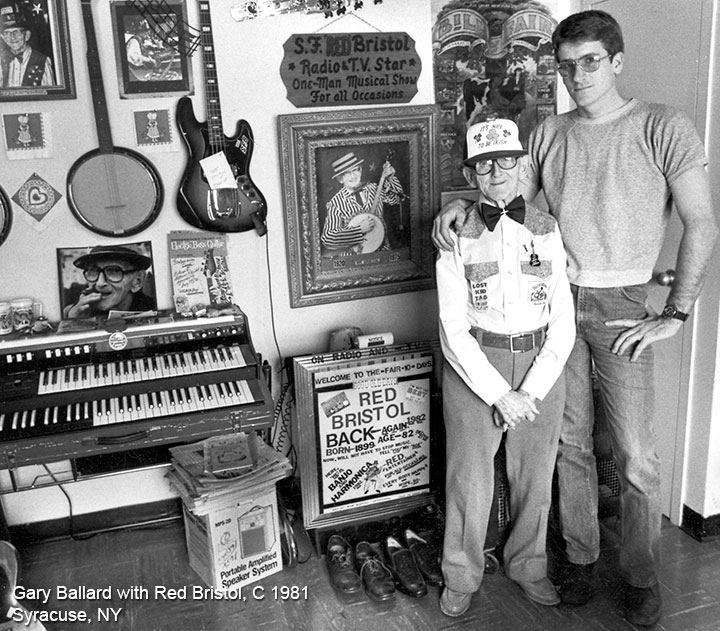 EDUCATION:
• B.A. Degree (equivalent), Photojournalism, Syracuse University: Completed Military Photojournalism Program (33 semester hours of graduate-level photojournalism).
• A.A. Degree, Business, National University (completed academic requirements).
• Over a year of full-time navy photography schools: Basic A, Photojournalism C, and Advanced Motion Picture C.
• Completed over 250 hours of fashion-related studies, Patricia Stevens Fashion College.
• Completed over 150 hours of personal improvement studies, John Robert Powers School of Modeling.
• Completed make-up artistry studies, John Robert Powers School.
• Continuing Education: Completed numerous career related courses at the San Diego Community College adult education.
RELATED HOBBIES:
In my free time, I write on-line color management tutorials and build websites about California American Indians.

About the multi-media DVD documentary movie project image featured in the Gary Ballard photo.