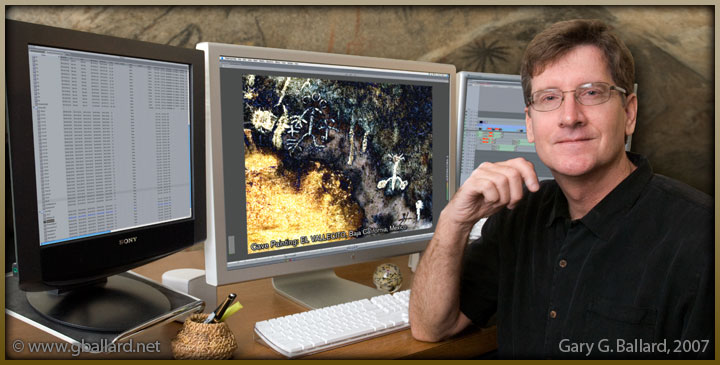 Professional Biography:
GARY G. BALLARD, DP, editor, the ultimate multimedia photojournalist, KUMEYAAY.INFO founder, webmaster, editor, graphic designer. EMAIL, WEBSITE, RESUME, HIRE:
Roots:
In 1817 and 1821, my grandfathers were some of the first white people to settle the Auglaize River, Defiance Trail area in northwest Ohio, in the old-growth, hardwood-jungle wilderness, on the edge of the Great Black Swamp — my grand nephew's great, great, great, great, great, great, grandmother gave birth to the first recorded white child born in that area.

Upon his arrival at Fort Amanda blockhouse in 1817, my Grandfather Russell and his family, farmers by trade, promptly squatted on nearby Shawnee river lands, started clearing land for fields and commenced with farming operations. In 1821, my Grandfather Cochran entered this area and also squatted on Indian land and began farming. My oral family history records both of these grandfathers shared close personal relationships with the local Shawnee people, including the revered Shawnee war chief and statesman, Black Hoof.

In the 1830s, the last remaining Shawnee (along with the Cherokee) aborigines were forced from this area, their northern ancestral lands, by armed U.S. soldiers — my grandfathers ended up with their pieces of Shawnee land, free to work the land, prosper and raise their families without government harassment...I produced a 45 minute MOVIE documentary on their story.
Recent:
I received my motion–picture and still–photography training in the U.S. Navy, my journalism education at Syracuse University, and my computer savvy from the School of Hard Knocks (and San Diego Community College).

For the past 20 years, I've been earning my living as an independent still photographer and consultant based in San Diego. My core accounts have included several of the Native American gaming tribes here for over 20 years, over 10 years working with D-Q University at Sycuan, now Kumeyaay Community College, over 10 years with Travelodge International, and almost a year with Pony International as its lead creative consultant.

For the past 15 years, I've been doing most of my work digitally, including graphic design, digital production for prepress, print, and Internet, including Apple Macintosh troubleshooting and consulting for creative Adobe color-managed work flows for deadline-driven creative professionals.
Professional Resumé:
Independent Multi-Media Production Artist, Consultant, G. Ballard Studio, a professional multi-media creative studio. Established 1986 in San Diego, California, USA.
• Over 23 years in San Diego as independent still and video photographer, people specialist, graphic designer for advertising, editorial and corporate communications.
• Hard-core Photoshop, color management, ICC savvy, deadline workflow consulting.
• Hardware–calibrated monitors and printers.
• Expert Mac–based digital production, graphic and Web design, copywriting.
• Photoshop, InDesign, Quark, Illustrator, GoLive, Dreamweaver, Acrobat PDF, Final Cut Pro, QuickTime, AfterEffects, DVD Studio Pro.
• Delivery formats include finished production scans, separations, film & match print, QuickTime, finished DVD, HDV, Blu-ray, AVCHD, HTML ready.
• Committed to the highest commercial standard, deadline driven, a true creative team player with the proven experience, expertise and drive to get the job right the first time.

Cinematographer, U.S. Navy:
Pacific Fleet Combat Camera Group, an elite rapid–deployment force, top security clearance.
• Combat trained as a motion–picture cameraman, DWEST and SERE training, air crewman (helicopter and attack jet qualified).
• Worked as grip, lighting and sound technician, film and video cameraman and editor.
• Completed numerous photo assignments throughout the Far East and West Coast.

Photojournalist, U.S. Navy:
Navy Public Affairs Center.
• Wrote more than 200 feature articles for national and world-wide release.
• Produced more than 650 photo features on navy men and women.
• Feature articles and photos released monthly through the Navy Newsfeature Service to over 550 civilian media sources throughout the United States and abroad.
• Duties included: Graphic design, typesetting, proofreading, paste-up, and photo editor.
• Credits included: The New York Times, Chicago Tribune...all major military publications.

Education:
• B.A. Degree (equivalent), Photojournalism, Syracuse University: Completed Military Photojournalism Program (33 semester hours of graduate–level photojournalism).
• A.A. Degree, Business, National University.
• Over a year of full-time navy photography schools: Basic A, Photojournalism B, and Advanced Motion Picture C.
• Completed over 250 hours of fashion-related studies, Patricia Stevens Fashion College.
• Completed over 150 hours of personal improvement studies, John Robert Powers School of Modeling.
• Completed make-up artistry studies, John Robert Powers School.


About the multi-media DVD documentary movie project image featured in the Gary Ballard photo.