LOS COYOTES INDIAN RESERVATION
Los Coyotes Indian Reservation appears more like a national park than anything to do with modern city life.
Español | 中文 | 日本 | Française | Deutsch | 한국어 | Россию | پارس
SOUTHERN CALIFORNIA — With some 25,000 acres of federally-recognized sovereign tribal land, the Los Coyotes Indian Reservation is the largest Native American Indian reservation in San Diego County, and it rests in some of the most beautiful, unspoiled, remote and inaccessible high mountain wilderness areas of the Southern California countryside.
SELF SUFFICIENCY | POVERTY | MAPS-DIRECTIONS | CAMPGROUNDS | NEWS | SOVEREIGNTY | TRIBAL HISTORY & CULTURE | BARSTOW CASINO & RESORT | CALIF INDIAN GAMING HISTORY
From a self-sufficiency perspective, the "problem" with the Los Coyotes reservation is its location — it is far too remote and environmentally sensitive to invest in building any normal business venture that could provide the Los Coyotes Tribal Government with the self-sustaining income needed to gainfully employ and educate its tribal members.
And it only seems fair that the Los Coyotes people are allotted the same opportunities to grow their social and economic development wings under their own resources as some of the other 107 federally-recognized California Indian tribal bands are doing through successful American Indian businesses like Indian casinos, hotels, resorts.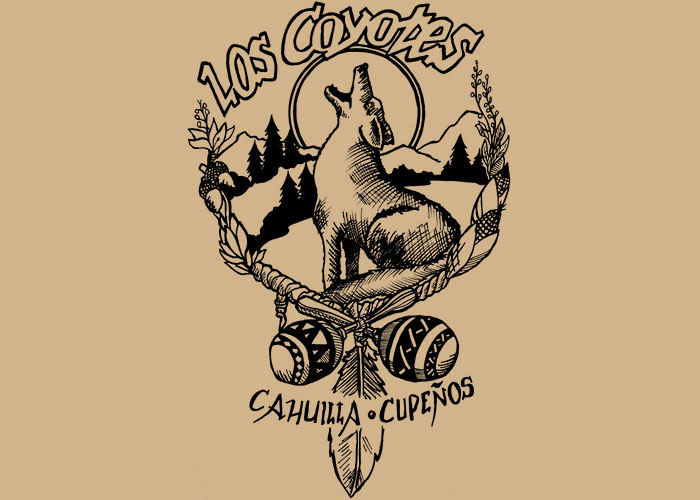 NATIVE AMERICAN INDIAN POVERTY
As a San Diego County INDIGENOUS INDIAN TRIBE whose archaeological history traces back at least 125 generations (2,500 years) in Southern California, the Los Coyotes Cahuilla and Cupeño Indian people have been subjected to abject poverty on their American Indian reservation since it was established in 1889 by Executive Order — it is the type of debilitating, deep-rooted generational poverty historically associated with the poorest Indian reservations in the U.S.A.

Click on photo for enlargement and historical caption information
(1998 assignment, agency: Waltona Manion and Associates).
Today, more than a century later at the turn of the 21st century, there is still virtually no development on the Los Coyotes Indian Reservation (and even fewer job opportunities for Native Americans there).
Further, electricity wasn't even connected to the Los Coyotes reservation until 1998, and today (2011), electricity is only wired to the edge of the large reservation, according to the Los Coyotes' casino project website.
Moreover, it's only been within the past decade or so that the Los Coyotes people have began to benefit from other tribes' Indian casino gaming revenues and begin the process of improving their impoverished sub-standard housing and social infrastructure through the assistance of national and state tribal organizations like the California Nations Indian Gaming Association (CNIGA) and the National Indian Gaming Association (NIGA), for example.
LOS COYOTES PHOTOS: Snow remnants pictured in the March 2006 landscape series photographed two weeks after major snow storms dumped over 36 inches of snow on the San Diego mountains and shut down all roads in and out of the surrounding rural mountain communities.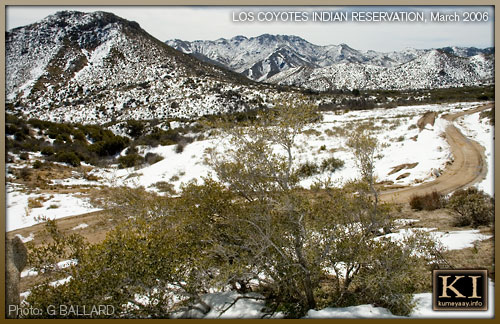 Click on photo for enlargement and caption (high-resolution picture only).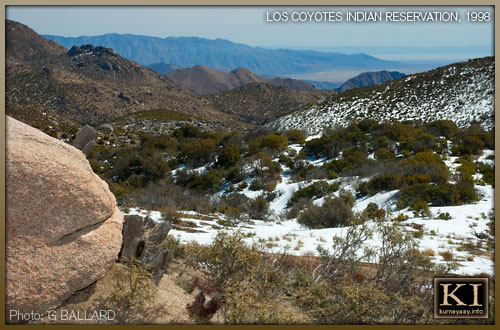 Click on photo for high-rez Los Coyotes San Diego mountain view photograph.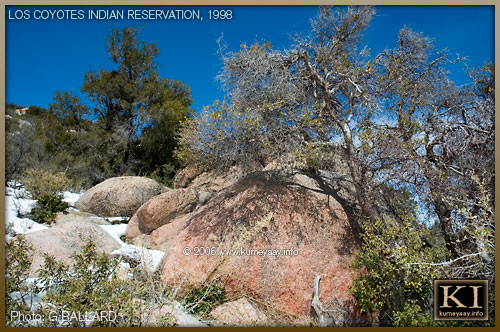 Click on photo for enlargement and caption (high-resolution picture only).
WHERE IS LOS COYOTES RESERVATION LOCATED?
A scenic 1.5-hour, 80-mile drive northeast from downtown San Diego, Los Coyotes reservation is located approximately 15 miles northwest of Anza-Borrego Desert State Park; approximately 30 miles north of Cleveland National Forest; approximately 20 miles east of Palomar Mountain State Park; approximately 15 miles north of Julian; approximately 5 miles east of Warner Springs, Calif. (see Los Coyotes map below). Driving directions and CONTACT information about the Los Coyotes Indian Reservation.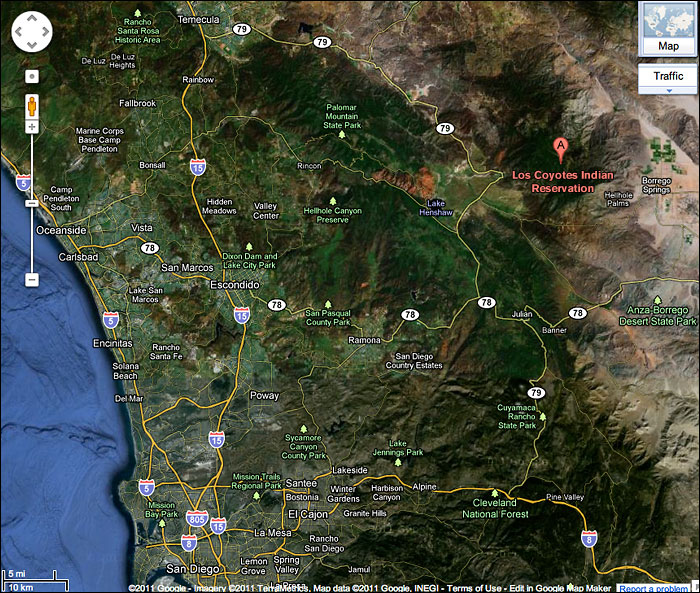 Los Coyotes Indian Reservation satellite map SOURCE maps.google.com.
The Los Coyotes Band of Mission Indians Cahuilla-Cupeño majestic tribal territory includes San Diego County's highest lookout point, Hot Springs Mountain. At approximately 6,535 feet, Hot Springs Mountain peak is about 11 feet taller than its more famous neighbor, the Cuyamaca Peak.
On a clear day one can see the Pacific Ocean (some 50 miles west) from the spectacular Hot Springs Mountain peak viewpoint on the Los Coyotes mountain. The Salton Sea (some 30 miles east) can also be seen from the Los Coyotes reservation when atmospheric conditions are right.
The drive to Los Coyotes Indian Reservation from nearby Julian passes by the Iipay Santa Ysabel Indian Reservation and the Mataguay Scout Ranch. Warner's Ranch, a national historic landmark, is also a close neighbor of the Los Coyotes Cahuilla-Cupeño indigenous mountain community.


Click on photo for high-rez panoramic mountain wilderness landscape photograph.


Click on photo for high-rez Los Coyotes photograph.
In an effort to attempt to eke out a living off their beautiful pristine reservation land through small tribal economic projects, the Los Coyotes Band of Mission Indians established the Los Coyotes Campground & Los Coyotes Horse Camp (visit website) on their remote property and opened it up to tourists and visitors for camping, hiking trails, horse camping riding, and biking.
Please contact the campground website or Los Coyotes tribal office for more information, including directions, access to the reservation, camping rules and restrictions for motorcycle dirt biking and four-wheel-drive, off-roading activities, including intermittent and seasonal hours of operation and access to the wilderness.
LOS COYOTES NEWS & EVENTS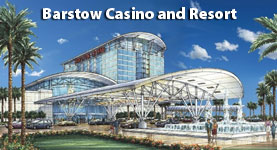 BARSTOW CASINO and RESORT project — a new $160 million Indian gaming casino and thousands of new jobs may be coming to Barstow, California, via an off-reservation Indian casino deal between the City of Barstow and the Los Coyotes band, according to a Department of Interior BIA draft Environmental Impact Statement (DOWNLOAD PDF) published in the Federal Register, July 1, 2011 (Volume 76, Number 127).
Visit the official Los Coyotes ENVIRONMENTAL IMPACT WEBSITE.

Map of proposed off-reservation Indian casino site compares the geographical positions of the Los Coyotes reservation with the City of Barstow.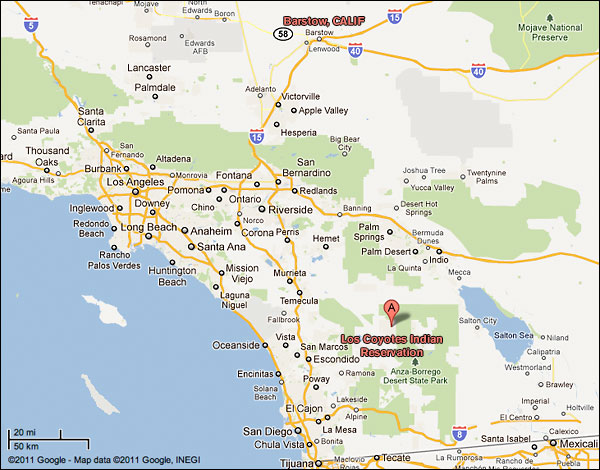 Barstow Casino map pinpoints Los Coyotes Reservation and proposed casino site SOURCE maps.google.com.

OFFICIAL LOS COYOTES CASINO NEWS BLOG from the Los Coyotes pressroom, read all about the Barstow casino project, press releases, jobs, community support, opposition, reports, social media links: Facebook, Twitter...




MAY 11, 2012: One of two men who started a fire that scorched 22 square miles between Warner Springs and Anza-Borrego Desert State Park was sentenced Friday to six years in state prison. Jeremy Joseph Ortiz pleaded guilty to arson, as did co-defendant Jesse James Durbin, whose sentencing was rescheduled to May 23... READ the breaking RamonaPatch news article.
FEBRUARY 3, 2012: A judge has ruled that a lease between the Los Coyotes Indian tribe and a military training business is invalid and ordered the business to remove all its property from the North County reservation within 45 days. Intertribal Court of Southern California Chief Judge Anthony Brandenburg said in a ruling issued Thursday (Feb. 2, 2012) that the tribe's former chairwoman did not have the authority to enter into a lease on her own and that the evidence shows the tribe as a whole never agreed to the business partnership...READ the breaking U-T San Diego news article.
JANUARY 11, 2012: An acrimonious dispute between members of the Los Coyotes Indian Tribe (sic) and a business that leased part of the North County reservation to operate a military training center and filming business has been unfolding this week in a tiny courtroom near Harrah's Casino in Valley Center. The dispute became so contentious that it allegedly led two tribal members to burn down a guard shack that then ignited last July's 15,000-acre Eagle fire...read U-T San Diego breaking inter-tribal court story.
OCTOBER 28, 2011: The Los Coyotes Indian tribe can evict the military training center known as ERTC LLC, according to a ruling a federal judge issued Friday.... read THE SAN DIEGO Union-Tribune breaking fire story.
OCTOBER 11, 2011: The Los Coyotes Indian tribe has issued an eviction notice to the operators of a paramilitary training center on its 25,000-acre reservation in the northeastern part of the county...law enforcement identifies arson suspects as tribal members... read THE SAN DIEGO Union-Tribune breaking fire story.
AUGUST 5, 2011: The two alleged arsonists suspected of and arrested for allegedly setting the Eagle Fire plead "not guilty" despite incriminating evidence reported recovered at scene by fire investigators... read THE SAN DIEGO Union-Tribune breaking fire story.
JULY 21-30, 2011: The "Eagle Fire" wildfire on the Los Coyotes property threatened housing and archaeological sites... 100% contained after burning 14,100 acres... investigators determined arson was the cause and that the fire was set at Eagle Peak on the reservation... cost over $15 million to fight... some 2,100 firefighters and dozens of aircraft and helicopters participated at scene... 18 firefighters were injured... read THE SAN DIEGO Union-Tribune fire story.
APRIL 26, 2011: Private military training centers prove lucrative sites for exercises in demand for U.S. personnel, law enforcement, movie production companies... read THE SAN DIEGO Union-Tribune Indian Country news article.
APRIL 22, 2011: Marines, Navy SEALs confirm special forces type training on Indian reservation. The facility, called Eagle Rock Training Center, has at least two firing ranges, a helipad and a mock Afghan village... read THE SAN DIEGO Union-Tribune breaking news article.
APRIL 14, 2011: The Los Coyotes' Tribal Government partnered with US government military contractors to develop a cultural and language training facility... read THE SAN DIEGO Union-Tribune breaking news article.
CALIFORNIA INDIAN GAMING HISTORY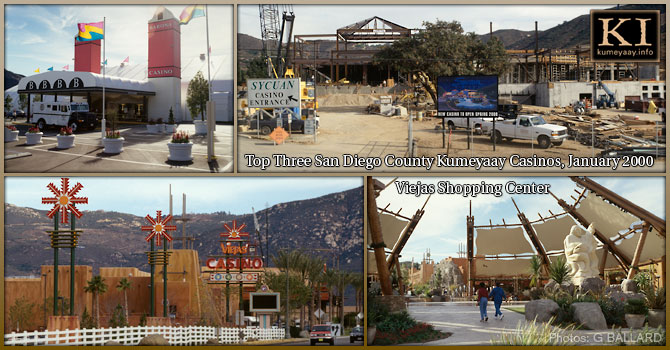 Top three Indian casinos in San Diego County, January, 2000: Barona, Sycuan, Viejas.
(2000 casino exteriors assignment, agency: Nikki Symington Communications).


California INDIAN GAMING BACKGROUND & HISTORY (download PDF).
With the United States Congress passing the INDIAN GAMING REGULATORY ACT IGRA in 1988, President Ronald Reagan signing it into federal law, subsequent establishment of the NATIONAL INDIAN GAMING COMMISSION NIGC, and California voters overwhelming approval of PROPOSITION 1A in 2000 — Indian gaming exploded in California (and across the United States).
In fact, Indian gaming (with approximately 460 Indian gaming operations in the U.S.) is a $19 billion a year industry, and it provides some 400,000 jobs to both Indian and non-Indians (wikipedia.org).
Presently (2011), approximately 58 of the approximately 109 federally-recognized California tribal bands are operating Indian casinos in California.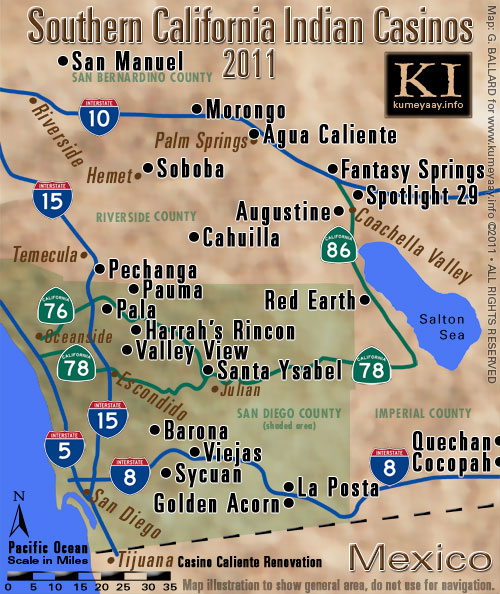 Please see our in-depth INDIAN CASINOS MAP GUIDE for more detailed information about the Indian gambling casinos and resorts of Southern California.
UNITES STATES DEPARTMENT OF THE INTERIOR (DOI)

Department of the Interior (DOI) — The Department of the Interior has a solemn responsibility to uphold the federal government's unique government-to-government relationship with federally recognized American Indian and Alaska Native tribes, as provided for by the Constitution of the United States, U.S. treaties and court decisions, presidential executive orders and federal policies and administrative actions.
We recognize that a legacy of injustice and broken promises shapes the history of the federal government's relationship with the American Indian and Alaska Native people. We are therefore working to turn the page on the federal government's pattern of neglect of this community and, instead, build a strategy for empowerment that helps the tribal nations forge futures of their own choosing.
To chart this new path, we are restoring the government-to-government relationship between the federal government and these tribal nations because "self-determination," "sovereignty," "self-government," "empowerment," and "self-reliance" are not abstract concepts. Rather, they are the tools that will enable tribal nations to shape their collective destiny. This is why Interior is committed to partnering with American Indian and Alaska Native communities to help them prosper by expanding education and employment opportunities for youth and adults, protecting lives and property by strengthening law enforcement, and building strong, sustainable tribal economies....
Source: www.doi.gov
AMERICAN TRIBAL SOVEREIGNTY
The "Los Coyotes Band of Mission Indians" aka "Los Coyotes Band of Cahuilla and Cupeño Indians" aka "Los Coyotes Band of Indians" is a federally-recognized sovereign tribal government.
What many people may not know about "tribal sovereignty" in the United States is tribal sovereignty legally exempts federally-recognized American Indian tribes and their tribal lands from many of the local, city, state, federal and international laws and regulations, including some types of taxes, permits and zoning issues that strictly govern most non-Indians, their communities and businesses.
Learn more about AMERICAN TRIBAL SOVEREIGNTY and its legal basis in USA history, including the theory surrounding "sovereign immunity" for the tribes.
SOCAL Indian historical backstory:
Native Americans could not become U.S. citizens until the Indian Citizenship Act of 1924 was signed into law by President Calvin Coolidge. But even with the Indian Citizen Act passed, U.S. citizenship and voting rights for American Indians were not easy processes or a sure thing for most Native people who wanted them...it wasn't until around 1960 that Native American Indians could vote in every state.
One grassroots California Indian political organization who successfully fought for Indigenous American rights is the MISSION INDIAN FEDERATION (active 1919-1965). The MIF's members are credited for being the backbone leadership that today guarantees equal rights for Native American Indians as U.S. citizens under the United States Bill of Rights....


Click on photo for MIF poster.
CAHUILLA INDIAN TRIBE
The Los Coyotes Band of Mission Indians is one of 19 member bands of the SOUTHERN CALIFORNIA TRIBAL CHAIRMEN'S ASSOCIATION.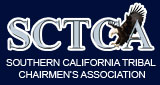 Also known as the Los Coyotes Band of Cahuilla and Cupeño Indians, the Los Coyotes band has 328 enrolled tribal members of which about 82 tribal members currently reside on the Los Coyotes Indian Reservation (population statistics from Los Coyotes band casino project website, 2011).
Learn more about the Los Coyotes Band of Cahuilla and Cupeno Indians on their wikipedia.org home page.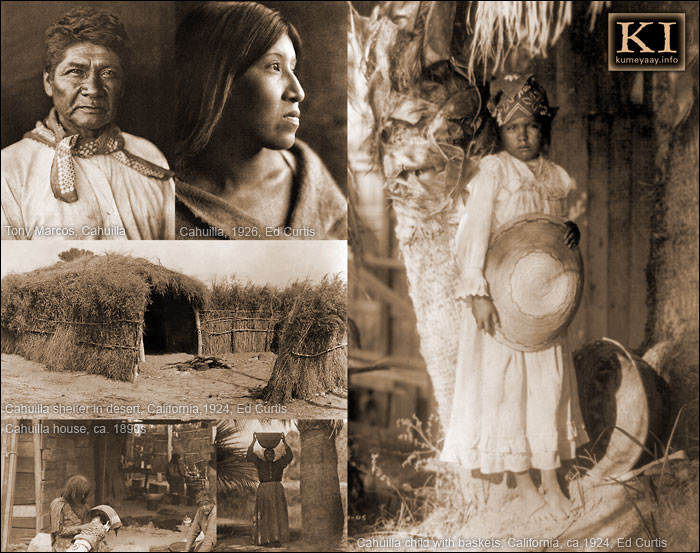 Historical Cahuilla photographs (higher resolution), some photos by Edward S. Curtis.
Who are the Cahuilla people?
The Cahuilla are a Takic-speaking people and are considered indigenous to the area known today as Riverside and San Diego counties in Southern California. Today, some Cahuilla tribal members live off reservation, and some live on their reservations: Agua Caliente, Santa Rosa, Torres-Martinez, Cabazon, Morongo, Cahuilla, Los Coyotes, Ramona, and Soboba.

These Cahuilla reservations were established in the 1870s after many years of conflict with non-Indian immigrants, local, state and federal authorities. Today (at the turn of the 21st century) the Cahuilla population numbers about 2,400. However, prior to European intrusion when they occupied the better part of Riverside County and the northern portion of San Diego County, the Cahuilla numbered from 6,000 to 10,000 people....

- college.hmco.com (source URL broken)
The Takic peoples arrived in Southern California some 2,500 years ago.
The delineation of the Cahuilla was a result of the Spanish missionization of the California indigenous tribes which separated them from the so called Cupeño. The Cahuilla villages historically ranged over the entire San Bernardino basin, the San Jacinto Mountains, and the Coachella Valley. (source: Four Directions Institute www.fourdir.com).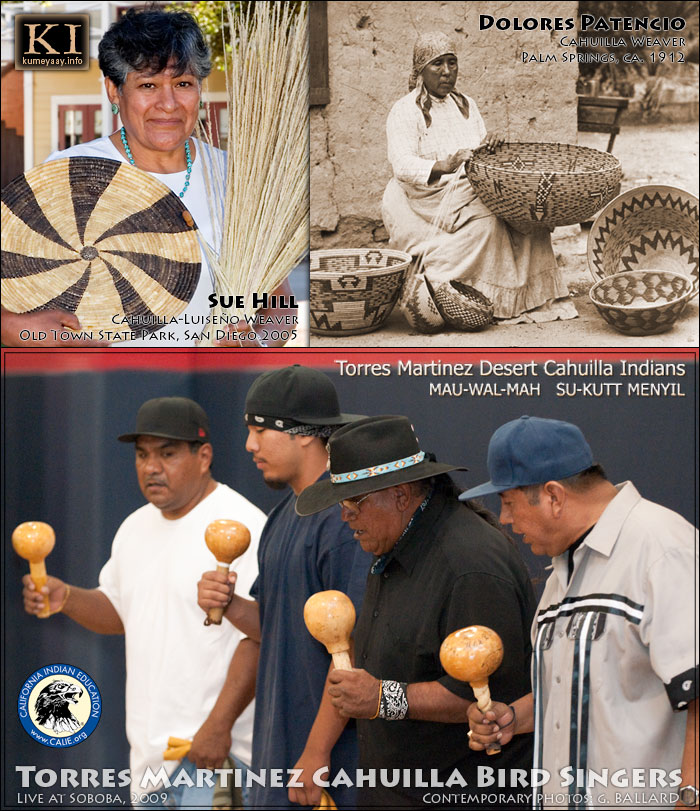 Cahuilla ethnographic Indian artists are famous for their singing and beautiful basket weaving. Pictured is Sue Hill (Cahuilla-Luiseño) at the 4th Annual Old Town Fiesta, Old Town San Diego State Historic Park, 2005; Delores Patencio (Cahuilla), Palm Springs, circa 1912; and a group of Torres Martinez Desert Cahuilla traditional bird singers honoring a tribal elder (Ernie Salgado Sr) on the Soboba reservation in 2009.

CAHUILLA HISTORY: CHIEF MEYERS (Cahuilla, Riverside, CA), 1880-1971, MLB teams played for: New York Giants, Boston Braves, Brooklyn Robins. Career batting average .291, played in four World Series (1911, 1912, 1913, 1916)....
List of Cahuilla Indian reservations:
AGUA CALIENTE RESERVATION, Palm Springs, Southern Calif.
AUGUSTINE RESERVATION, Thermal, Southern Calif.
CABAZON RESERVATION, Indio, Southern Calif.
CAHUILLA RESERVATION, Hemet, Southern Calif.
LOS COYOTES RESERVATION, Warner Springs, Southern Calif.
MORONGO RESERVATION, Banning, Southern Calif.
RAMONA RESERVATION, Riverside, Southern Calif.
SANTA ROSA RESERVATION, Hemet, Southern Calif.
SOBOBA RESERVATION, San Jacinto, Southern Calif.
TORRES MARTINEZ RESERVATION, Thermal, Southern Calif.