If you have built castles in the air, your work need not be lost; that is where they should be. Now put foundations under them.


- Thoreau (Western Philosopher, 1817-1862)
February 11, 2011
Dear good visitors,
This was a nice Dream, but after putting 6.5+ years, 4,500+ hours into it — I am parking KUMEYAAY.INFO and moving on to other projects.
Please feel free to enjoy the site while it remains up.
Regards,
Gary Ballard
KUMEYAAY SITE STATISTICS & Site Blog:
100,000,000-plus Hits (2004-2011)

October 14, 2010
RE: Letter to prospective recipients of kumeyaay.info archive and website En Español

Greetings and welcome to The Kumeyaay Information Village Website!

As creator of this website, I am writing you this letter today as one of San Diego's newest Senior Citizens because I am concerned about the future of this great body of work and its prognosis to survive beyond my time.

Currently, if something happened to me, this website and its mammoth 250,000 megabyte digital picture archive, extensive field notes, and documentary video would be left in my apartment for my landlord to clean out.

Therefore, my first priority with this letter is to expedite arrangements to deliver my high-resolution digital project archive to an appropriate organization, and secondly, to ask for help in founding a functioning organization because I believe the work is important, and it has proven itself useful.

If you are an historical institution interested in receiving this large contemporary digital archive, a Kumeyaay band interested in taking sponsorship, ownership or management of this website, or someone who can help us establish a Foundation to preserve and grow this work into the future — then please read on.

A non-Indian, I founded www.kumeyaay.info in 2004 through my 15-year association with the Kumeyaay as a tribal photojournalist. I spoke to Kumeyaay elders and received their permission and active support to produce this project. Since 2004, I've put over 4,500 personal hours into producing its massive multimedia archive and building this website. To date, the www.kumeyaay.info project has been funded solely by me, and I have not taken even one dollar off this website for anything, including referrals, advertising, promotions, or kickbacks of any kind. (Well, one guy did give me a golf club, but I don't think that counts).

Through the support of my respected Associates — I am proud of what we accomplished in this short six and a half year period. To date, www.kumeyaay.info has received over 80 million hits! This month, October (2010), I expect our visitors will view around 300,000 pages (page views) on www.kumeyaay.info during this one, 31-day period.

Literally, millions of unique daily visitors from around the world have visited www.kumeyaay.info and they are surely forming their perceptions and opinions of the Kumeyaay and California Indian peoples from our material.

Further, with the ability to easily verify visitor IP addresses through whois.arin.net data base, I am able to state statistically a great deal of our Web pages are viewed on computers registered to schools, colleges, universities, libraries, museums and tribal organizations.

But at the same time, I see our Kumeyaay website stagnating and at risk of expiring like so many other websites that have come and gone....

Most basically, this project needs an Administrator, qualified researchers, creative people to build quality content, and some kind of cultural Review Board to serve as Editor — I did my best with a Good Heart, but I am not Native and I cannot give a Native perspective.

My founding statement and Dream from day one was to turn this website over to hard-working Native hands, but so far no one has expressed any interest to me regarding that offer, and I am rapidly losing the luxury of time to hand this work off to local San Diego Native people.

Thank you for reading this.

If you have any questions or ideas, THE FIRST STEP would be to pick up the telephone and call us or write us a letter or send us an e-mail...time is of the essence.

Most respectfully yours,



GARY G. BALLARD (professional biography)
Founder/Webmaster/Editor
CONTACT US

If you haven't looked around our website lately, here are a few recently updated launch points:


KUMEYAAY HISTORY ESSAY


KUMEYAAY GUIDE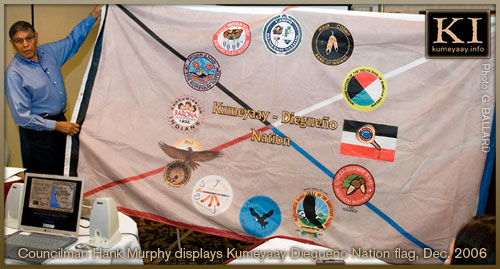 NATIVE AMERICAN INDIAN SOVEREIGNTY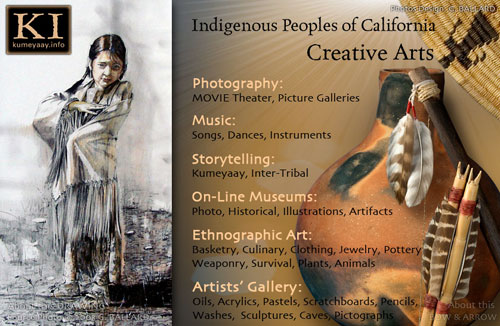 CALIFORNIA INDIAN CREATIVE ARTS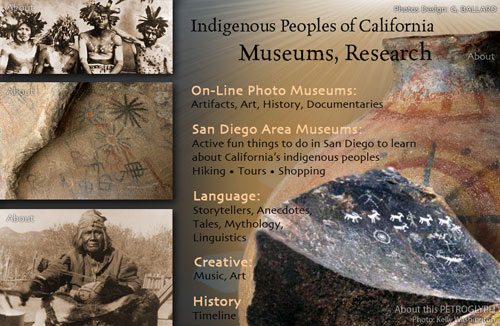 MUSEUMS & RESEARCH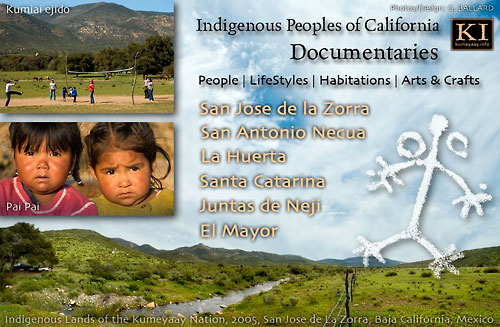 MULTIMEDIA DOCUMENTARIES Baja Tribal Communities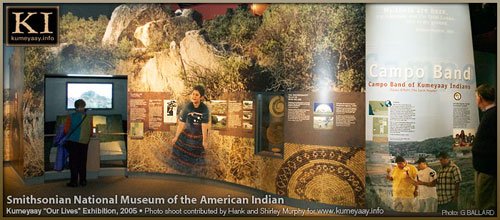 CAMPO KUMEYAAY AT THE SMITHSONIAN, Washington D.C.


ORIGINAL MOVIES
SITE STATISTICS (over 80,000,000 hits as of 10/2010):
SCREEN SHOTS of our detailed 2005/2006/2007/2008/2009/ statistics.
KUMEYAAY BLOG with more information.
OVER THREE MILLION UNIQUE DAILY VISITORS 2004-2011