KUMEYAAY BLOG
by founding WEBMASTER, Gary G. Ballard

IF YOU ARE INTERESTED in receiving the KUMEYAAY.INFO multimedia archive and/or this website, please read my Letter to Prospective Recipients.

100+ MILLION Hits! (June 2004 thru 2011)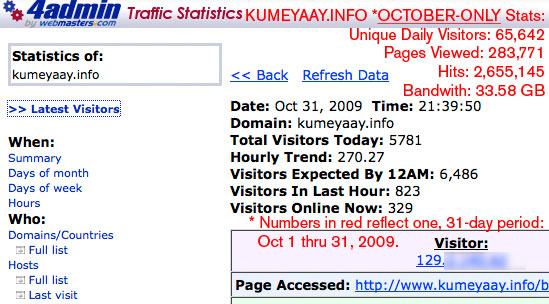 TOTAL SITE STATISTICS TO DATE (June 2004-2010):
Hits to Date: 75,232,921 (75 MILLION Hits)
Unique Visitors to Date: 1,833,019 (1.8 MILLION Visitors)
Pages Viewed to Date: 8,341,495 (8.3 MILLION Pages)
Bandwith to Date: 1,152.74 Gigabytes (1.2 MILLION Megabytes)
This website is parked as of February 11, 2011, and will no longer be aggressively grown or maintained.
OVER THREE MILLION UNIQUE DAILY VISITORS 2004-2011
June 1, 2004 (Established)
I uploaded the initial www.kumeyaay.info site and went to work on it....
Hits 2004: 270,271
Unique Visitors 2004: 3,557
Pages Viewed 2004: 34,044
Bandwith 2004: 11.62 GB
June 5, 2005 (One year old!)
ONE YEAR LATER, I would like to take a moment to thank everyone who has visited KUMEYAAY.INFO, everyone who has contributed KUMEYAAY.INFO content....
Hits 2005: 3,215,204
Unique Visitors 2005: 72,221
Pages Viewed 2005: 398,445
Bandwith 2004: 99.59 GB
January 15, 2006 (Milestone Blog Entry)
In the usual crazy way I commit to projects, I found myself working on KUMEYAAY.INFO most of my free time over the past 18 months (with distracting concerns like eating, earning a living and keeping a roof over my head).
So much so — in fact — I cannot afford to work on the site anymore, and have posted notice requesting financial SPONSOR support in order to start up a functioning organization.
For all practical purposes, work on KUMEYAAY.INFO has ceased January 1, 2006.
June 1, 2006 (Two years old!)
OKAY with the drama, I have continued work...
Hits 2006: 11,204,388
Unique Visitors 2006: 263,205
Pages Viewed 2006: 1,283,726
Bandwith 2006: 231.16 GB
June 11, 2007 (Three Years Old!)
Having taken the past year away from my work on www.kumeyaay.info to earn a living — ironically (or not) — the Kumeyaay Indians web site has taken off as evident in the published KUMEYAAY.INFO site statistics: Daily Unique Visitors, Pages Viewed, and Google/Yahoo key word search engine rankings.
Hits 2007: 15,123,694
Unique Visitors 2007: 356,377
Pages Viewed 2007: 1,632,055
Bandwith 2007: 256.79 GB
June 30, 2008 (Four Years Old!)
KUMEYAAY.INFO has turned four and received some 38 million hits to date. Lately I have been posting new content mostly on the CALIFORNIA INDIAN EDUCATION NETWORK to breath some life-giving content into those sites as our California Indian network progresses.
Hits 2008: 16,965,287
Unique Visitors 2008: 407,802
Pages Viewed 2008: 1,899,101
Bandwith 2009: 259.64 GB
June 31, 2009 (Five Years Old!)
57,000,000 MILLION HITS to date...
Hits 2009: 19,971,219
Unique Visitors 2009: 496,201
Pages Viewed 2009: 2,170,031
Bandwith 2009: 293.94 GB
June 3, 2010 (Six Years Old!)
Whew!.. In the last three months I put over 500 hours into KUMEYAAY.INFO to update and archive many pages — if you are interested becoming a Sponsor of this website — please read my Open Letter to perspective Sponsors.
October 14, 2010
Posted letter seeking assistance to turn my 250,000 megabyte digital picture archive and website over to local San Diego Native hands...
February 11, 2011
After no responses to my letter, I am parking KUMEYAAY.INFO and will no longer be aggressively updating or maintaining it.