CINON DURO MATAWEER
Español | 中文 | 日本 | Française | Deutsch | 한국어 | Россию | پارس
MESA GRANDE INDIAN RESERVATION, circa 1906 — Cinon Duro Mataweer is a famous spiritual leader (kuseyaay or tribal shaman) of the Ipai (formerly northern Diegueño) Native American Indian tribe pictured above standing beside an adobe structure in San Diego County. The elder Cinon Mataweer is wearing a tribal headdress adorned with owl and hawk feathers, and is draped in eagle feathers. The object in his right hand is a can rattle (Southern California Indian musical instrument).
Cinon Mataweer's Ipai-Kumeyaay American Indian tribe has occupied the San Diego-Mexico border region of North America for some 600 generations (12,000 years). He is the great-great-grandfather of Anthony Pico.
The Kumeyaay (aka Kumiai, Ipai-Iipay, Tipai-Tipay, Diegueño, Kamia) is one of four surviving tribal groups indigenous to San Diego County, including the Luiseño, Cupeño, and Cahuilla Indians.
KUMEYAAY MUSEUMS
An extensive Museum of Man cultural display on the Kumeyaay features Cinon Mataweer and exhibits classic types of Southern California Indian spiritual objects he would have used in his ceremonies as a Kumeyaay kuseyaay in the late 19th century.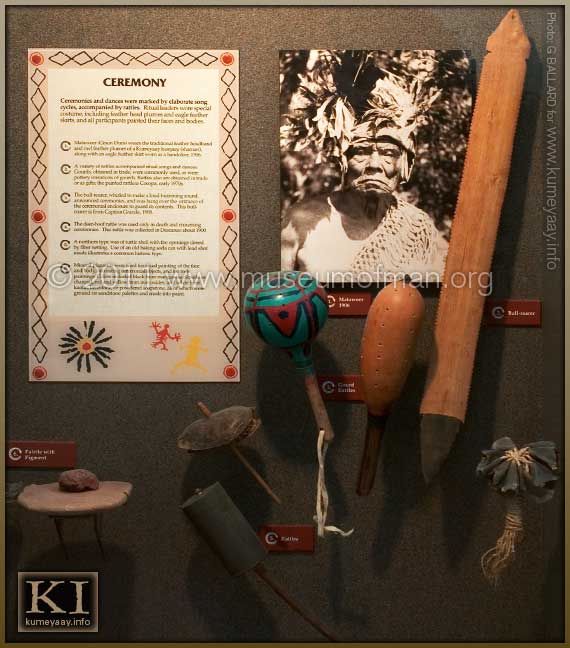 Photo and caption information from the museum placard © 2011 Museum of Man:
KUMEYAAY CEREMONIES and dances were marked by elaborate song cycles, accompanied by rattles. Ritual leaders wore special costumes, including feather head plumes and eagle feather skirts, and all participants painted their faces and bodies.
1) PHOTO: Mataweer, Cinon Duro, wears the traditional feather headband and owl feather plumes of a Kumeyaay kuseyaay (shaman), along with an eagle feather skirt worn as a bandoleer, 1906.
2) GOURD RATTLES
3) BULL-ROARER
4) DEER-HOOF RATTLE
5) TURTLE-SHELL and CAN RATTLES
6) PALETTE WITH PIGMENT

The Museum of Man (San Diego Balboa Park) maintains a permanent Kumeyaay exhibit in their facility that is popular with tourists, school children, families, students and researchers.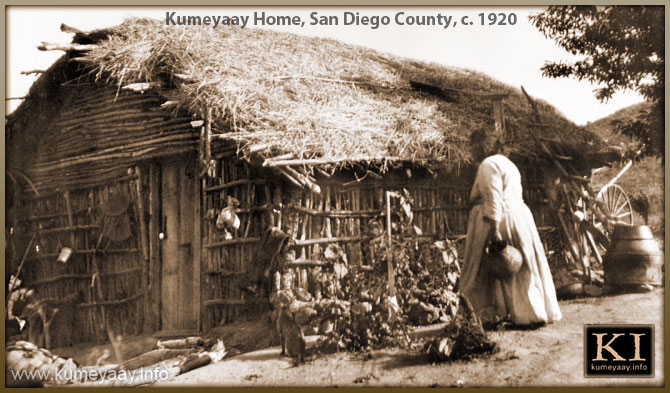 An early 20th century Kumeyaay home pictured on a San Diego County Indian reservation, circa 1910-1920, walls constructed of tree stems, grass roof, elderly woman in long dress carrying clay olla — do you see the Indian kitty cat?
KUMEYAAY AT THE SMITHSONIAN: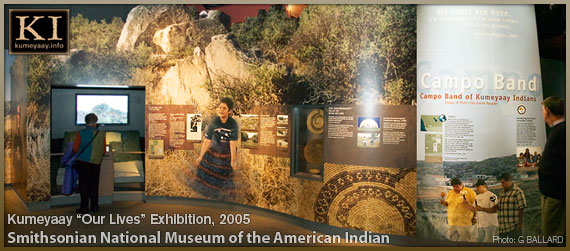 Kumeyaay featured at the Smithsonian National Museum of the American Indian "Our Lives" exhibition in Washington D.C.
KUMEYAAY INDIAN RESERVATIONS
Twenty-First Century Territories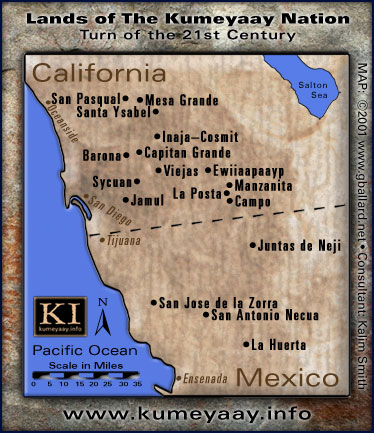 KUMEYAAY GUIDE | KUMEYAAY ART | KUMEYAAY RESEARCH | KUMEYAAY SOVEREIGNTY | KUMEYAAY TIMELINE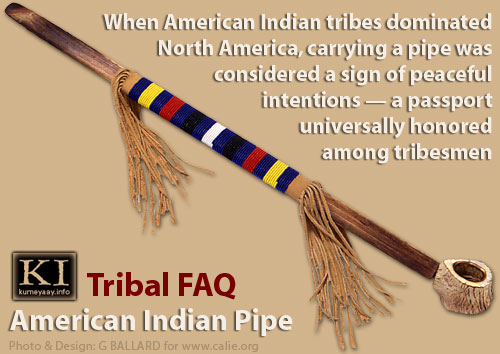 Top 50 Frequently Asked Questions about Native American Indian tribes — "American Indian or Native American?" | "Tribe or Band?" | "Who is an American Indian?" | "What is Indian Country?" | "What is trust land?" | "What is sovereign immunity?"...


AMERICAN INDIAN TRIBAL SOVEREIGNTY — American indigenous tribes practiced their own forms of tribal government for thousands of years before European intrusion and the formation of the United States federal government. The Constitution of the United States, U.S. Supreme Court, federal and state laws, as well as historical Treaties all support the tribes' present-day legal rights to self-government and certain limited forms of tribal sovereignty in America...


ONLY THE BEST INSPIRATIONAL QUOTATIONS
Native American tribal and world wisdom...