KUMEYAAY BIRD SINGERS YUMAN SONGS Sycuan Powwow Pictures, MOVIE, Native American Powwows.
Photo 1, 2, 3, 4, 5, 6, 7, 8, 9 Kumiai Children of San Jose de la Zorra
Please see and hear watch 10-minute FREE MOVIE of this YUMAN GATHERING and Bird Singing event kumeyaay.info
SYCUAN POWWOW (above) - Native American Bird Singers and Bird Dancers gathered together to celebrate and compete at the annual Sycuan Traditional Gathering on the Sycuan Indian Reservation, near San Diego, California, September 7, 2002. This image was used (cropped into a vertical by an art director, believe it or not) for the 2003 Sycuan pow-wow poster and magazine cover. Kumeyaay bird dance style of aboriginal American Indians.
KUMEYAAY BIRD SINGERS BIRD DANCERS YUMAN INDIANS SINGING DANCING


OVER 100 PROFESSIONAL BIRD SINGING PICTURES of Sycuan's 2005 Traditional Gathering featuring Yuman and Shoshonean bird singers singing and bird dancers dancing from across Southern California, southwestern Arizona, northern Baja California, Mexico. Participants tribal people may include the Diegueno Diegueño Kumeyaay Kumiai, Mohave, Quechan, Cocopah Cucapa, Cahuilla, Pai Pai Paipai, Ipai Tipai, Hualapai, Kiliwa, Havasupai, Maricopa, Yavapai, Luiseño Luiseno, Juaneño Juaneno, Serrano, Chemehuevi, Gabrielino and Cahuilla aboriginal Indians of North America.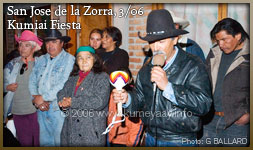 INDIGENOUS SINGERS San Jose de la Zorra, 2006 (with pictures audio video recordings).


SOUTHERN CALIF INDIAN RATTLES MUSEUM history multimedia pictures...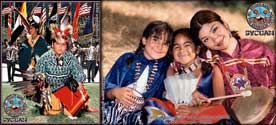 See more SOCAL powwow Kumeyaay Yuman Native American Pow wow Regalias pictures gballard.net
Event Director: Arlene Galvan, Sycuan Powwow Director
Photo/design by Gary G. Ballard, San Diego