EVA SALAZAR Kumeyaay Biography
EVA SALAZAR — a Kumiai Indian from San Jose de la Zorra Indigenous Community, Baja California, Mexico — spent her childhood growing up in the remote poverty-stricken tribal ejido learning how to make traditional Kumeyaay baskets from her Aunt Celia Silva and mother. The famous Kumeyaay Indian basket weavers taught young Eva the coiled basket-weaving techniques that the Indigenous California peoples have used for hundreds if not thousands of years to create utilitarian baskets for storage, winnowing, cooking, and serving acorn mush (shawii).
TRIBAL HOMELANDS: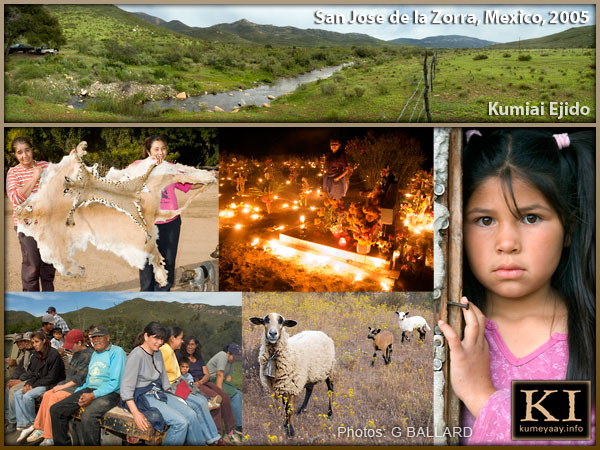 Click on the above picture to view an extensive professional multimedia documentary about Eva Salazar's remote tribal village.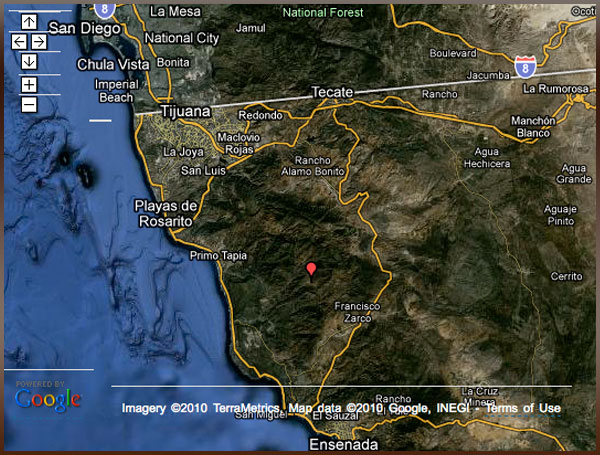 See the above Google satellite map image for the precise pinpoint location of San Jose de la Zorra — Eva's tribal village in Mexico — in the Valle de Guadalupe area located approximately 40 miles south of Tijuana and 40 miles north of Ensenada and 20 miles east of the Pacific Ocean.
This fertile agricultural farming area is rapidly becoming Baja California's largest and most productive regions for growing grapes and winery production farms that produce fine wines for sale around the world.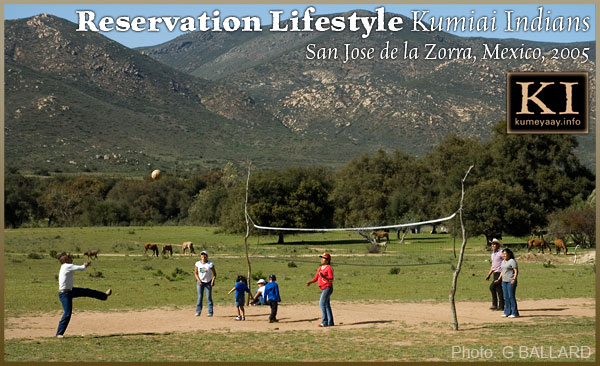 Remotely located in a long fertile valley (approximately 1,200 feet above sea level) surrounded by mountains, Eva's community ranch community provides postcard settings and indigenous lifestyles — you never know what animals you will see roaming free range environment there, including horses, turkeys, sheep, cattle, goats, chickens, snakes, owls, hawks, eagles, mountain lions.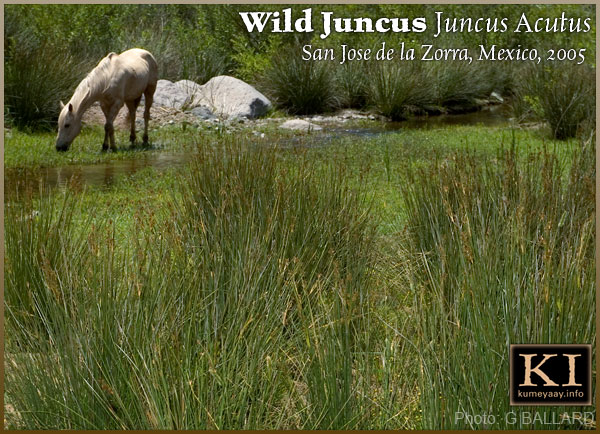 This beautiful scenic photograph of a white Indian horse grazing in a shallow river brook stream among healthy California wild juncus plants growing naturally along the riverbanks was taken in San Jose de La Zorra in May of 2005. Juncus Juncus Acutus, aka spiny rush, sharp rush or sharp-pointed rush is a common indigenous plant the Southern California Kumeyaay Indians have used for thousands of years.
SOCAL ABORIGINAL TRIBAL ARTIST COLONY
As a successful professional ethnographic American Indian artist today, Eva Salazar makes her famous decorative Kumeyaay Indian coiled baskets mostly from locally-harvested wild juncus, a sharp tipped reed known for its toughness. She will typically dye the juncus material with black walnut, elderberry and rusty metal before weaving it into her coiled Native American tribal designs.
In addition to juncus, Eva uses different natural materials in her various types of Kumeyaay basket designs to establish her unique tribal patterns in the weave, including wild deergrass, willow, sumac, and yucca.
Not all of Eva's weaving involves juncus basketry, however. She occasionally makes traditional Native American Indian dolls, agave fiber nets, willow bark skirts, and acorn-shell necklaces.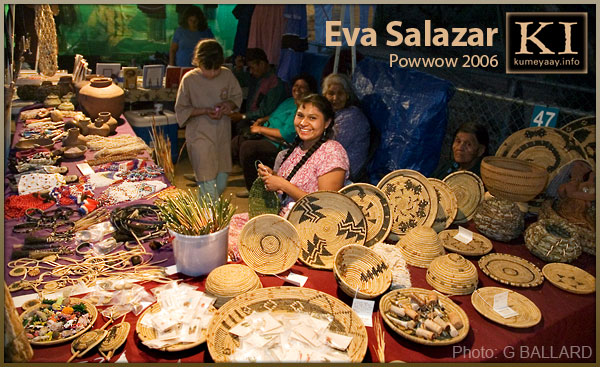 Eva pictured in her Native American ethnographic art booth at a local Southern California powwow — the finest authentic North American Indian traditional tribal art objects.
FAMOUS SAN DIEGO ARTIST
A naturalized U.S. citizen, San Diego artist Eva Salazar currently lives in the San Diego County area and looks after her lovely family of five children and extended family members on both sides of the US-Mexico border.
In addition to weaving daily, Eva Salazar devotes her time to a wide range of Kumeyaay cultural activities, including learning the Kumeyaay language. Eva had hoped to soon speak with her grandmother, Emilia Vega (also of the San Jose de la Zorra Kumeyaay band), in their native Kumeyaay language, but Emilia passed on last June at 80 years before Eva could fulfill her dream.
Eva Salazar also teaches basket making several nights per week at local Indian reservations and colleges in an effort to pass on her Kumeyaay traditional basket making skills to others in hopes that others will learn the fine yet practical art of making juncus baskets in the tradition of the Mission Indians of Alta and Baja California.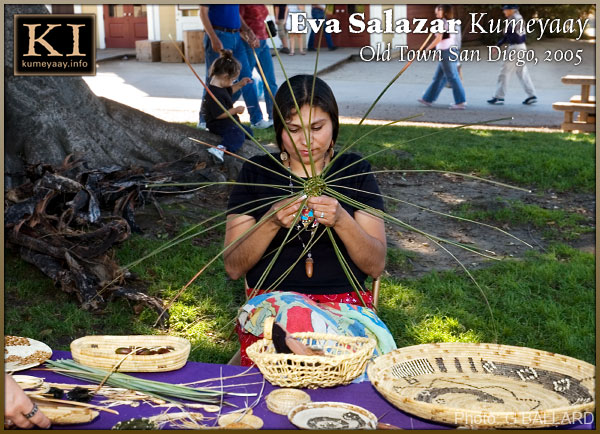 Eva photographed at her SOCAL ethnographic Kumeyaay arts & crafts booth during the 4th Annual Fiesta in Old Town San Diego State Historic Park, November, 2005.

WHERE TO BUY EVA SALAZAR ART:

A supply of Eva Salazar's San Diego Kumeyaay artwork, masterpiece basketry and authentic California Native American Indian ethnographic crafts can be purchased from her California Indian store Shumup Ko Hup in Old Town, San Diego.

Eva accepts commissioned orders for fine custom basketry, dolls and other traditional California Yuman artwork, and is available for modeling, cultural exhibition, and teaching.

Eva Salazar Kumeyaay Indian Artist, Kumeyaay Art, Kumeyaay Baskets, are featured in the KUMEYAAY.INFO Basket Museum and Kumeyaay lifestyle California Indian artists photo documentaries on KUMEYAAY.INFO museums.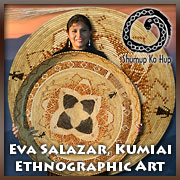 ABOUT the Famous Eva Salazar BASKET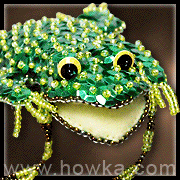 ABOUT Eva's Artists' Co-Op


KUMIAI DE BAJA CALIF MEXICO en Español Kumiais una cultura en riesgo de extinsión, Acerca de los indigenas Kumiai, Geografia, Sistema Politico, Origenes lingüisticos, Programas de Trabajo, Consejo, Acerca de los indigenas Kumiai, Gobernadora Kumiai, Origenes lingüisticos — y mucho mas...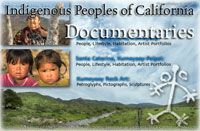 KUMEYAAY DOCUMENTARIES Indigenous tribes of California Native American Indian documentary series features the Kumeyaay traditional coiled basketry of the San Jose de la Zorra Kumeyaay Indian village, Baja California, Mexico. Also, the Kumeyaay-Paipai traditional clay pottery and basketweavers of Santa Catarina Indigenous community, Baja California, Mexico. KUMEYAAY.INFO showcases the professional photography and journalistic documentation of village inhabitants Indigenous lifestyles, environmental portratis, habitations and pictures of their traditional California Native American arts and crafts.