KUMEYAAY NATIVE AMERICAN DOCUMENTARY MOVIE
UPDATED 2021 for Quicktime Bug
DIRECT PLAY-DOWNLOAD .MP4
500MB movie, give time for start...
Plays on macOS, iOS, Android, Windows
This Indian movie contains 20 minutes of the original 75 minute DVD - this is a 106 megabyte .mov file!
KUMEYAAY FIESTA traditional ceremony, San Antonio Necua annual fiesta, Baja California, northern Mexico, June 2005, audio music recorded multimedia CD DVD. Comunidad Indígena Kumiai, los indios indígenas de las fotos documentales de la forma de vida del photojournalism de México representan películas.
The Native American pyrotechnics and equestrian show are part of the Indigenous peoples of Southern California, the ageless traditional ceremony of the Kumeyaay Nation the aboriginal tribal communities of Southern California and northern Mexico.
The documentary film cultural movie short features Jon Mesa (aka Juan Meza) Kumeyaay, and Demetrio Pulido, Kumeyaay, La Huerta, bird singers; and bird dancing by the San Antonio Necua Kumiai Indians of Baja California, Mexico.
The Kumeyaay History of the Indigenous Kumeyaay Indians virtually proves the Kumeyaay Diegueño Yuman tribes have occupied the San Diego border area over 10,000 years. The Native American tribal cave painting petroglyphs featured in the beginning of this documentary movie was photographed in EL VALLECITO (near La Rumorosa, Mexico) in January 2005.
DOCUMENTARY INDIAN LIFESTYLE SERIES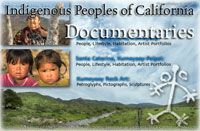 STILL PICTURES documentary photo essays about the Native American Indian communities of San Antonio Necua, San Jose de la Zorra, Santa Catarina, San Antonio Necua, Juntas de Neji, El Mayor, Baja California, Mexico, Kumiai Indino Mexican tribal village ejidos.
As a side note, the audio recording movie of rual Mexican Native speakers contains an interesting dialect strong accents of U.S.-Mexico border Spanish borderspanish, rural mountain Spanish mountainspanish, spanglish, Mexican Spanish mexicanspanish - unlike the traditional Spain Spanish, and the Mexico Spanish spoken in Mexico City.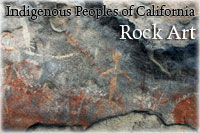 NATIVE AMERICAN ROCK ART SERIES ancient pictographs petroglyphs cave art pictures rock sculptures of the Yuman Indigenous peoples of California pictrographs. Professional fotos of Kumeyaay Kumiai rock paintings hundreds and thousands of years old in Southern California and northern Baja California, Mexico.
Other Online California Indian Movies:









KI Kumeyaay Indian MOVIES kumeyaay.info
Native American Kumeyaay Bird Singing, Equestrian Bird Dancing, Powwow, Pictorial, PSA