KUMEYAAY STORY TRANSLATED
The Rabbit Versus The Rattlesnake
Kumeyaay English
Nya'kurlly ke'nap-pu lly'aaw mat kuwaaylly nyewaayk tewa. Chepat cha'saw shemay waam. Nyawaam nyatuuyawm a'wit weyiw nyewa-pelly wexap. "Peyally ta'wa lly'aaw-pu shuuyaw ta'wa akway nyapaakm nyaat saawx."
Once upon a time, there was a rabbit who lived in a burrow in the ground. One day he went off looking for food. While he was away, a rattlesnake came along and went into his house. "I'll wait here for the rabbit, and when he gets back I'll eat him," the rattlesnake said to himself.
Kuur wichm llye'aaw-pet nyewa-pu akway paa. Pes yay-pet xantuk xemaaw; melaayk. "Paychach-pu chiilliich nyewa-pu llyewa kexa," paycha tuuyaw. "Nyewa-pu shkux xiipuk. Skayp nyawikm xapx."
After a long time, the rabbit came back home, but he felt uneasy. Something was not right. "I think there might be something bad inside," he thought. "First I will knock at the door. If it is quite, then I'll go in."
Penya'wit nyewa-pu shkux. Ku'aaylly aaman "Aawka" we'i. Llye'aaw-pet penyauchat, "Nyaap nyewa-pet "Aawka" nye'aa maw. Paychat-pu chiilliit llyewa kexa." Nya'wit skant waam.
So he knocked at the door. From deep inside came a "Hello!" The rabbit thought, "My house never talks to me. There must be something bad inside, alright." And he took off.
A'wi-pet skayp wi tewa nyapuum llye'aaw-pu wesaawx tuuyaw-pes naynaat ch'am.
The snake had waited, intending to eat the rabbit, but he messed it up himself.
Nyaam aawatt.
The end.
- Story translation: Gloria Pinto and Amy Miller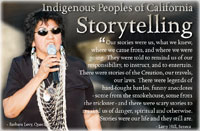 Native American California Indian Stories STORYTELLERS featuring the Samuel Brown Kumeyaay stories of the Brown-Curo family of Barona and Viejas, including a 1960s audio recording of a Kumeyaay elder woman storyteller, and links to many Native American stories, the anecdotes fables tales myths mythology of the California Yuman Native American Indians.