BEST TOP 10 Native American Web Site Portal
WEBMASTER's Forward:
Over the past 18 months, I've done considerable web surfing on the internet in my research to find the top Native American websites online to learn about the tribal Native American peoples of North America and study how the best indigenous web sites present their cultural information — beautiful and interesting Native American websites like no other.

The following Native American web site portal represents my personal picks for the top ten Indian sites for any number of reasons. Hopefully this resource will eventually include the best 100 Native American websites.

KUMEYAAY.INFO does not do link exchanges.
KUMEYAAY.INFO does not trade, rent or sell links.
KUMEYAAY.INFO, webmaster, Gary G. Ballard, receives no compensation from any site, organization or person(s) listed on this native web ring for KUMEYAAY.INFO link referrals, or for any goods or services bought or sold on these sites as a result of KUMEYAAY.INFO link referrals.
KUMEYAAY.INFO is not affiliated with the following organizations, websites, tribes or nations (unless clearly noted as an affiliated website):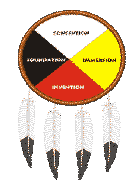 FOUR DIRECTIONS INSTITUTE www.fourdir.com
This is a truly an amazing research site (tip: figure out their site navigation - dig deep)...try these direct links to their California Indian section, alphabetical index of US and Canadian tribes, and garden plants of the high deserts of Southern California.


www.native-languages.org
Native Languages of the Americas ONLINE RESOURCES.
Truly a great site for Native America language study.


www.accessgenealogy.com
Fantastic Indian tribal research site!
Very deep and well organized information about Native American genealogy records and recorded historical information.


BEST AMERICAN INDIAN WEBSITE www.chiricahua-apache.com:
chiricahua-apache.com is under development by the Chiricahua Apache Prisoner of War Committee, which consists of direct descendants of Chiricahua Apache prisoners of war. We all are enrolled members of the Mescalero Apache Tribe of New Mexico and our committee is authorized by the Mescalero Apache Tribe's President, Vice President, and Tribal Council — WATCH THEIR TRIBAL HISTORICAL VIDEO.


www.indigenouspeople.net
World Indigenous Issues, also see GLENN WELKER LINKS for his indigenous chat forums and his personal favorite indigenous links around the world.


www.kumeyaay.org
Of all the best Indian sites, I think Sam Brown, Kumeyaay of the Viejas Indian Reservation, has produced my all-time favorite Native American website www.kumeyaay.org for his incredible collection of original family stories and personal anecdotes. These are the real treasures of Native American Culture online -- do not miss this incredible site! -- Sam Brown is an associate contributor on kumeyaay.info and he hosts the Native American stories section on kumeyaay.info.


Authentic California Indian shopping
KUMEYAAY.INFO affiliated web site, associate contributors, Native American owned and operated business for authentic California Indian ethnographic arts and crafts.


www.nativeweb.org
Great site, an original Native web ring.


www.firstpeople.us
Excellent graphics, a real interesting site being done right.


www.nativethreads.com
Model Native American Entrepreneur, excellent creative, cutting-edge sophistication.