SYCUAN GOLDEN EAGLES HOTSHOTS
NATIVE AMERICAN FIREFIGHTERS CALIFORNIA IHC:
Kumeyaay-Diegueño Indian Nation.

CONTACT INFORMATION (Web sites deleted 2010)
BASE CAMP: Sycuan Indian Reservation, San Diego County
SUPERINTENDENT: Juan Mendez (Zapoteca)
CAPTAIN 63A: Rick Madrigal
CAPTAIN 63B: Byron Alcantara
DIVISION CHIEF: Wadell Kanseah (Mescalero-Apache)
CHIEF: Hank Murphy (Kumeyaay)
CREW ESTABLISHED: June 15, 2000, Crew History
FOUNDING SUPT: Ray Ruiz Sr. (June 2000 to 2008)

NATIVE AMERICAN HOTSHOTS — the GOLDEN EAGLES INTERAGENCY HOTSHOT CREW (IHC) is one of nine federal Bureau of Indian Affairs (BIA) Native American IHC crews in the USA.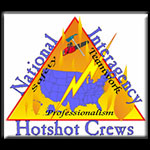 Please see the BUREAU OF INDIAN AFFAIRS Interagency Hotshot Crews national directory for the 90 IHC fire crews organized by geographical areas.

TRAVEL-ADVENTURE-PRESTIGE — Golden Eagles Hotshots board a NIFC charter jet (above) en route to the Linville Complex Incident, and took a fire crew photo in Bakersfield, CA, June 25, 2007 (below), just prior to boarding the chartered jet aircraft.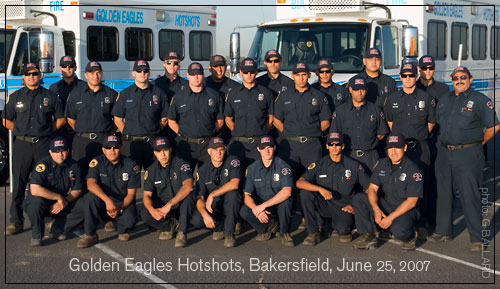 Golden Eagles Hotshots take a photo with Mohawk haircuts in , Bakersfield, June 25, 2007, en route to the Linville Complex fire in Ashville, North Carolina. DOWNLOAD HIGH RESOLUTION MOHAWK HAIRCUTS PICTURE.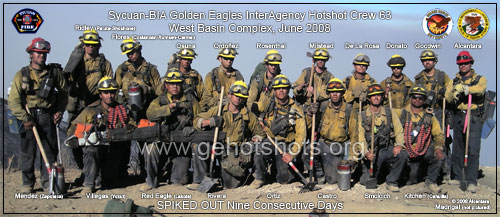 ULTIMATE ACTIVE LIFESTYLE — DOWNLOAD HIGH-RESOLUTION POSTER (you will want to zoom in on this one), featuring a bit of firefighters' reality from Capt. Alcantara's personal fireman's scrapbook — "Spiked Out Nine Consecutive Days (West Basin Complex, 2008)."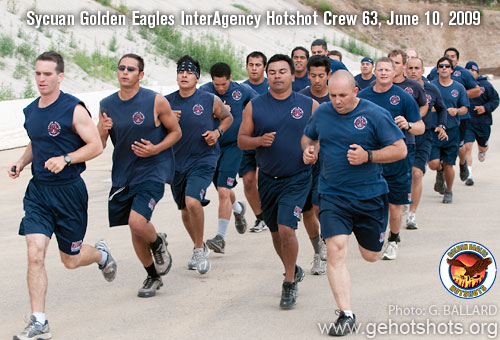 2009 BIA FIRE SEASON CERTIFICATION PICTURES — Golden Eagles Hotshots regularly PT together so meeting the BIA wildland minimum standards during a 10-minute run was no problem for the brotherhood — they ran the test in this close formation. DOWNLOAD HIGH RESOLUTION FIREFIGHTERS BROTHERHOOD POSTER.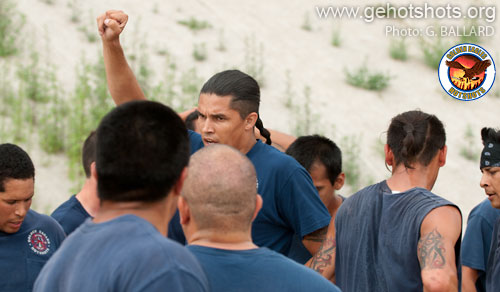 LEAD SAW 63 BRAVO — Native American Fire Fighter Cody Ridley, a Paiute-Shoshone Indian from Fallon Indian Reservation in Nevada, raises a clenched fist in victory after he and fellow Hotshots nailed a 10-minute run in record-like time to qualify for the 2009 BIA fire Season Review.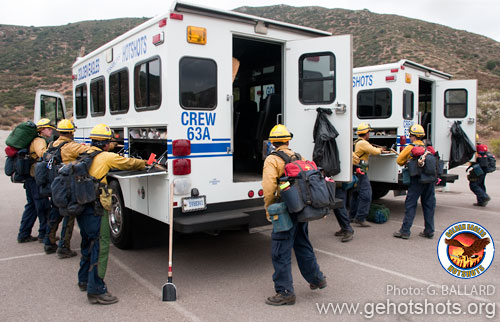 The Golden Eagles firefighters responded to a fire on the Sycuan reservation — a training exercise simulating a vegetation fire with structures threatened. At scene, Crew 63 is pictured beginning their standard off-loading responsibilities at their BIA hotshot crew buggies.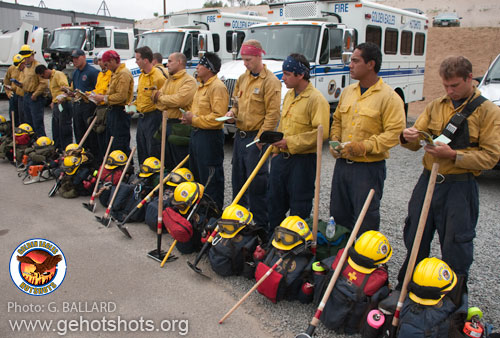 Veteran crew members of the elite Golden Eagles IHC stand by studying their "knowledge" IRPG Incident Response Pocket Guide at their Sycuan Base Camp awaiting instructions to proceed with a scheduled personal protective equipment inspection.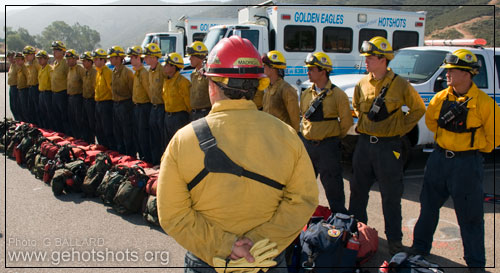 Sycuan Hotshots Captain Madrigal (in red helmet) stands alongside his crew during the 2008 BIA Fire Season Review.
The Golden Eagles started a firefighter tradition on the Sycuan Indian Reservation where wildland academy graduates sport Mohawk haircuts until their first fire. Here in this fire photo, seasoned hotshots also cut their hair in support of the rookie fire-fighting team members.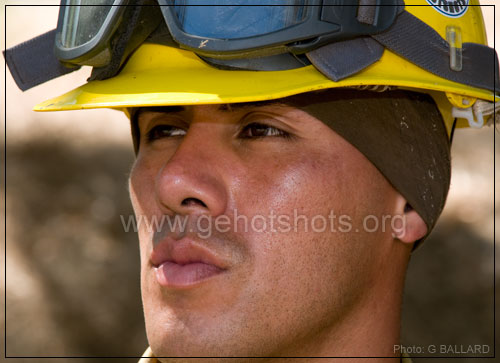 Participating Sycuan crews included graduates of the 2008 Sycuan-BIA Firefighting Academy, including this young professional firefighter picyured during the 2008 BIA Fire Season Review..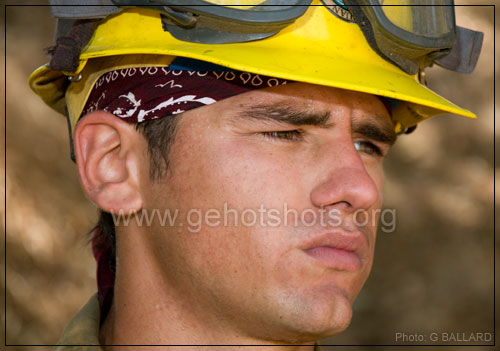 With a long fire season already under his belt, this experienced 19-year-old professional fire fighter, Chris Rivera, photograpged at the BIA Fire Season Review in 2008, is a graduate of the 2007 Sycuan-BIA Firefighting Academy.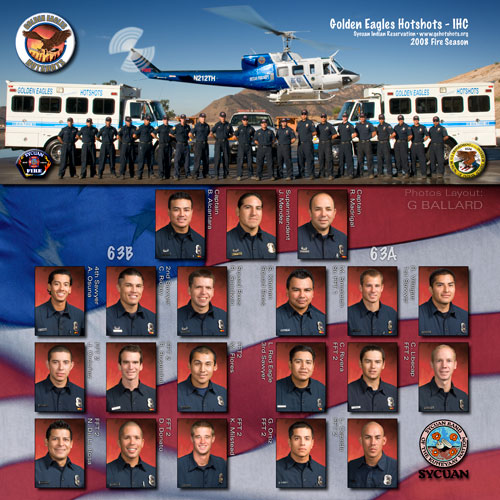 DOWNLOAD HIGH-REZ 2008 portrait layout.




ELITE WILDLAND FIREFIGHTERS:
The Golden Eagles Hotshots received its full Region 5 R5 Type 1 Certified Interagency Hotshot Crew (IHC) status in October 11, 2005.
The Sycuan Tribal Fire Dept. entered into a Public Law 93-638 tribal compact with the Bureau of Indian Affairs BIA-NIFC. This negotiated contract provides Sycuan with logistical and monetary U.S. Government support through federally-funded programs for federally-recognized Indian tribes who meet the stringent qualifications.
Federal funding for Native American tribes provides Sycuan with additional fire resources for national and community fire services, including homeland security, disaster preparedness and emergency response, wildland urban interface WUI, hazardous fuel reduction, fire prevention and suppression, medical emergency services EMS, training center, helicopters and flycrews, facilities, salaries, equipment and fire apparatus.
FYI — There are some 90 BIA Hotshot crews in the United States. Nine of those are Native American crews, including the Sycuan Hotshots crew in San Diego County — see our FEDERAL FIREFIGHTERS CREW DIRECTORY for detailed info about these amazing modern-day heros in the national fire service.
NATIVE AMERICAN HOTSHOTS:
The Sycuan Golden Eagles Hotshots IHC is the only federal BIA-tribal inter-agency hotshot crew in the state of California.
The elite Sycuan hotshot wildland crews consist of a diverse group of many Native American nations including the Kumeyaay, Paiute, Pomo, Pima, Karuk, Lakota, Sioux, Zapoteca, Hatuey, Mescalero-Apache, Tule River, Chumash and Cahuilla Native American Indian tribes of North America.
NON-NATIVE HOTSHOT FIREFIGHTERS:
The Sycuan Fire Department California hotshots team members also include a mix of non-native firefighters from the Latino, Filipino, African American and Anglo communities.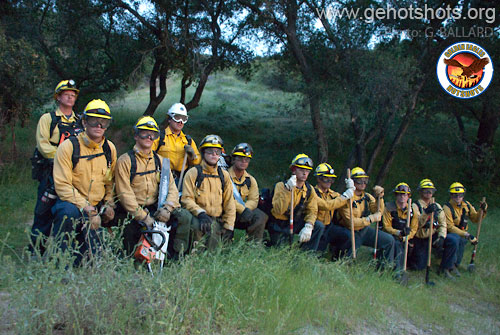 California Golden Eagles IHC 63 photographed at the base of a rural Southern California Indian mountain during final briefing prior to special night operations.
WATCH HOTSHOTS CAREER-TRAINING VIDEOS:
GOLDEN EAGLES FLYCREWS:
On July 1, 2003, the Sycuan Fire Department and the Sycuan Band of the Kumeyaay Nation, with support from the Bureau of Indian Affairs BIA, entered into a partnership with the San Diego City Fire and Rescue Department Air Operations Program to provide a 10-person Flycrew.
Today (2009) this partnership between Sycuan Fire Department, Sycuan Tribal Government, Bureau of Indian Affairs and San Diego City Fire and Rescue Air Operations Division continues to flourish.
The Sycuan firefighting aviation wing is an ICS Type I Flycrew stationed at Montgomery Air Field in San Diego.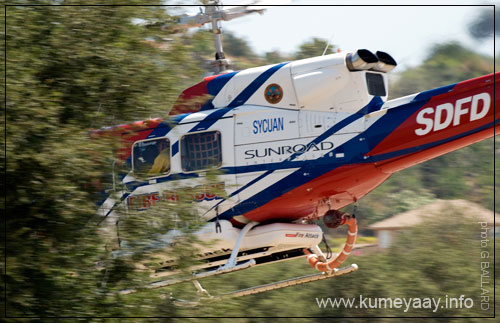 PHOTO CAPTION: San Diego City Copter One with Sycuan Golden Eagles Flycrew firefighters onboard pictured flying low and fast through the San Diego urban countryside
The Sycuan ground and flycrew personnel receive highly-specialized training, including flight crew, EMT (emergency medical technician), sawyers, squad bosses, radio operators, heli-base managers, heli repellers, safety officers, fly-by-wires, heli-tack (ground support unit air operations).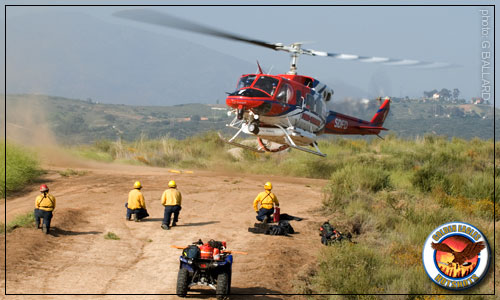 Sycuan hotshots heli-tack ground crew brings in San Diego City Copter One for a landing on a Sycuan mountain top on the Sycuan reservation during a training exercise.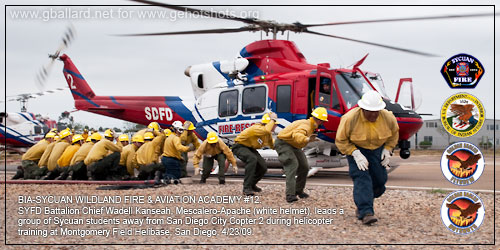 MONTGOMERY HELIBASE, SAN DIEGO — Chief Kanseah leads a squad of Sycuan aviation students away from San Diego City Copter 2 — DOWNLOAD 10-INCH SCRAPBOOK PICTURE.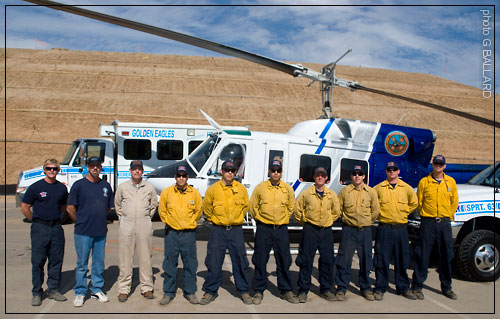 Sycuan Fire Department GOLDEN EAGLES FLYCREW 1 (in yellow) takes a picture with a Rogers Helicopters CWN contract crew during the historic San Diego wildfires in October 2007.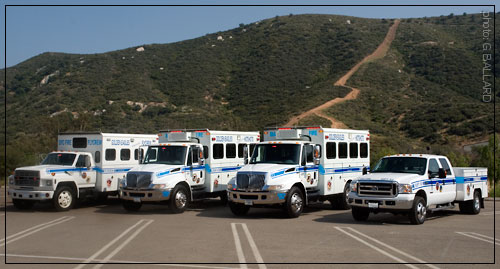 The Sycuan Hotshots have a variety of state-of-the-art firefighting apparatus.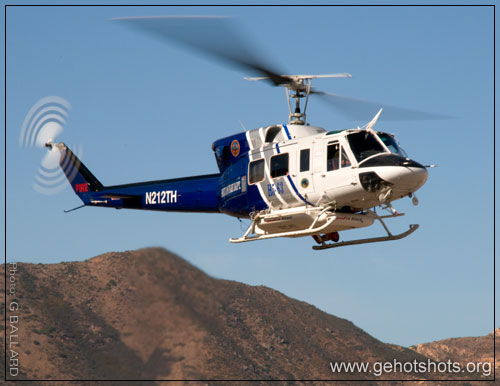 BIA WILDLAND FIRE FIGHTING COPTER.
Do you have dreams of becoming a wildland firefighter and serving your community as a first responder?

2009 Hotshots firefighting and aviation school professional photo gallery on-line...our professional fire and aviation helicopter school in San Diego County Southern California is successfully completed — 18 fire-fighting students join the federal fire service with challenging job opportunities in the federal fire service!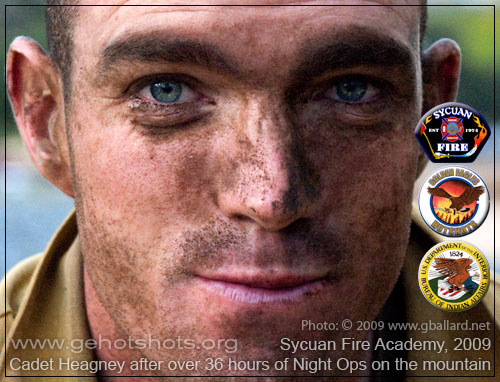 RECRUIT HEAGNEY, 26, is a Marine Corps combat veteran who served in Iraq during Operation Iraqi Freedom 2005 OIF 2005.
BEST OF THE BEST — Heagney and his fellow recruits had just wrapped up 36 continuous hours of extremely demanding Special Operations (Coyote Tactics) cutting fire lines on the Sycuan mountains — all 19 remaining students who began the operation successfully finished it — above "hard as Nails" photo taken April 15th, 0630 hours.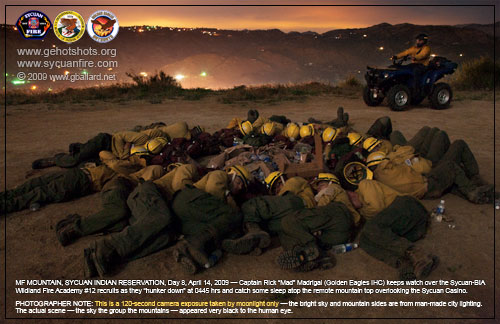 NIGHT OPS — Here's where I found the fire academy on April 14th (2009) at 0400 hours — hunkered down atop MF Mountain after cutting line all night. DOWNLOAD HIGH-RESOLUTION BIA POSTER for more information about this awesome professional fire-fighting picture.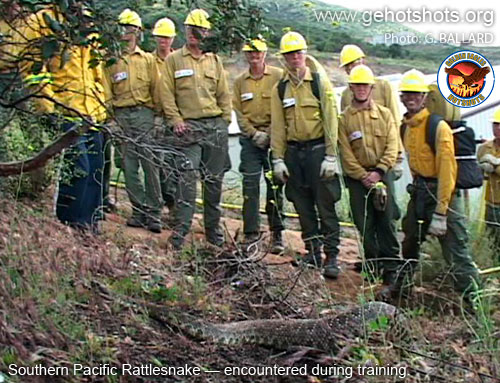 TOO CLOSE, Academy Day 11 — A sharp-eyed Sycuan instructor, Captain Warren Hopkins, spotted this large southern Pacific rattlesnake as a student was about to step beside it during a hectic hose lay up a steep, badly eroded mountain trail — this image was extracted from my video (my still camera was halfway up the mountain).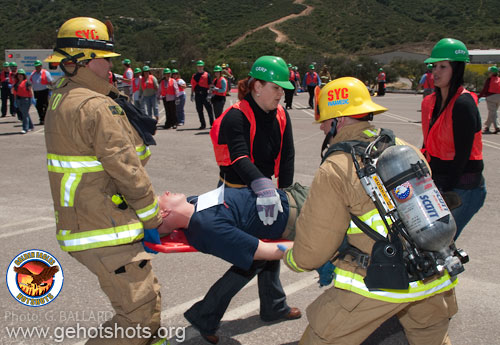 Sycuan Fire Department first responders are assisted by tribal CERT participants carrying an 'injured' fire-fighting student on an emergency stretcher during a training exercise on the reservation.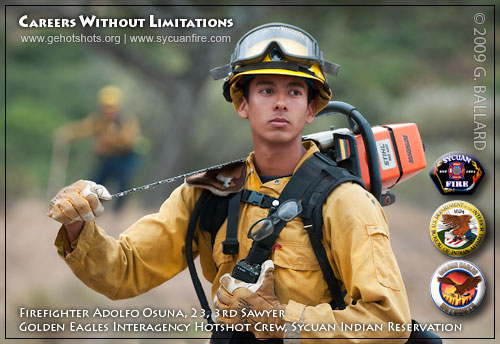 Sycuan-BIA Firefighter Osuna, sawyer of the Golden Eagles Interagency Hotshot Crew 63B, pictured during the formal 2009 BIA certification process on the Sycuan Indian Reservation. DOWNLOAD HIGH-RESOLUTION BIA FIRE CAREER FIREFIGHTER POSTER.
The young firefighter is a successful graduate of the 2006 BIA Wildland Fire Academy at Sycuan and already has three long fire seasons on his professional firefighter resumé with the Bureau of Indian Affairs and the Sycuan Fire Department elite wildland and aviation programs.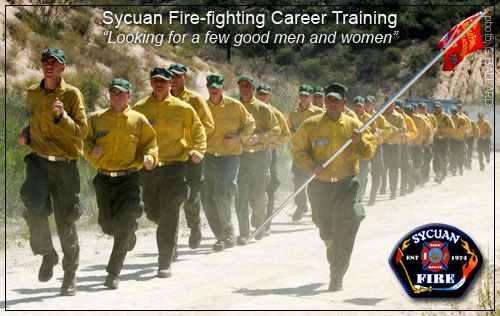 CAREER INFORMATION about how to train with Sycuan and qualify for national BIA federal fire jobs:
Visit the SYCUAN CAREER CENTER for more information, including seasonal hiring patterns within the fire department.
PREVIOUS Sycuan-BIA fire and helicopter academies in San Diego:
The Sycuan Fire Department / BIA GOLDEN EAGLES HOTSHOTS organization was established in June 15, 2000, under the original "Golden Eagles Handcrew" name.
The crew was to be a Type II organized crew working towards IHC certification. The crew was funded through a cooperative effort between The Sycuan Band of the Kumeyaay Nation and USDI Bureau of Indian Affairs, Southern California Agency.
During this initial period the crew was assigned and dispatch by the San Bernardino National Forest.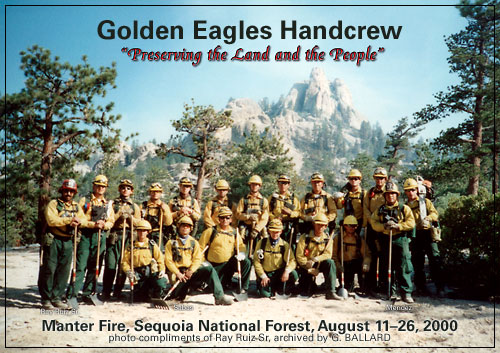 DOWNLOAD HIGH-RESOLUTION Hand Crew historical photo.
In August 2001, the GOLDEN EAGLES HANDCREW received recognition and status as a Type II "IA" Initial Attack Crew by the San Bernardino National Forest. This certification allowed the crew the opportunity to take on Type I assignments, these assignments helped in the shaping, molding and preparation of the crew for Type I certification.
In January of 2003 the crew was recognized by BIA NIFC as a Type I IHC crew in training status, this status also provided the crew with partial funding from BIA NIFC hotshot program for fiscal year 2003. The BIA and the Sycuan Tribe meet in February 2003 to discuss how the program would be operated.
The main discussion point was whether the crew would be directly supervised by the BIA or the Sycuan Tribe would contract the BIA's program under Public Law 93-638 contract guidelines. Based on this meeting, the Tribe elected to have the crew be hired by the Bureau of Indian Affairs. Crew carriers were ordered utilizing additional funding provided by the national office.
After many months of work within the federal hiring process, selections were made for the GOLDEN EAGLES HOTSHOTS "T" in August and September....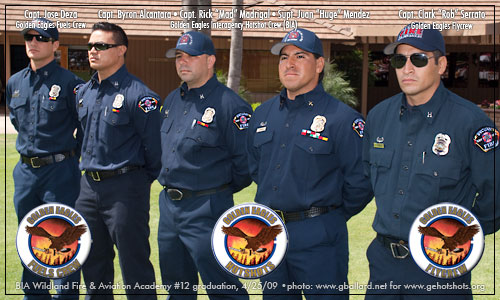 2009 — Sycuan crew officers pictured (l-r) Captain Jose "DZAW" Deza (Golden Eagles Fuels Crew), Capt. Byron "B Ron" Alcantara (Golden Eagles IHC), Captain Rick "Mad" Madrigal (Golden Eagles IHC), Superintendent Juan "Huge" Mendez (Golden Eagles IHC), Captain Clark "Rob" Serrato (Golden Eagles Flycrew) — DOWNLOAD FULL RESOLUTION PHOTO.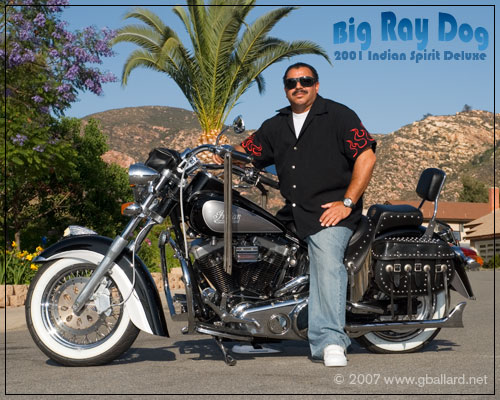 BIG RAY DOG — The Webmaster would like to especially thank and recognize (former) Sycuan Division Chief Raymond Ruiz Sr, pictured above on his 2001 Indian Spirit Deluxe in 2007.
Supt. Ruiz is the founding Golden Eagles IHC superintendent (2000-2008). He also founded the Sycuan Fire Department's Web sites....
Please CONTACT SYCUAN FIRE DEPARTMENT for more information: www.sycuanfire.com | www.gehotshots.org