FEATURING:
Kumeyaay stories of the Brown-Curo family of Barona and Viejas.


Forward by Samuel Brown aka "Howka Sam" of Viejas, Kumeyaay:
FOR THOUSANDS OF YEARS, grandparent, parent and peer storytelling was a part of the Kumeyaay culture where family traditions and morals were passed along by such stories, and many others were told simply for entertainment and humor.
There were designated storytellers, who, for a price, would travel the countryside and enthrall inter-tribal audiences for hours telling stories of heroes, adventure, and mystery.
Now only fragments of the stories exist, and with fading memories this history is rapidly passing. It is the goal of these sites to preserve as much as possible of what remains.
This is an open invitation for any Kumeyaay members to send whatever stories and photographs they have for preservation on these web sites. The stories do not have to be great epics, they can be simple short paragraphs about events in the recent past that offer insight into the culture as it existed only a few years ago.
• We can scan your priceless original photographs at your home, and digitally restore them.
• We can photograph your priceless original items at your home, caption and catalog them.
• We can interview, video tape, and record your oral history, your stories, at your home.
Thank you for your interest.
SAMUEL BROWN



WEBMASTER: www.kumeyaay.org
Examples of such stories can be found HERE: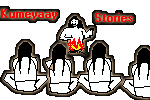 These particular Kumeyaay stories are from the Brown-Curo family of Barona and Viejas.
Learn how to pronounce Kumeyaay video:
WATCH & LEARN how to Speak Kumeyaay Language Videos by Howka Sam on YOUTUBE.