KUMEYAAY CALIFORNIA INDIANS BASKET MAKER Historical Photos
California historical pictures, circa 1910, elderly Indian woman basketweaving. The photographer and collection are yet to be identified for captioning purposes.
Historic Indigenous California Indians baskets photo contributed by Shumup Ko Hup Indian store.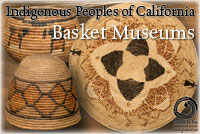 CALIFORNIA INDIAN BASKET MUSEUMS Kumeyaay basketry, basket makers, basketweaving photos pictures. Old and new California Indian baskets featuring the Indigenous California basket weavers of the San Jose de la Zorra Kumeyaay Indians of Mexico, including picture photo documentary and information to buy and sell fine Native American Indian baskets.