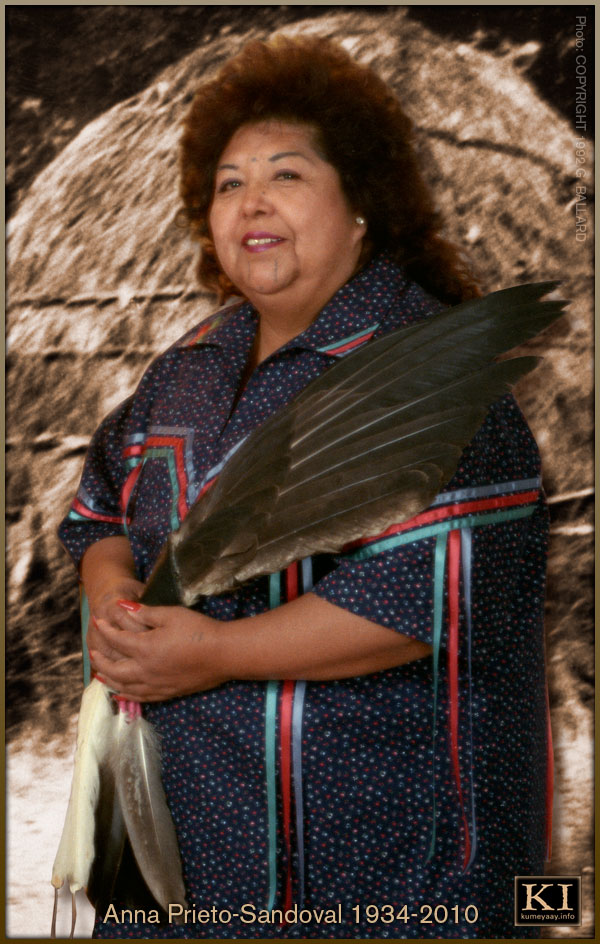 ANNA SANDOVAL Obituary & Pictures
SAN DIEGO COUNTY — Vice Chairwoman Anna Sandoval's 1992 tribal council portrait was professionally photographed on the Sycuan Indian Reservation inside of her home by Gary G. Ballard.
The historical Sycuan image "Photoshopped" into the background is an old photograph of a Kumeyaay shelter believed built on the Sycuan reservation by tribal members, circa 1890.
The feathered object Anna Prieto-Sandoval is holding is a North American Indian prayer fan — constructed using authentic American eagle feathers — Native American people consider it a sacred spiritual object and it is held with great respect and cultural reverence by many traditional American Indians.
Anna's clothing in this picture is generally referred to as a California Indian ribbon blouse and/or ribbon dress. The male version is called a ribbon shirt. The general style is common attire for both men and women in the Southern California Indian tribal community.
The dot and line tattoos Anna has on her face and hands are directly related to her life experiences as a Kumeyaay woman and express special meanings to her family and tribe.
Anna's Kumeyaay Tribe has a 12,000-year history in what is presently known as San Diego County (Southern California, USA) and Baja California Norte (Mexico).
For information about Anna's specific tribal band in El Cajon, California, please visit her SYCUAN BAND OF THE KUMEYAAY NATION website.
Contemporary photographs and caption courtesy of the G BALLARD Archive — more KUMEYAAY REMEMBRANCES.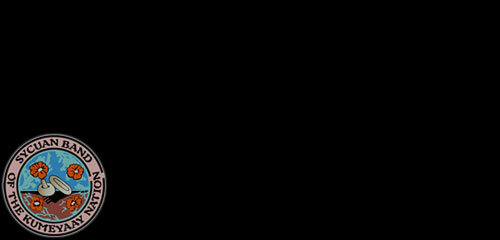 Sycuan tribal elder Sandoval dies at 76
The tribal leader was instrumental in bringing gaming to reservation
by BLANCA GONZALEZ (San Diego Union-Tribune)
PARA ESPANOL
MONDAY, NOVEMBER 1, 2010
For Indian leader and Sycuan tribal elder Anna Prieto Sandoval, her greatest triumph was also the source of one of her greatest regrets.
As the driving force in steering the Sycuan Indian band into gaming and a more prosperous life on the Dehesa Valley reservation, she was able to bring needed resources to her fellow tribal members. The lifestyle changes, however, were more drastic than she anticipated and she lamented that affluence had eroded Indian culture and traditions.
Mrs. Sandoval died of complications from diabetes Oct. 28 at her home on the Sycuan reservation. She was 76.
When she became chairwoman of the Sycuan tribe in 1972, the small, tight-knit group was poor and living in substandard housing. Under her leadership, the tribe opened the Sycuan Bingo Palace in 1983 and the thriving bingo hall was replaced by a vast casino in 1990. Casino cash built a needed clinic, a new church, a fire station and houses for tribe families.
A pioneering Indian leader at the beginning of the gaming movement, Mrs. Sandoval had to work hard to convince the tribal council that bingo was a good idea. She later said it took years of persistence and yards of paperwork to open the bingo hall.
"Anna was ahead of her time," said Anthony Pico, former chairman of the Viejas tribe. "She was a very bold person but also very sensitive." He said Mrs. Sandoval's boldness and vision led to improved conditions for many. "She was able to establish gaming (at Sycuan) and other tribes followed her example. Because of her, we enjoy a better life."
Mrs. Sandoval also championed unity and open dialogue among the tribes, Pico said. "Anna was very outgoing and inclusive. She was very well respected throughout Southern California and the Kumeyaay nation, She was a true warrior. She followed in the footsteps of her ancestors," he said.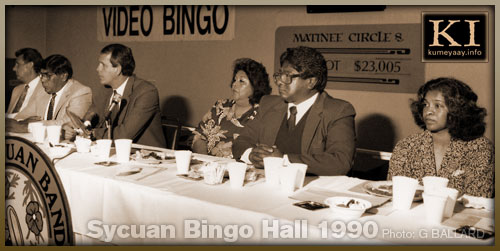 Sycuan chairman Daniel Tucker said Mrs. Sandoval, who was chairwoman for 20 years, was a mentor who fought for tribal sovereignty and tribal government gaming. "She taught me to be diligent and a hard worker and she was fair," Tucker said. "I'm where I am today because of her."
Family and tradition were always important to her, said those who knew her. "She made sure we followed all the traditions," Tucker said, including the annual graveyard cleaning and Day of the Dead ceremonies.
In a 1994 interview with The San Diego Union-Tribune, Mrs. Sandoval recalled days on the East County reservation before it was home to one of the nation's most successful Indian gaming operations. "Those times were giving, taking and sharing, which we don't have today," she said. "If somebody's roof leaked, everybody helped each other."
She said she never dreamed the reservation would "be a little Vegas." Mrs. Sandoval said she regretted that the reservation's youth don't experience hardship because everything is handed to them. "You see 18-year-old kids with brand new homes, brand new cars ... I guess it's good in a way, but when you lose your traditions, you don't know who you are, what you are. All you know is what's mine."
Karen Vigneault, a member of the Santa Ysabel tribe, said Mrs. Sandoval was a generous mentor who worked to preserve their culture. "She helped me when I had a lot of questions about our culture," Vigneault said.
Mrs. Sandoval was inducted into the San Diego County Women's Hall of Fame for helping her community become self-sufficient by bringing jobs, health care and housing to the reservation.
She was born May 14, 1934, at the Sycuan reservation. Her mother, Ada Prieto, was also born on the reservation. English was her second language and she attended Dehesa Elementary and Grossmont High schools. She married in 1953 and later divorced.
Mrs. Sandoval is survived by three sons, Joseph, Raymond and Orlando; a brother, George Prieto; 15 grandchildren and five great-grandchildren. She was predeceased by two daughters, Marquette Riberas and Cheryl Haywood.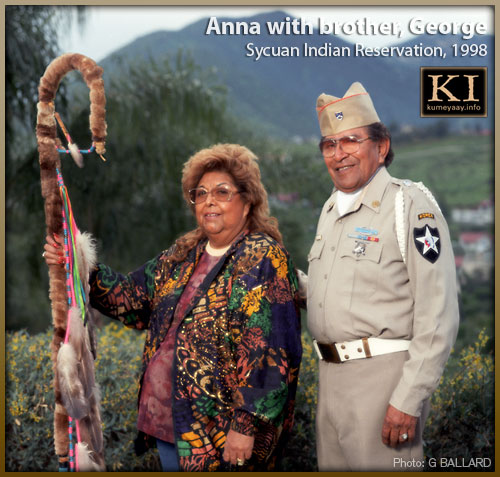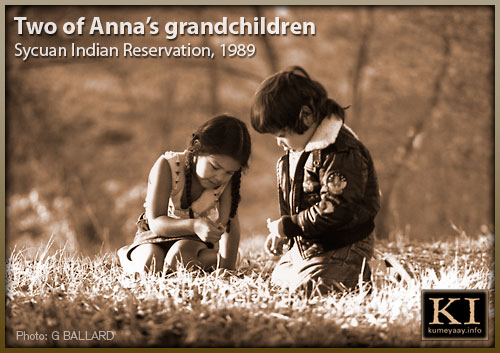 A traditional Kumeyaay clothes burning was held Oct. 31. An all-night wake will start at 5 p.m. Friday at the reservation. A mass will be held at 10 a.m. at Blessed Kateri Tekakwitha, followed by burial at the Sycuan cemetery and a gathering at the Sycuan Recreation Center.
Email: blanca.gonzalez at uniontrib dot com
(619) 542-4559
ORIGINAL SOURCE "San Diego Union-Tribune"