AURELIA OJEDA MELENDREZ
Kumeyaay Indian Basketmaker
Aurelia Ojeda Melendrez, a famous California Indian basket weaver, weaves coiled juncus baskets and willow acorn storage baskets. She is famous for her stunning coiled rattlesnake basket patterns and Kumeyaay basket hats.
Aurelia is the daughter of the basketmaker Virginia Melendrez and she learned to weave Indian baskets at a young age with her grandmother, Celia Silva.
Aurelia Ojeda lives in the Kumeyaay tribal community of San Jose de la Zorra, Baja California, Mexico, and is well known on both sides of the US-Mexico Border as a master basketweaver. She supports her four children through her Kumeyaay basket artwork.
KUMEYAAY CAMPO BASKET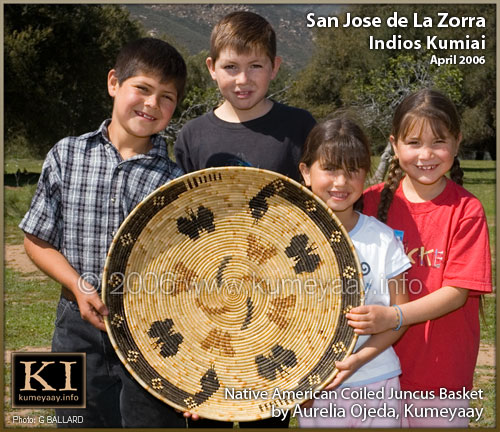 Chairman Paul "Jr" Cureo, of the Campo Band of the Kumeyaay Nation purchased this stunning 22-inch Kumeyaay juncus basket directly from Aurelia in 2006 as a cultural object to decorate the Campo tribal museum on the Campo Indian Reservation just north of the US-Mexico border in San Diego County.