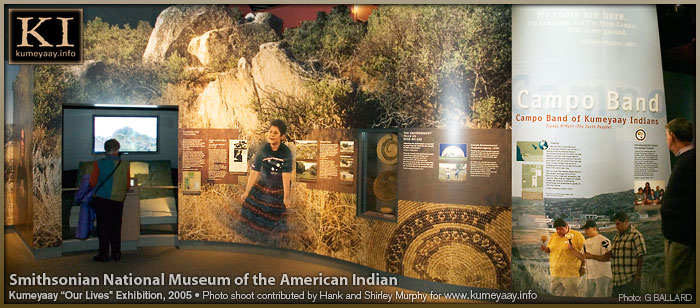 Click on photo for the large high-resolution Kumeyaay picture.
KUMEYAAY
The Smithsonian National Museum of the American Indian "Our Lives" exhibition in Washington D.C. includes a featured section on the Kumeyaay Nation — the Campo Band of Kumeyaay Indians and their successful Golden Acorn Casino in Campo, California (San Diego County).


Campo Band of the Kumeyaay Nation official Kumeyaay Indian Nation web site: www.campo-nsn.gov
From the Smithsonian placards:
THE CAMPO BAND OF KUMEYAAY INDIANS
Tipaay N'Muht (The Earth People)

Howka!

We are the Campo Band of Kumeyaay Indians, one of 17 bands of the Kumeyaay Nation. Kumeyaay bands live in California and Mexico, and we, the Campo band, maintain family and cultural ties with all of them. We all come from one oak tree. Times change, the world is changing around us, but we still come from the same oak tree.

Our survival has always depended on the careful management of the environment. Like our ancestors, we use our resources to meet our needs. Today, we draw on traditional knowledge and practices to guide us into the future.

- Campo Kumeyaay Curators, 2003


INFORMATION ABOUT THE KUMEYAAY GOLDEN ACORN CASINO & TRAVEL CENTER.
PHOTO SHOOT and digital production contributed by Hank and Shirley Murphy.
KUMEYAAY WEB SITE by GARY G. BALLARD, San Diego, California.