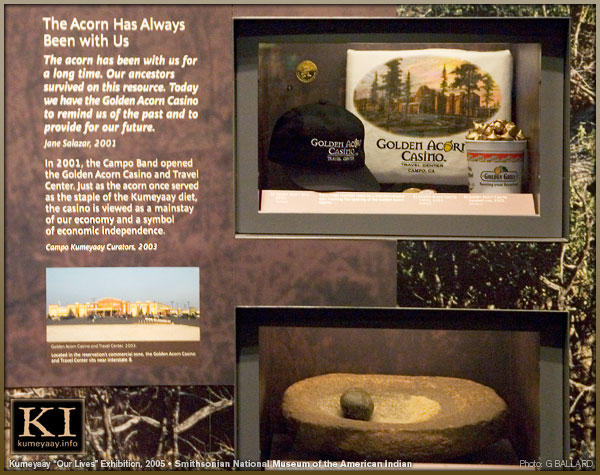 GOLDEN ACORN CASINO
"The Luckiest Place on Earth"
The Smithsonian National Museum of the American Indian "Our Lives" exhibition Kumeyaay exhibit featured the Campo Band of Kumeyaay Indians, GOLDEN ACORN CASINO & TRAVEL CENTER. Note the Native American grinding stone in the lower display window, golden nuggets, gold coins, and gold acorn logo.
From the Smithsonian placard:
THE ACORN HAS ALWAYS BEEN WITH US:

The acorn has been with us for a long time. Our ancestors survived on this resource. Today we have the Golden Acorn Casino to remind us of the past and to provide for our future.

- Jane Salazar, 2001

In 2001, the Campo Band opened the Golden Acorn Casino and Travel Center. Just as the acorn once served as the staple of the Kumeyaay diet, the casino is viewed as a mainstay of our economy and a symbol of economic independence.

- Campo Kumeyaay Curators, 2003


VISIT GOLDEN ACORN CASINO & TRAVEL CENTER WEBSITE for Indian Bingo, Hottest California Indian Gambling Slots, Finest Casino Restaurants, Lucky Jackpots, Culture, Education, Jobs...
GOLDEN ACORN CASINO INFORMATION
The Golden Acorn Casino offers special friendliness as players visit the "Luckiest Place on Earth". Customers have a choice of state of the art slot machines, 13 table games and 4 poker tables. Table limits vary, but, there is always something available for everyone. Video Poker enthusiasts can chose from over 45 machines.
LOCATION: Campo Indian Reservation, Campo, CA
1800 Golden Acorn Way
Campo, CA 91906
TELEPHONE: 866.794.6244
CASINO: 750 slots, 20 table games
HOTEL: 150 rooms (in proposal stage)
ALCOHOL: Served throughout the casino
SMOKING: Small smoke free area in slot machines
MINIMUM AGE TO GAMBLE: 18 years old, children may eat in the casino restaurants if accompanied by an adult.
The Campo Kumeyaay casino is one of the 10 TOP NATIVE AMERICAN INDIAN GAMBLING CASINOS in San Diego County, CA.


Campo Band of the Kumeyaay Nation official Kumeyaay Tribal web site: www.campo-nsn.gov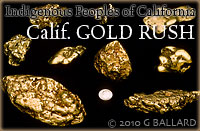 The historic California Gold Rush 1848-1855 is of greatest importance to Native American Indian history in present-day California — it was estimated that some 300,000 immigrants poured into California during this seven-year period, effectively tripling California's population in this seven-year period....
PHOTO SHOOT and digital production contributed by Hank and Shirley Murphy.
Photos, Pictures, web site design by GARY G BALLARD of San Diego, CA.