CALIFORNIA INDIAN ARTIFACTS
WELCOME to the Indigenous Peoples of California Artifacts Museum of photographic exhibits featuring the authentic Shoshonean and Yuman cultural relics, artifacts of northern and Southern California Indian tribes of North America, northwest Baja California, Mexico, southwest USA, including greater San Diego County coastal, mountain, river and desert areas.
The KUMEYAAY.INFO on-line museum picture gallery of rare, old, vintage and ancient California cultural artifacts is a difficult project because archeologists, museum curators and pot hunters have been digging in the ground, scouring the countryside and collecting these ancient tribal treasures for more than a century (and in many cases do not allow access of their property).
COASTAL ARTIFACTS
In addition to the weekend and serious collectors who are searching and stripping the known Indigenous sites of their priceless cultural history — the problem continues over time when a tourist takes an arrowhead from an Indian site, and when scuba divers scavenge underwater Indigenous sites clean (as highlighted in the following SD Union-Tribune story):


"These relics should not be thought of as collectors' items or museum pieces," alliance founder Larry Wan said. "They represent the connection to (American Indians') ancestry in a sacred and spiritual way."
PRESERVATION RESPONSIBILITY RESPECT
The Indigenous California peoples — "Native Americans" — have occupied Southern California, the West Coast, the greater San Diego County area for more than 12,000 years — this means the ground and coastal waters still hold these lost archeological treasures of Pre-Contact California history.
San Diego County's famous first nation is not limited to the Kumeyaay California Indians. In fact, there are four surviving Indigenous tribal nations in San Diego whose cultural artifacts are in the local area, including the Kumeyaay-Diegueño, the Luiseño, the Cupeño, and the Cahuilla Indians.
Further, California currently has the second largest living Native American population in the United States, including over 100 federally-recognized California Indian tribes with names like Wappo, Vanyume, Tolowa, Yurok, Kawaiisu, Wintu, Achomawi, Chumash, Gabrielino, Hupa, Karuk, Maidu, Pomo, Tubatulabal, Quechan, Serrano, Pai-Pai, Washoe,Yokuts, Serrano, Mojave, Juaneno, Cahto, Shasta, Wailaki, Shasta, Salinan, Koso, Wiyot, Paiute, Shoshoni, Washoe Indians.
AMNESTY Donate to Tribal Cultural Museums
Please contact a responsible tribal museum — like the BARONA CULTURAL CENTER and MUSEUM or AGUA CALIENTE CULTURAL MUSEUM — for instructions, information and places where how to donate authenticate turnover sell return give back these irreplaceable historic artifacts, pottery, baskets, stone tools, arrow heads, bows and arrows, war clubs, obsidian blades, clothing, shells, grinding stones, primitive weaponry....
PHOTO ACCESS NEEDED:
IF YOU HAVE CALIFORNIA INDIAN ARTIFACTS, including San Diego Diegueño Kumeyaay artifacts, KUMEYAAY.INFO professionals are available to professionally photograph and document your artifact collections.


KUMEYAAY.INFO can come to your home to professionally scan and digitally restore, caption, archive and publish your historical photographs of old California artifacts.

If your organization or museum has artifacts to photograph or artifacts pictures, photos of artifact exhibits that you would like published on KUMEYAAY.INFO, please contact the WEBMASTER for more information.
This effort is similar to what KUMEYAAY.INFO is producing on California tribal genealogy and family historical picture museums on California Indian basketry and Native American pottery museums:


Kumeyaay Nation HISTORICAL pictures photos photographs pics images private genealogy family albums old historic vintage photographs digitally restored dated captioned. The Native Californians survived European immigration: The Spanish Period, Mexican Period, American Period, smallpox and malaria epidemics caused by white immigrant diseases, the California gold rush, Mission Periods, US Government genocide, and the racism.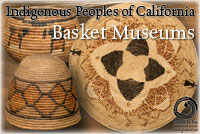 CALIFORNIA INDIAN BASKET MUSEUMS Kumeyaay basketry, basket makers, basket weaving photos pictures. Large antique and contemporary California Indian basket so-called mission baskets sections featuring private historical basket collections and the Indigenous Southern California basket artists of San Diego and northern Baja California, Mexico, including Indigenous lifestyle documentaries and information to buy and sell fine Native American California basketry.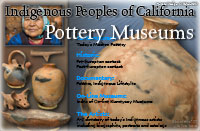 KUMEYAAY POTTERY ART OLLAS of California Yuman Indians features the modern California Indian Kumeyaay Pai Pai pottery art of the Yuman Indians of Southern California, Arizona, Mexico. KUMEYAAY.INFO's extensive photographic documentation of Native American pottery artist includes online picture catalogs of their traditional and contemporary clay pottery, including environmental portraits and biographies of the Native pottery artists. KUMEYAAY.INFO is currently building large, captioned photographic collections of rare and old antique ancient pottery artifacts for its on-line Indigenous Peoples of California Pottery Museum.