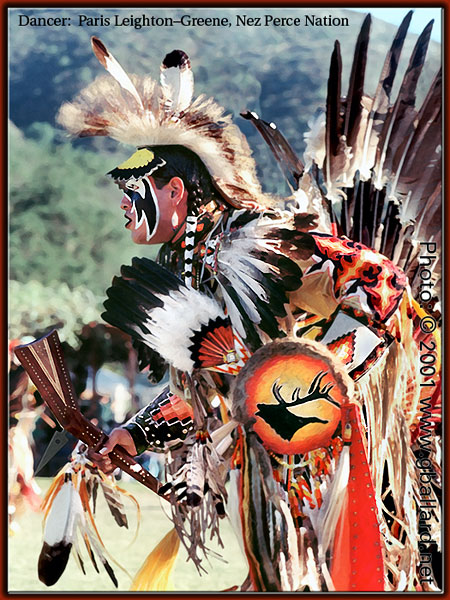 Pow wow Pictures
Native American Nez Perce Dancer

Photo 1, 2, 3, 4, 5, 6, 7, 8, 9 Kumiai Children of San Jose de la Zorra
Sycuan Pow wow Picture, Nez Perce Picture

Paris Leighton-Greene, Nez Perce Nation, a competitive dancer in the Northern Contemporary Traditional style, is pictured here participating in Sycuan's 11th Annual Powwow and Traditional Gathering on the Sycuan Indian Reservation, September 9, 2000.

These Kumeyaay traditional gatherings, the powwows, attract Native Americans from many different nations from across North America, to participate and celebrate their cultures in their traditional, ageless ways.

Paris designs and handcrafts all his own pow-wow regalia, including the Modern Contemporary Style regalia he is wearing in this photograph, and his authentic Nez Perce face paint.

This image was used for the 2001 Sycuan pow-wow poster and magazine cover.

Event: Arlene Galvan
Photo/design by Gary G. Ballard, San Diego
Nez Percé Chief Joseph said on October 5, 1877 when he ended the Nez Perce War of 1877:
"Tell General Howard I know his heart. What he told me before I have in my heart. I am tired of fighting. Our chiefs are killed. Looking Glass is dead. Tu-hil-sote is dead. It is cold and we have no blankets.


"The little children are freezing to death. My people, some of them, have run away to the hills and have no blankets, no food, no one knows where they are -- perhaps freezing to death.


"I want to have time to look for my children and see how many of them I can find. Maybe I shall find them among the dead," Chief Joseph quote continued:

"Hear me my chiefs. I am tired. My heart is sick and sad. From where the sun now stands, I will fight no more forever."
No Nez Percé Native American, who was involved in the Nez Perce War of 1812, was ever allowed to return to his or her beautiful ancestral homelands in the majestic Wallowa Valley, Oregon.

Click HERE pbs.org for more information Chief Joseph, the Wallowa Valley, Nez Percé War of 1877.