Natural Agave fiber has been used by the California Yuman Indians of the greater San Diego area for thousands of years, producing such items as fiber sandals, brushes and net bags.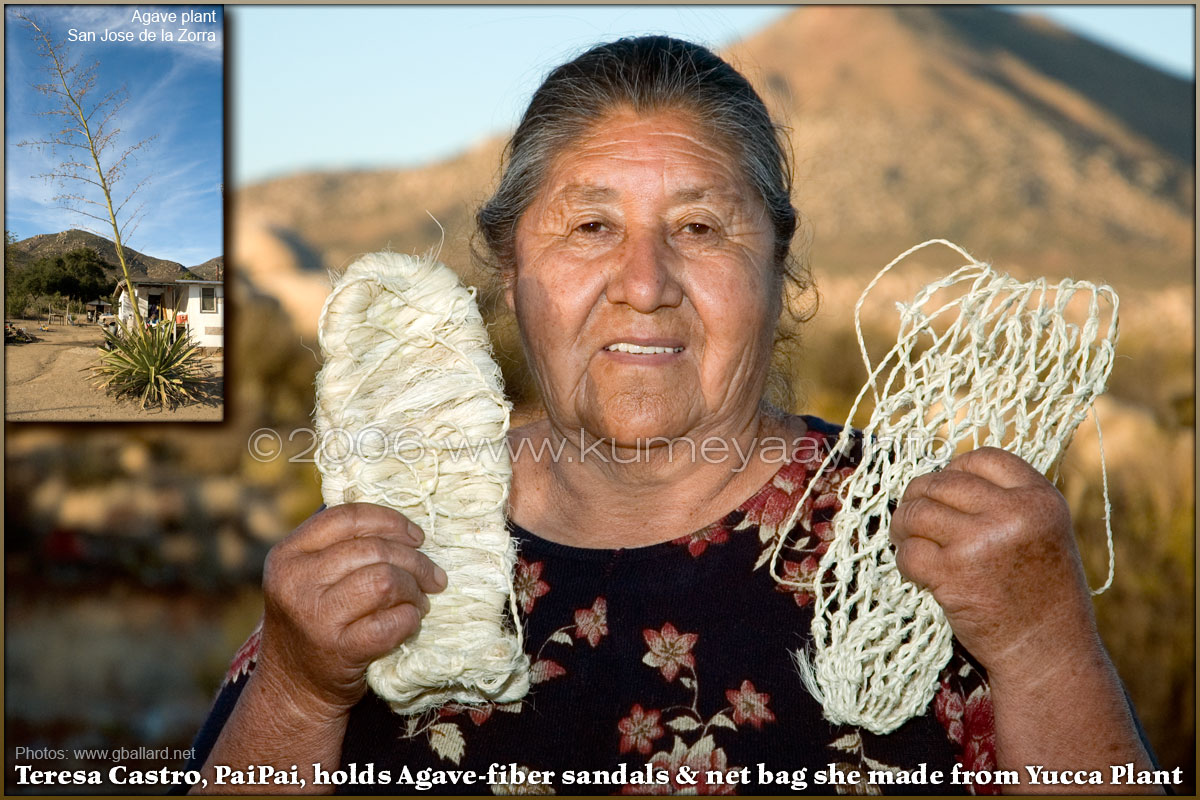 AGAVE Fiber from Yucca Plant Leaves
Teresa Castro, PaiPai Indian from Santa Catarina tribal village in the remote high desert mountains of Baja California, Mexico, harvested local Yucca plants, separated out its agave fibrous material, and handmade these natural agave fiber Indian sandals, and agave fiber net bag for sale across the US-Mexico border to American museums, tribal museums, private collectors, survivalists, and Native American Indian gift shops.
The large Yucca plant pictured was photographed in the front yard of Tina Vega, Kumeyaay Indian, in the rural tribal Indian village of San Jose de la Zorra, Baja California, Mexico.
Kumeyaay
YUCCA STALKS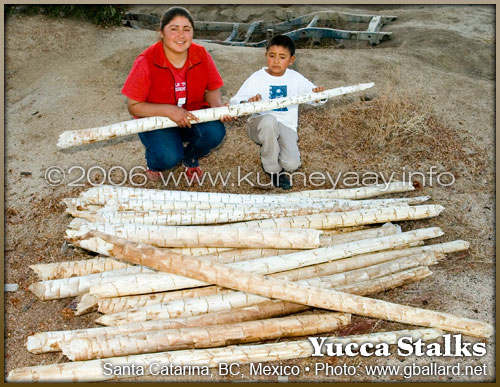 Stocks from the Yucca and Agave plants have been grown, harvested and used by Native Californians for thousands of years to fuel Indian pottery burn pits. In this yucca photo, Pai Pai Native Americans of the Teresa Castro family are pictured alongside harvested dried Yucca stalks that will be used to make California Indian pottery in the traditional Yuman way. Yucca stalks are the wood fuel Native Americans preferred to use in their fire pits because the dried wooden stalks burn hot, evenly and for a long time.
OTHER USES OF YUCCA STALKS STOCKS
The California Native American Indigenous peoples used the dried yucca stocks for other purposes, including arrow quivers and food honey buckets.
YUCCA Versus AGAVE
Yucca plants Vrs Agave plants -- help how to tell the difference agave and yucca plants.
The photographer-webmaster got very confused trying to distinguish between the two similar California native plants, and this is how it was explained to me:
• Notice the heavier base leaves and long thin branches in the above San Jose de la Zorra agave plant picture -- that is an AGAVE plant.

• The desert California YUCCA plant has thinner base leaves and small yellow banana-looking blossoms and the short stubby hard dried seed pods.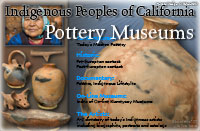 KUMEYAAY POTTERY ART OLLAS of California Yuman Indians features the modern California Indian Kumeyaay Pai Pai pottery art of the Yuman Indians of Southern California, Arizona, Mexico. KUMEYAAY.INFO's extensive photographic documentation of Native American pottery artist includes online picture catalogs of their traditional and contemporary clay pottery, including environmental portraits and biographies of the Native pottery artists. KUMEYAAY.INFO is currently building large, captioned photographic collections of rare and old antique ancient pottery artifacts for its on-line Indigenous Peoples of California Pottery Museum.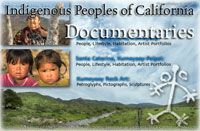 KUMEYAAY DOCUMENTARIES Indigenous peoples of California Native American Indian documentary series features the Kumeyaay traditional coiled basketry of the SAN JOSE DE LA ZORRA Kumeyaay Indian village, Baja California, Mexico. Also, the Kumeyaay-Paipai traditional clay pottery and basketweavers of SANTA CATARINA Indigenous community, Baja California, Mexico. And the Kumiai Indians of SAN ANTONIO NECUA and JUNTAS DE NEJI. KUMEYAAY.INFO showcases the professional photography and journalistic documentation virtural tours of village inhabitants Indigenous lifestyles in the tribal ejidos of Baja, environmental portraits, habitations and pictures of their traditional California Native American arts and crafts. Los indios indígenas de las fotos documentales de la forma de vida del photojournalism de México representan películas.