PAI-PAI PAI Indian Lifestyle Pictures
Pai Pai Indian elder Teresa Castro stands in front of her makeshift workshop with three of her grandsons and one of their Indian ranch dogs for a professional picture, March 2006.
The photograph is one photo in a photojournalism picture essay series about Native American California Indigenous lifestyles and living conditions in the 21st Century.
The Castro family is famous for their California Indian ethnographic arts and crafts, including pine needle basketry, agave fiber sandals, Agave fiber net bags, willow bark skirts, and clay pottery.
The Castro ranch is without electricity and all water must be brought in or taken from local hand-dug wells. The ranch still uses an old fashioned outhouse.
This professional lifestyle picture essay is part of professional tribal documentary photo series on the Indigenous California Indian lifestyles of North America, USA and Mexico.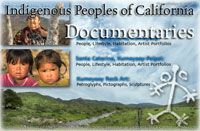 LIFESTYLE DOCUMENTARIES Indigenous peoples of California Native American Indian documentary series features traditional coiled basketry of the SAN JOSE DE LA ZORRA Kumeyaay Indian village, Baja California, Mexico. Also, the Kumeyaay-Paipai traditional clay pottery and basketweavers of SANTA CATARINA Indigenous community, Baja California, Mexico. And the Kumiai Indians of SAN ANTONIO NECUA and JUNTAS DE NEJI. KUMEYAAY.INFO showcases the professional photography and journalistic documentation of village inhabitants Indigenous lifestyles in the ejidos, environmental portraits, habitations and pictures of their traditional California Native American arts and crafts. Los indios indígenas de las fotos documentales de la forma de vida del photojournalism de México representan películas.
Photos, Writing and Web Page Design Contributed by webmaster, GARY G. BALLARD
To buy purchase authentic Santa Catarina Pai Pai Kumeyaay Indian arts and crafts, please visit the Shumup Ko Hup "Dream Come True" Indian store in Old Town State Historic Park, San Diego, California.