SANTA CATARINA PAI PAI INDIANS INDIGENOUS COMMUNITY
Para Español Traduzca esta página inglesa al español
I decided to lead this online photo documentary with the above image of Manuela Aguiar, Ko'al Kumiai Paipai, weaving a basket outside her the front door of her Santa Catarina mountain home. This was the first home I visited in the rural Santa Catarina community area, and it was the first time I laid eyes Manuela. I took this photo as our 1990 Chevy Suburban 150 pulled into her rural mountain top rancheria.
I sepia toned the picture for aesthetics to illustrate what appears a mismatch of time and place in the 21st century.
Manuela lives on the top of a mountain with her sister, Teresa, and brother, Selso Aguiar, in this small Indian village community. The sisters, the Aguiar family, are very well known for their pottery, basketweaving, doll making, agave fiber net bags, medicinal plants, and traditional knowledge...Manuela Aguiar has Contributed her old Aguiar historic family pictures for restoration and presentation on KUMEYAAY.INFO.
By the United State's living standards, the Kumeyaay Pai Pai people of Santa Catarina are poverty stricken, closed out of most modern-world conveniences. I cannot recall any of the rural Santa Catarina homes I visited having electricity or running water — a trip to the restroom means either looking for a bush or an outhouse.
The roads from the main highway into Santa Catarina are eroded unpaved dirt that wind for miles off the main highway into the back country and branch off into remote mountainous scrub brush high desert countryside and is located on the Baja 1000 Race route.
Snippets of my initial on-line research:
• Santa Catarina is located approximately 50 miles east of Ensenada, about a three-hour drive from San Diego.

• Their Kumeyaay Paipai ancestors have been in this area, including Southern California, for thousands of years. The Mexico-U.S. "border situation" has effectively alienated the (now) southern Kumeyaay Paipai from their (now) northern Kumeyaay Paipai relatives to the point where many of the families are no longer familiar with each other.

Some tribal leaders and private individuals are working to de alienate these relationships, but the governments' paperwork to cross the border remains an effective obstacle to most southern Indigenous Indian people wanting to cross the border into their Southern California ancestral lands to visit their relatives, attend funerals, participate in ceremonies, to sell their art or for any reason whatsoever.

• The Mexico Kumeyaay Pai Pai Indigenous people have retained much of their traditional knowledge, and many of the people here provide for their families, as they have for thousands of years, by harvesting natural resources from their land like yucca, pine nuts, honey, firewood, and by raising livestock and crops. Some of the Paipai Kumiai people earn their living by making traditional arts and crafts for sale such as pottery, bows and arrows, and by weaving willow, pine and juncus baskets, including agave fiber carrying nets. Some of the men also work in Guadalupe Valley as cowboys or farmers as well as on their own ranches.

• KUMEYAAY.COM writer Mike Wilken (link broken) writes some very interesting information about the Santa Catarina community.


NATIVE AMERICAN Indigenous artists fine art cultural posters for sale the webmaster produced a series of 48-inch fine art posters of his photojournalistic documentary series on the California tribal peoples of North America.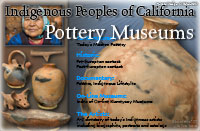 PAI PAI KUMEYAAY POTTERY Museum features the modern Kumeyaay Paipai pottery art of the Yuman Indians of Southern California, Arizona, Mexico. Our extensive photography documentation of Native American pottery artist includes online picture catalogs of their traditional and contemporary clay pottery, including environmental portraits and biographies of the pottery artists. KUMEYAAY.INFO is currently building large, captioned photographic collections of rare and old antique ancient pottery artifacts for its on-line Indigenous Peoples of California Pottery Museum, los indios indígenas de las fotos documentales de la forma de vida del photojournalism de México representan películas.
To buy purchase authentic Santa Catarina Pai Pai Kumeyaay Indian pottery, their traditional Indian arts and crafts, please visit the Shumup Ko Hup "Dream Come True" Indian store in Old Town State Historic Park, San Diego, California.