TRIBAL FACE PAINT Native American
Native American tribal face paint sets off the Native American regalia of Ernest Big Medicine, Southern Cheyenne, El Reno, Oklahoma.
(This is an unposed action dance picture.)
ERNEST BIG MEDICINE Southern Cheyenne
A traditional men's northern contemporary dancer, Ernest Big Medicine's Cheyenne tribal regalia includes a massive feathered headdress ( dog soldiers cap ) and shoulders, white animal furs, handmade collar, necklace with colorful tribal designs patterns designs.
Cheyenne Dog Soldiers pbs.org • CHEYENNE DOG SOLDIERS manataka.org
Ernest Big Medicine is no newcomer to pow-wow dance competition. The seasoned dancer has been dancing "since I was seven years old...I love being in the battle zone of all the Tradish Bros," he said in an exclusive KUMEYAAY.INFO interview.
Ernest Big Medicine is a member of the Bow-string Society of Sieling Oklahoma, and said he paints his face after "war, till the death, 'Back in the Day' was a fiercest warrior of all."
FAMOUS POWWOW PHOTOGRAPHER writing website design digital art portfolio by Gary G. BALLARD San Diego California USA.
AUTHENTIC FACE PAINTING INFORMATION RESEARCH:


CALIFORNIA INDIAN FACE PAINT -- The pictures and writing in this section are parts of Paul Campbell's newest book (unreleased), EARTH PIGMENTS AND PAINT: MEANING AND TECHNOLOGY. His fully-researched book will include all facets of Native California pigments and paint, including physical, social, spiritual — in great detail — and will reveal how the Indians turned yellow pigment red, and about how they made blue from white gypsum and black charcoal, and it will give many other recipes for Indian paint. The book will also discuss the origin of CAVE ART in California, and the latest atomic accelerator testing of the ancient pigments used by the California Indians.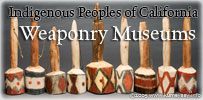 INDIGENOUS CALIFORNIA Aboriginal Paint and Tribal Designs, authentic southwestern USA Native American tribal patterns motifs designs of North American Indians, pictures old and modern traditional arts and crafts, including Native California Indian war clubs, Southern California Indigenous primitive weaponry.