CALIFORNIA INDIAN BASKET HAT
Old Antique Kumeyaay Famous American Indian Art Basketry Museum Picture Gallery.
WELCOME to the Indigenous Peoples of California Basket Museum old antique Native American mission basketry section featuring the old antique basketry relics artifacts of Indigenous California Indian basketweavers of the Yuman Indian peoples of California.
MODEL HAT:
Citlalli Salazar, an 18-year-old Kumeyaay Indian woman from San Jose de la Zorra, models an old Indigenous California Indian Yuman basket hat made of coiled sumac, juncus on deergrass.
Old antique Indian basket hat is probably Indigenous California, desert Cahuilla Indians.
SIZE:
Diameter: 7 inches
Height: 6 inches
Materials: Coiled Sumac, Juncus, Deergrass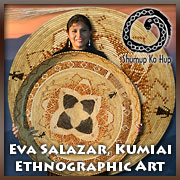 MODERN Contemporary Baskets
Hat and Kumeyaay Yuman model contributed by Shumup Ko Hup Indian store and gift shop located in Old Town, San Diego. Photo illustration by G BALLARD, San Diego